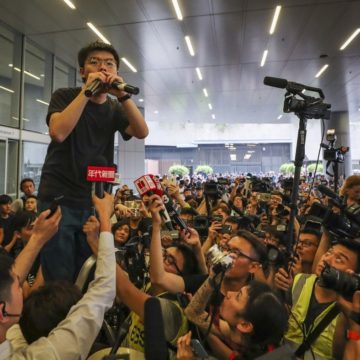 Activist takes democracy battle global
— August 7, 2019
Hong Kong activist Joshua Wong's 'manifesto for global democracy' to be launched in 2020 by British publisher

Student leader's first book in English to feature reflections on his political activism, letters from prison, and a call to the world to stand up for democracy
Hong Kong pro-democracy activist Joshua Wong's first book in English will be published early next year by British publisher WH Allen.The student leader who became the face of the 2014 "umbrella movement" that occupied key thoroughfares for 11 weeks to push for full democracy for the city says he hopes the book will give international audiences a deeper understanding of Hong Kong issues.
"Now is not only the summer of discontent, it is the year of discontent. It is time for international communities to know more about how Hong Kong people stand at the front to confront 'Emperor' Xi Jinping," Wong, 22, told the Post. Xi is China's president.
Unfree Speech: The Threat to Global Democracy and Why We Must Act Now, co-authored by lawyer Jason Ng, will be published in February 2020. WH Allen is an imprint of Ebury, a division of global publisher Penguin Random House. The publisher describes the book as "a powerful and urgent manifesto for global democracy".
The book collects Wong's reflections from the front line of activism, as well as letters written from his prison cell, and is a call for people to stand up for their democratic and human rights wherever they live."The book will record my journey since 2011 – the year I founded Scholars – my time in prison and also be about Hong Kong's democratisation and Beijing," said Wong, who has previously published books in Chinese, including his prison diaries in 2018.
Wong was a 14-year-old student when he founded Scholarism to campaign against the planned introduction of compulsory national education lessons in Hong Kong schools. In late August 2012, Scholarism began a sit-in around Hong Kong's government complex, and on September 8 that year, the then head of the government, chief executive C.Y. Leung, announced he would give schools discretion as to whether to implement the national education curriculum, rendering it effectively dead.Wong was nominated for a Nobel Peace Prize in 2018 for his role in leading the "umbrella movement" and has been named by Time, Fortune and Forbesmagazines as one of the world's most influential leaders.He has served more than 100 days in jail for his activism in relation to the 2014 occupation of Hong Kong streets. Wong was released from prison on June 17 this year, a day after an estimated two million people took part in a march to demand current Hong Kong chief executive Carrie Lam Cheng Yuet-ngor over the government's proposal to change extradition law.
"It is now a faceless and leaderless movement, but my story and journey through prison will motivate more people to pay attention, especially to the more than 30 activists, such as [pro-independence activist] Edward Leung, who are still in prison," said Wong, the secretary general of Demosisto, a pro-democracy organisation advocating self-determination for Hong Kong which he helped found in 2016.
In addition to reaching an overseas audience, Wong said he hoped the book would give young protesters an understanding of how to bring about change and offer a window into the movement for foreign residents of Hong Kong.
"I hope … the many foreigners here, those who have paid attention to the [August 5 general] strike [over the extradition bill row], can understand more through this book," said Wong.
Co-author Ng, a former president of writers group PEN Hong Kong and the author of three books charting Hong Kong's postcolonial development, Hong Kong State of Mind, No City for Slow Men and Umbrellas in Bloom, translated parts of Wong's prison diary and contributed some of the book's content.
"Jason is a lawyer and convenor of the Progressive Lawyers Group. He is more familiar with how to express content and is good with English," said Wong.
Wong said his story was similar to that of every Hongkonger whose freedoms were slowly being eroded by Beijing. Echoing the view of many in the current protest movement, he said giving wider exposure to the complex issues facing Hong Kong would push the government to respond.
"We need those in power to start listening to us, and for that to happen, pressure from the international community is critical, if not essential, as anyone who believes in democracy is implicated in this fight. I hope this book will go some way to turn up that pressure," said Wong, who has been the subject of two documentaries, including Joshua: Teenager vs Superpower, which is available on Netflix in Hong Kong.
Ebury group deputy publisher Drummond Moir described Wong as courageous and inspiring, and said he was thrilled to be publishing Wong's book.
"Joshua embodies one of the things that is most important to us at Ebury: publishing voices that become movements, ones that force us to think differently about the world around us," Moir said. "I'm particularly thrilled that this acquisition came from one of the most recent additions to Ebury's new smart-non-fiction hub, Hana Teraie-Wood."
Teraie-Wood commissioned the book soon after she joined Penguin Random House in March this year. The Post contacted her in London, but her publicist declined an interview, saying the publisher had "nothing further to comment at this stage".
Original Link: SCMP