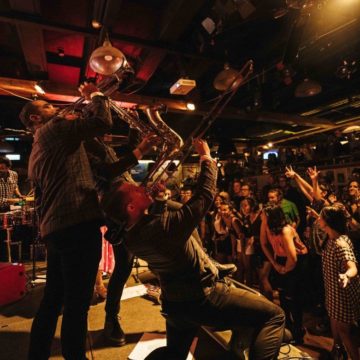 The lights go out at a Hong Kong institution
— July 16, 2019

Landlord has not renewed the Italian Restaurant's lease, amid plans for the live music venue to be turned into a food court
The impassioned pleas of musicians and music lovers, backed up by a well-supported online campaign, have failed to save Hong Kong's famed Grappa's Cellar live music venue. The popular Italian restaurant and live music house in the basement of Jardine House in Central will close after 20 years on July 21.
Despite more than 5,000 people supporting a Change.org campaign, landlord Hongkong Land has refused to budge on its decision to transform the venue into a food court. The unique size and central location of Grappa's Cellar had made it one of the city's most popular places to watch bands play.
It's one of the city's few mid-sized music venues – accommodating up to 350 people – and has high ceilings and a balcony overlooking the stage. It has played a key role in shaping Hong Kong's music scene and has hosted scores of top local and international acts, from Dolores O'Riordan of The Cranberries to comedians such as Doug Stanhope and Tom Green.
"We've had top international musicians play here, creating good opportunities for local artists to learn and grow," says J.R. Robertson, managing director of the El Grande group, which took over the space in 1999.
"[Previous tenant] The Galley had been there for years and in 1998, after the financial crisis, it pulled out and the place sat empty for one and a half years," Robertson says.
The Cellar wasn't an instant success. The first few years were a struggle. While business was good over the weekday lunch period, the place was quiet at nights, and on weekends and public holidays. That was until Robertson thought of bringing in live music.
"We got the Stray Katz to play and never really made money on those nights, but finally it caught on and became a place for live music events," Robertson says.
In the mid-1980s, he says he almost took a job as financial director of Hongkong Land and used to be on a first-name basis with many of the senior directors at the property firm, some of whom enjoyed the live entertainment at the Cellar. But it's a different story these days.
"None of the [Hongkong Land] directors come to the shows, they don't have an appreciation for what we're doing. I'm very disappointed and feel a bit betrayed. I've never actually spoken to anyone of authority in Hongkong Land about the decision [to evict us]," Robertson says.
He says rent isn't the issue – the landlord has made clear it wants something new.
In an emailed response, Hongkong Land says: "We will constantly review the needs of our customers and carry out appropriate modifications of the offerings of our products and services from time to time.
"Hongkong Land has been a key supporter of many art and cultural events including Art Basel recently held in Hong Kong and will continue to find appropriate ways to provide support to the art and cultural communities."
It's hard not to make comparisons with Swire's 2016 decision not to renew the lease of Grappa's, another very popular Italian restaurant owned by the Robertson's company, in Pacific Place after 26 years in business there, nor that of another popular restaurant, Dan Ryan's, despite a public outcry. Grappa's moved to another Swire property on Queen's Road East.
Hongkong Land's website boasts a corporate pledge to support local events, arts and culture in Asia, but there are few who can see how replacing a buzzy live music landmark with a food court honours this.
"This is the only place in Hong Kong that is on a par with some of the famous clubs in the world, such as Blue Note [jazz venues]," says sound technician Skip Moy, who played a key role in helping the Cellar transition from featuring low-key jazz trios to hosting international acts.
"It's very sad that we are losing an important historical musical place. It's the only place that is really conducive to music because the stage is correctly placed, the sound is good, there are two tiers, there are no sightline problems and there's a built-in green room," Moy says.
Eugene Pao, Hong Kong's first jazz artist to sign with an international label, was a regular at Grappa's and got to hang out with some of the big names in the jazz world, including Grammy award winners such as saxophonist Ernie Watts and guitarist Lee Ritenour. He has fond memories of the place, especially the green room.
"When you do gigs there's a lot of waiting time, you do a sound check and then wait to go on stage and then there's the break time. It's important to have a private place for musicians to hang out and Grappa's has that," Pao says.
Paul Thompson from local ska band The Red Stripes agrees, describing it as a "performer's venue" with a classic venue feel.
"It's a large but intimate venue, which is very hard to replicate. I've had some great times in the green room, you could meet artists there and hang out," says Thompson, who not only brought his own band to play, but also overseas acts such as UK band The Professionals.
When The Red Stripes played its last gig at the Cellar on May 25, Thompson says all the band members had a lump in their throat.
"It really did hit home when we played our last song – there was this poignant feeling that this was the last time we'd play here," Thompson says.
He says live music will suffer as a result of the closure. He runs through other live music venue options, but he believes none match Grappa's Cellar: This Town Needs in Yau Tong ("it's too far out of town"); Dada Bar + Lounge in Tsim Sha Tsui ("a small space, no room to jump around"); PMQ ("it's too expensive and you have to build the space up from scratch").
"When you lose something like Grappa's you know it will be impossible to replicate it. Even if you can make another venue, you won't have that history," Thompson says.
This Friday night, Grappa's is hosting a farewell gig featuring classic rock cover band Last Orders before it closes down on July 21. The gig is sure to be packed, not just with fans of live music, but also local musicians who are grateful to Robertson and his team for giving them a professional space in which to perform and the chance to rub shoulders with international musicians.
"We will miss it. We want to thank them for all they've done for the music scene over the past 20 years. Without them we wouldn't have been able to do what we've done. We've got enormous gratitude for them," Thompson says.