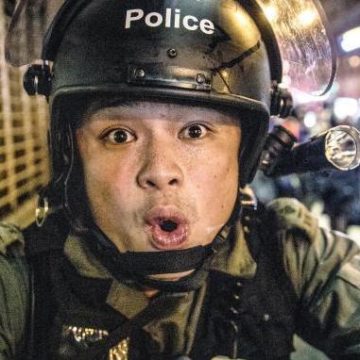 8 suicides as Hong Kong families torn over 'cynical' pulling of bill
— September 8, 2019
Demonstrators reject a gesture by the territory's leaders as too little too late and are planning a rally for China's National Day
Protesters in Hong Kong clashed with riot police again last night, signalling a failure by the chief executive, Carrie Lam, to defuse the crisis — as evidence emerged of the strain the trouble is placing on politically divided families and friends.
Lam's announcement on Wednesday, formally withdrawing the controversial extradition bill that sparked the protests 14 weeks ago, is seen as too little too late.
The Civil Human Rights Front (CHRF), which supports the protests, said it would apply for permission from police to hold a demonstration on October 1, China's National Day. That marks the most significant date in President Xi Jinping's diary this year, when he will be celebrating the 70th anniversary of the founding of the people's republic, with military parades in Beijing.
Trouble in Hong Kong that day would infuriate the Chinese leader, but Wu Chiwai, chairman of the Democratic Party and an opposition member of Hong Kong's legislative council, said: "The rally will definitely happen, no matter whether it has permission or not.
"Confrontation will definitely happen, regardless of how low profile you are — unless the government resolves to provide a holiday for the police that day."
Bonnie Leung, viceconvener of the CHRF, said much bloodshed could have been avoided if Lam had withdrawn the extradition bill two months ago.
Its removal is now only one of five demands made by the protesters. The others are: an independent inquiry into the police; dropping the term "riot" in official descriptions of the protests; dropping charges against those arrested; and allowing fully democratic elections.
"I think what Carrie Lam wants to create is division [among the pro-democracy camp]," said Leung. "If one demand is accepted, she thinks some will leave the movement."
An assurance of an independent inquiry into police action against demonstrators was critical to bringing an end to the chaos, she said.
"We see police brutality every single day. We see police officers blatantly violate their own rules using unnecessary and disproportionate force, violence not only against protesters, but even pedestrians, passengers on a [mass transit] train beaten up indiscriminately," said Leung.
Wu fears Lam is preparing to introduce an emergency ordinance, under laws dating to the colonial era that give the government sweeping powers. It was last used in 1967 to put an end to procommunist riots.
"If you think the police are being brutal now, imagine how they will act under the emergency ordinance. They can be even more brutal, that's what I worry about," he added.
Lam said in a recording of a private speech leaked last week that Beijing was allowing her "very, very limited" room for political manoeuvre but that it had "absolutely no plan" to send in mainland troops because "they know the price would be too huge to pay".
Wu sees the Hong Kong police as fulfilling the role of troops anyway. He said that, because the protests were a leaderless movement, it was up to the government to address people's concerns.
However, he was not optimistic that it would establish an independent inquiry led by "credible" figures, and he expects more trouble.
"According to the history of the CCP [Chinese Communist Party] and the proestablishment camp, it's not likely to go that way, so it won't be easy for the confrontations to stop in a short period of time.
"I can imagine things will go badly and be bloody for quite a long time," he said.
Wu pointed out that, for many in the territory of 7.4m people, the protests were putting a strain on relationships between family and friends. There have been eight suicides linked to the protests.
"Those of the older generation don't understand the youngsters or they have a very traditional mindset. Some of the youngsters found their way to suicide because of family clashes. I fear that head count may increase," said Wu.
The tensions are evident. Alan, a computer professional in his mid-forties, and his wife Fanny, who works in communications, are typical of many who feel the pressure. Both have joined the legal mass rallies, although they have not told their families.
Alan has relatives on the mainland who watch TVB, Hong Kong's main broadcaster, which has been accused by protesters of being pro-Beijing in its coverage. A family WhatsApp group with 10 members, all in China bar himself and his sister in Hong Kong, has been dominated by discussion of the protests.
"Relatives in China are on the pro-government side. It's hard to tell them, 'You don't know the whole picture'. They believe they are seeing the whole story, especially elderly relatives. They watch TVB in China. I told them, TVB has a stance. They don't see that it's propaganda," said Alan.
His sister has left the family WhatsApp group, but Alan has remained as a silent participant. "I plan to stay in the group. I feel like I know the whole picture, so I feel responsible for explaining to them when things calm down because they receive a biased picture. I know Hong Kong people who have stopped talking to their relatives," said Alan.
His wife says she has always sat in the political middle ground, neither "blue" (pro-government) nor "yellow" (pro-democracy), but she is shocked by the violence of the police and has swung more towards the protesters. This is a subject she avoids discussing with her elderly father, who reads the pro-Beijing newspaper, Wen Wei Po. Fanny said many of her friends tried to minimise conflict by discussing the protests only with those who shared similar views.
Original Link: Sunday Times