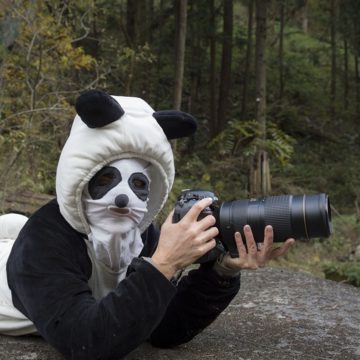 From Kosovo and Kashmir to Kenya
— November 24, 2019
The American filmmaker and explorer is featured in the new film Women of Impact
The day the music died I was born in 1971. My three older siblings and I grew up in Florida. I was painfully shy, gawky and afraid of the world.
When I was seven, my dad died. It was very sudden. There had been a lot of laughter and joy in the house and then everything went quiet, my mother went into a shell and the music literally stopped. I loved playing the piano but after Dad died my piano lessons stopped. I was in the middle of learning a song and can still play the first few chords of it. My big dream is to get back to learning that song.
My sister, who was a year older, was the trailblazer. She was a great inspiration to me to just get out there and stop being afraid. She, and the fact that my dad died, really pushed me to want to live a little bit.
Finding a super power As a teenager, I was still very shy. I picked up a camera for the first time in high school, when I was about 14. I felt like Superwoman because it gave me these hidden powers. All of a sudden, I felt like I could be invisible. I stood behind the camera and people just let me in, it took the attention away from myself and allowed me to focus on other people and that was empowering. I realised that images and stories are powerful because they allow you to amplify other people's voices.
Photography transcends language, culture, religion; it breaks through the artificial boundaries we put around ourselves. People look at an image and they feel something, those universal truths come through and that's what got me engaged.
Uncomfortable truths I did my undergraduate degree in international relations at the University of North Carolina and ended up getting a double major in journalism. At the time, North Carolina had the most PhDs per capita, but it was also deeply impoverished, backwards and racist. My family was really progressive, and I realised I'd been living in a bubble.
My experience in North Carolina was a catalyst to make me want to be a journalist and tell these stories about the uncomfortable truths all around us. For my second year, I studied in Denmark. While I was there, I hitchhiked through Europe and ended up in Prague, right after the Berlin Wall had come down, and taught in the Czech Republic for the summer. Then I came back to the United States to finish my degree. I couldn't wait to get out and start working.
On the front line When I graduated, USA Today hired me for a short internship and then I went to the Associated Press as an editor working in Washington and then New York. There I learned about the business side of journalism and the media cycle.
After four years, when I was 25, I wanted to get out and start telling stories. I moved to Prague and got a job at a small business paper. The year I moved there the war in the Balkans was unfolding and something inside me knew I had to go. I knew some people who were working there, so I quit my job and tagged along.
The work I'd done with the Associated Press gave me magazine and newspaper contacts, so before everything blew up, I started writing to editors and asking if they wanted coverage from Kosovo. When the peace talks in Rambouillet broke down in 1999, and (then US president Bill) Clinton and Nato declared they were going to send in troops, I got phone calls from four of the editors. Overnight, I went from not knowing what I was doing to wearing a flak jacket and being on the front line.
Humans in conflict I freelanced for a year there and then decided I wanted to cover the stories that weren't being covered, so I went to Angola, which was already in the 26th year of its brutal civil war. I didn't cover the stories in the way we were being asked to cover them, which was focusing only on the front lines. I looked for the human stories about those caught in the middle of the conflicts.
In Angola, there were oil expats who went surfing on the weekend and the kids in the villages watched them from the beach. I took pictures of them trying to carve surf­boards from driftwood and wrote a story about the conflict and got it in surfing magazines. I was trying to look at these brutal conflicts and trying to humanise them and show how these worlds live uncomfortably side by side.
Natural break I covered conflict for a decade. I wanted to understand where trauma comes from and why the world is the way it is. Perhaps the toughest time during that period was in Kashmir, where I lived for four years from 2001. It's one of the longest conflicts in the world, it's been going since 1947, and the most militarised conflict. Kashmir was always told in geopolitical terms and the people caught in the middle of this much greater conflict were left out of the story. I wanted to tell their stories. My time there shaped who I am. Friends died, I was terrified.
By 2008, I was burned out and deeply depressed. I told myself I need to take time out to heal.The Nature Conservancy called me up out of the blue and asked if I wanted to work on a project to document nature all over the world for an exhibition and a book project called Design for a Living World. It was the universe pushing me in this direction. And in 2009, I heard about a story of moving the last northern white rhino from a zoo in the Czech Republic back to Africa to save the species.
Imagine, less than 100 years before there were tens of thousands of these rhinos roaming the open plains of Africa; on that day there were only eight of them alive, all in zoos. Although editors weren't interested in the story, I pushed ahead because I knew this species would go extinct in my lifetime.
The biggest story Conflicts are often connected to the natural world, everything is about our resources. I started to realise that the biggest story is not only what we are doing to each other but to all life on this planet. We are going to have a tremendous amount of human suffering if we don't pay attention to this. The stories I told in Kashmir were very different from the ones you get by parachuting around being a war correspondent. I chose to live in a community and deeply understand the issues and I have continued to do that.
Today I live in Montana and spend most of my free time working in Kenya. My big regret is not having children. I am in a relationship – he's in Seattle and works on issues of social justice. He recently came to Kenya with me.
I've been trying to find stories that answer the question of what we are doing to this planet and what are the solutions. I like to tell stories about communities, such as the one in Kenya that decided to create the first indigenous-owned and run sanctuary in Africa, made all the more extraordinary because it demanded that indigenous women be elephant keepers.
I also cover stories in my backyard, in Montana. They are all similar in that they are related to people and the natural world, about the planet and what we are doing to it. I work on a variety of projects, a lot of it is about finding solutions.
I'm working independently on a documentary. I've self-raised the money, I want to keep control of the narrative to make sure it doesn't get dumbed down. I'm going back to Africa to film a major piece of it.
I tend to gravitate to stories about women. I'm the messenger for stories that you never hear about, they are always beyond the headlines, the quiet stories that are important for all of us to hear.
Original Link: SCMP