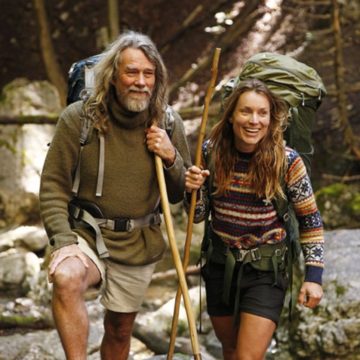 Woman in the Wilderness
— December 1, 2019
Miriam Lancewood honed her survival skills on the road in Asia and bush-bashing on New Zealand's South Island
Miriam in the middle I was born in 1983 in a small village in the east of Holland. My parents had three children in three years, I'm in the middle. My mother is a drama therapist and my father worked with disabled people. It was a loving home and we grew up with music and art and theatre.
We were surrounded by nature, but it was fields and agriculture rather than mountains and wilderness. I was always strong and outdoorsy. When I was 13, I joined the school athletics club and was put in a class to learn how to pole vault. I trained every day and learned that if you set your mind to something and work hard, you can achieve it.
I was the Dutch champion in pole vaulting, in my age group, for six consecutive years and went to the Youth Olympic Games. My success gave me confidence not only in doing physical things but also to try different things. It seemed a natural choice for me to study physical education and I went to Groningen University.
Subcontinental drift After my studies, I went to Zimbabwe to teach, something that had been a dream since childhood. After my year in Africa, I was no longer sure about pursuing a career in teaching and decided to travel in India. I landed in Bombay and headed south. I had a fantastic time.
After five months I met the man who would become my husband, Peter, in a local restaurant in Hampi. I was 22 and he was 52. If I'd met him in Holland, I would have thought he was too old for me, but in India you can do anything. He had been a university professor and taught religion, environmental studies and philosophy in New Zealand.
One day he decided he'd had enough of academia and wanted to get out in the world and live life rather than read and write about it. He'd been living in India for five years when I met him, spending half the year surfing and the other half climbing the Himalayas. He was looking after a nature reserve and invited me to visit. I moved in the next day.
Adventure training For me, Peter was the embodiment of adventure. After three months of altitude training in the Himalayas, we spent two months trekking. We didn't take a tent or cooking gear, we ate dried food and when we came to a village, we paid people to make us chapatis. We lived off our savings. We are good at using very little money, sleeping out rather than in hotels and eating at cheap local places.
We travelled for two years through Southeast Asia, inclu­ding Papua New Guinea, and ended up in New Zealand, in 2008. I had to work for a year to get residency and taught special needs children. Although I liked my colleagues and saved quite a bit, I didn't enjoy working after all those years travelling.
Every weekend we went tramping and started to think about how we might live in the place we love: the wilderness. We prepared by doing a lot of bush-bashing and toughened up by wearing sandals to trek and cross icy rivers. Boots weren't viable because there are so many rivers to cross that they quickly deteriorate.
Going bush We spent seven years exploring the wilder­ness in New Zealand, mostly on the South Island. We wanted to live in the beauty of nature without technology, we didn't have a clock or a machine of any kind. We slept when it was dark and ate when we were hungry. We wanted to know what happens to the body and mind when you live far from civilisation.
Being part of nature, not just an observer, meant living off the land. Although I grew up vegetarian, I decided to learn to hunt. New Zealand used to be a land of birds; it was the English who introduced goats, pigs, deer, rabbits, hares and possums. The govern­ment wants to get rid of them and encourages people to hunt.
I started off using a bow and arrow, but an arrow costs NZ$20 (HK$100), so after a few years I shifted to a gun, which is more humane for the animals because they die immediately. I hunted deer, pig, possum, rabbits and hares. The smaller the animal the better because we don't have a fridge so can't keep the meat.
Hunting sharpened my senses. Goats are very smelly, so I learned to smell them before I saw them. I also learned to listen well – when you are hunting even thinking is too much noise. I developed a sense of intuition because if you don't have a sense of where the animals are you can walk for days.
I discovered we are very small and insignificant in the big landscape of the mountains and our psychological problems are even smaller. What does it matter what I said to my friend 15 years ago? In the wilderness we had a lot of time to contemplate. You go over those memories endlessly, and then they stop coming up and no new ones come up because we have no new conflicts. We had no financial problems, we cooperated well because we are dependent on each other. In a city you live together because you love your partner – I also love Peter – but dependence is a good tool for living together.
On dangerous ground There are no dangerous animals in New Zealand, no snakes or spiders. The only danger was crossing rivers – we had the time to wait until it was safe to cross – and the weather, which can change very quickly.
During big storms the wind is powerful enough to knock down 300-year-old trees. During some storms we were terrified, recalling stories of trees falling on tents. But in the morning, when there was blue sky, the stress dissolved. When you wake up in a city the anxiety is ongoing.
Living in such remote areas we rarely met people, so when we did it was really special. It was usually a man: although women use the popular walking trails, they tend not to go off track and hunt. It didn't matter that we had nothing in common, we would invite the person to our camp to have some possum. They were usually surprised by how good it tasted and would open up and tell us about their lives.
We have never got sick in the wilderness; only when we come to a city and people give us the flu or a cold. In the city, my brain goes hyper and I can't sleep. I see so much sleep deprivation in cities. In the forest, we go to sleep soon after it gets dark and get up with the birds.
Almost famous I wrote a short article describing a day in our life in the wilderness, which was published in a magazine. A publisher read the story and asked if I wanted to write a book. Peter, who has published academic books, persuaded me to give it a go. That was no easy task as we didn't have a house, laptop or electricity.
Hitchhiking into town one day I was given a lift by a woman who said she had a small cottage we could use. A friend lent me an old laptop and I typed for five months and wrote Woman in the Wilderness: My Story of Love, Survival and Self-discovery. In 2017, the book came out and with it came a lot of publi­city. To escape all that we went to Europe and walked 2,000km from France through Switzerland and Austria and then took a bus to Bulgaria and Turkey, where we walked another 1,000km. We couldn't hunt, so we bought food, camped in the forest and cooked over a fire.
Open door philosophy Now we are back in New Zealand, living in a tent in Golden Bay (in the north of the South Island). There's a house nearby with electricity and I go there in the mornings to work on my second book, which will be about our journey in Europe.
I don't like to make plans. We live according to what we call the "open door" philosophy, which means that if there's an opportunity and we want to take it, we can. For example, if someone has a sailing boat and says they're going to Fiji and asks if we'd like to come, we can. If you have a dream you are working towards, you might miss opportunities because you are focused on achieving that dream. It is easier not to have a goal and go with the opportunities given.
Original Link: SCMP