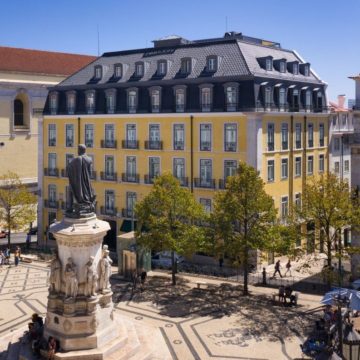 Bairro Alto Hotel
— December 1, 2019
Portugal's capital is one of Europe's hottest hotspots and now it has a high-end hotel to match

What is it? The grande dame of Lisbon's boutique hotel scene – it was until 1980 The Grand Hotel L'Europe – the Bairro Alto has been treated to a major makeover and expansion by Pritzker prize-winning architect Eduardo Souto de Moura. The 19th century building reopened in September, the owners no doubt hoping to cash in on the tourism boom engulfing the Portuguese capital. Arrivals surged 81 per cent from 2013 to 2018.
Why is Lisbon so hot? A new cruise ship terminal, which opened in 2017, has helped, but generally people have woken up to the fact that it's fun to explore this beautiful, historic city with its good food, wine, shopping, sightseeing and slow-paced charm. Cut down a side street, off the busy tourist thoroughfares, and you'll likely come across an old man smoking on his front step and the sound of a guitar drifting out of a window.
Is the hotel a good base from which to explore the city? Absolutely. It is located on one of the Lisbon's prettiest squares, Praça Luís de Camões, which is centred on a statue of Portugal's greatest poet, for whom it is named. Turn right out of the hotel and you are in Chiado, a chic neighbourhood of stylish shops, fine restaurants and theatres. Turn left and you'll be in the lively quarter of Bairro Alto, once home to the head­quarters of the country's major newspapers and known for its bohemian vibe.
A three-minute walk from the hotel is Livraria Bertrand, the world's oldest bookshop, which opened in 1732. If you're feeling lazy, simply stay put and marvel at the cityscape over breakfast.
How so? The hotel is on top of a hill and breakfast is served on a terrace with a great view over the rooftops and down to the Tagus (Tejo, in Portuguese) River. You'll want to come back for sundowners.
Are there other restaurants? You betcha. Nuno Mendes – head chef at London's uber-hip Chiltern Firehouse – has returned to his home town to launch his first Lisbon restaurant, BAHR. The open kitchen allows diners to watch the chefs prepare a menu that plays homage to Portugal: think grilled squid with runner beans, turnip tops and seaweed; smoked goose barnacles and hake with egg and coriander. Turnips and goose barnacles never tasted so good.
What about the rooms? There are 87 in six categories, including 22 suites. The standard rooms are on the small size, but beautifully appointed, with top-class fixtures. Our cosy room had a small balcony and the image of a bird carefully stencilled on a wall. Portuguese crafts, from artisanal rugs to Costa Nova ceramics, give the rooms a sense of place.
I like the sound of Portuguese art. There's plenty of it. Works by famed Lisbon-based contemporary artists, such as sculptor Rui Chafes and Pedro Cabrita Reis, are displayed in the public areas. The interior is a warm and welcoming mixture of tiles and marble, and antique and vintage pieces.
Anything else worth mentioning? The staff are very helpful and, I couldn't help noticing, good looking. A pastelaria on the ground floor offers freshly made pasteis de nata, the classic Portuguese custard tarts. Have one too many of these and you might want to visit the fitness centre, which is on the small side but has everything you want of a gym as well as a kinesis wall, a sauna and a sensory shower with various water jets and lighting options.
Eek, this sounds expensive. Rooms start at €315 (US$350) in low season and €415 in high season, including breakfast.
Original Link: SCMP