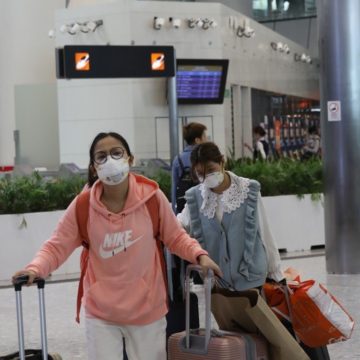 China coronavirus
— January 28, 2020
It's quite safe to be in Hong Kong, though if you want to wear face masks you had best bring them with you – supplies are limited, but some hotels provide them

Is it safe to travel to Hong Kong? And what should travellers expect if they already have plans in place to visit the city?
The coronavirus outbreak has infected more than 6,000 people and led to more than 130 deaths, and those figures are expected to increase in coming days. Most of the cases are in mainland China, but there are confirmed cases around the world, including eight reported cases in Hong Kong, most of them people who have been in the city of Wuhan, the centre of the outbreak.Hong Kong schools have been closed until February 17 and workers have been told to work from home in a bid to stop the spread of the virus.For now, there is no official warning against travel to Hong Kong. The UK Foreign Office says that those travelling to Hong Kong "should comply with any additional screening measures put in place by the Hong Kong authorities". However, it advises against all but essential travel to Hubei province, of which Wuhan is the capital city, while the Hong Kong government is cutting cross-border travel from and to mainland China, and reducing flights by half.
British Airways is offering full refunds for passengers booked to fly to mainland China and Hong Kong up to February 23. Cathay Pacific is offering refunds for flights to mainland China if they were booked before January 25.
Make sure you know the terms and conditions of your ticket. Hong Kong-based travel agent Brian Wong says refunds will depend on the fare base and the airline's cancellation policy.
"Refunds depend on the sourcing. If you bought your ticket from a travel agent, you need to ask the agent. If you bought from the airline you need to speak to the airline – some are non-refundable. The virus is now spread all over the world, every city is in danger," says Wong.
Many of the city's big tourist attractions, including the two big theme parks, Ocean Park and Hong Kong Disneyland, have been closed to prevent the spread of the virus. The Leisure and Cultural Services Department has announced the temporary closure of all museums and sports facilities, including public swimming pools and beaches. The Lantau Island cable-car service between Tung Chung and Ngong Ping Village, Ngong Ping 360 and Noah's Ark Hong Kong is also closed.
The atmosphere in the city centre is eerie, with almost everyone wearing masks, and people are being advised to stay away from crowds and in wide open spaces. Big Bus Tours (bigbustours.com) are running as normal. The bus operator has seen visitor numbers fall since the start of anti-government protests last summer and visitor numbers remain low. The hop-on, hop-off "Green Route", from Central to Repulse Bay, Stanley and Aberdeen, is one of the most scenic journeys and goes to the south side of the island.
The Peak Tram is still running – it is considered public transport – although if you were hoping to go to Madame Tussauds in the Peak Tower you'll be disappointed, as it has also been closed until further notice.
"Most attractions are closed because of the virus, so we recommend that visitors go to a shopping centre. Harbour City and K11 are within walking distance," said a concierge at The Peninsula hotel in Tsim Sha Tsui.
"Most pharmacies have sold out of face masks, but if you are a hotel guest, we will provide you with masks," she added.
A concierge at the Four Seasons in Central also said the hotel would provide guests with face masks – one per guest, if they show their room key.
British tourist Brian Weston arrived in Hong Kong from Beijing on Monday with his wife and 18 others after the China leg of their Asia tour was cut short by two days.
"We were staying at the Grand Gongda Jianguo Hotel in Beijing and as we left the hotel was closing – there were no more guests," says Weston, adding that the tour company provided the group with face masks.
He says none in their group was required to submit a health declaration – either upon leaving China or entering Hong Kong. "We were just waved through immigration," he says. The Hong Kong government has since announced that all travellers departing the city will be subject to health checks and temperature screening.
Weston says his group was advised to avoid crowds in Hong Kong and spend time outdoors, so they have booked a couple of tours with Big Bus, which operates open-top double decker buses.
"The weather is good, so we've booked the top deck, get some fresh air. We're relieved to be here [after China], but disappointed that so many places are closed," says Weston.
Advice for staying safe from the coronavirus while in Hong Kong
1. As yet, there is no vaccine to protect against coronavirus infection, but there are ways to help reduce your risk of contracting it. The Centres for Disease Control and Prevention advises washing your hands regularly with soap and water for at least 20 seconds; avoid touching your eyes, nose, or mouth with unwashed hands; and avoid close contact with people who are sick.2. Masks – face masks are being widely worn on the streets in Hong Kong. Supplies are limited in Hong Kong, so it is advisable to bring a supply with you. Some hotels will provide them on request. While masks may prevent the wearer from contracting the virus, the main benefit of a mask is to reduce the chance of someone carrying the virus spreading it to others.
3. The situation is changing fast so keep abreast of the latest travel advisories and changes by monitoring news and advice websites such as the Hong Kong Tourism Board (discoverhongkong.com) and Hong Kong's Centre for Health Protection (chp.gov.hk).
Original Link: SCMP