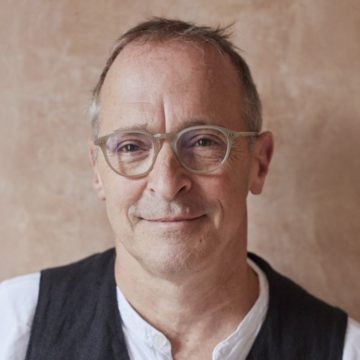 Humorist's antidote to ageing disgracefully
— January 8, 2020
Sedaris, an author and long-time contributor to The New Yorker, says he is trying to avoid becoming a cranky old man who always complains

David Sedaris sounds as though he's got the post-holiday blues – or perhaps it's just the dry, laconic tone in which he speaks. His house in the south of England has been full of friends and family over the festive season and now he's left with piles of laundry and the gloomy British weather. Little wonder he's looking forward to coming to Hong Kong this week.
"I always liked a cloudy day, but then I moved to Europe and realised than when you live here the sun goes away in September and you don't see it again until April in any significant way. The mud is up to your ankles and all it does is rain and the backyard is a pit of mud," Sedaris says over the phone from his 16th-century house that he shares with his partner, the painter Hugh Hamrick, in a rural part of the county of West Sussex.
It will be his fourth visit to Hong Kong and although he hasn't yet decided what he will read at the Asia Society on Friday, he knows it won't be from his 2018 book, Calypso. After an extensive book tour in the US and Europe, he says he wouldn't mind if he never opened that book again. Instead, he plans to read some new material. It's a strategy he applies when he's on the road to help hone his work.
"I will read something out loud and go back to the hotel room and rewrite it and reread and rewrite it and try to get it in shape. I try to learn as much as I can before I hand it to my editor at The New Yorker, and then I start working with her on the final draft of it," says Sedaris, who has contributed to The New Yorker since 1995.
He is also working on essays for an American TV show, CBS Sunday Morning, and says in defining his niche as a commentator he has been careful to avoid sounding "too cranky by just complaining about things". His fear of becoming a cranky old man is real. He refers to it as "manopause" and says it starts at about age 60, when a man becomes invisible.
"I could rob a bank now and if the police asked, 'What did he look like?', they would say, 'He was old, he had grey hair.' That's all they would notice. All people see is your age," the 63-year-old says.
But Sedaris is anything but invisible. He was first recognised for the essay Santaland Diaries which he read on NPR's Morning Edition, an American radio news programme, in 1992, and has had a huge following since. He has been nominated for five Grammy awards for best spoken word album and best comedy album, and received the Thurber Prize for American Humour in 2001.
He continues to be in demand – on the page and in person. After Hong Kong he will tour Australia and then Canada in February, the US in April and May and the UK in June.
"I'm gone a lot. I think I like it. I'm pretty sure I like it," he says.
What he doesn't like is coming back to all the litter in his small Sussex village of Rackham – the bottles discarded by teenagers, the rubbish thrown out of the window by passing motorists. "Because I was gone for so long this fall, I've got to tell you all hell broke loose, this place is really filthy now," he says.
Sedaris has taken it upon himself to collect the litter on the roads in and around his village.
"Sometimes the council hires people to pick it up, but they aren't an obsessive compulsive [like me] so they don't do a good enough job," Sedaris says.
Instead Sedaris channels his OCD towards civic good. He will wade into a ditch filled with water to retrieve a discarded Coke can and says he derives a huge sense of satisfaction from this unusual pastime.
His efforts haven't gone unnoticed. In 2014, the local council acknowledged his litter collecting efforts by naming a rubbish bin lorry after him, calling it "Pig Pen Sedaris". And in 2018 he was invited to a garden party at Buckingham Palace not for his success as a comedian, but for picking up rubbish.
This is not a passing eccentric whimsy – it's a big part of his life.
"I usually write in the morning and then we have lunch, so I don't leave the house until 2pm. In the summer, that gives me seven hours to pick up trash, but now I've only got two and a half before the sun sets, so I've been really trying to make the most of it," he says.
In between the litter collecting, the travelling and the laundry – though that burden has been eased with the recent hiring of a cleaner who has OCD ("I opened a drawer and saw that not only had she folded and refolded all the towels and washclothes, but she had put them back on the shelves in exact equal distance from each other. That's who you want cleaning your house") – Sedaris finds time to write.
At the centre of his work is his family: his 92-year-old father, his beloved mother who died from lung cancer aged 62 and his five siblings, the youngest of whom, his sister Tiffany, committed suicide in 2013, a few weeks shy of her 50th birthday. Sedaris credits growing up in a large household for helping him hone his comic skills.
"When you have six children in the house you can't really take your time. If you are going to tell a story or something you can't dawdle, you've got to get in and out, you've got to be precise and quick and make your point. We learned to get in and out quickly and to get a laugh. Nothing felt better to us than making our mother laugh," Sedaris says.
He helped his sister, the actress-comedian Amy Sedaris, get a foot on the career ladder. As an art student graduate living in Chicago in the late 1980s and early 1990s, he encouraged her to come to the comedy club The Second City and let her share his apartment.
"And then I went to New York and I said [to Amy], 'Come to New York and you can live with me until you find a place.' To me that's being a good brother, paving the way and going ahead," he says.
No one in Sedaris' close circle escapes attention. In a recent essay in The New Yorker, he shared an episode of how crabby his boyfriend Hamrick can be, detailing an event 15 years ago when he emptied the car ashtray onto Sedaris' lap because he'd got ash in his eye.
"There's a tradition of comic essays where I'm the bumbling husband and he's the voice of reason, the person who I bounce off of. People have been doing this for years, but what I've been doing is trying to go a little deeper and make that more complex. At the end of this essay I say that Hugh is like that and he can be really mean, and he can be really difficult, but I love him," Sedaris says.
And that's what readers love about Sedaris: he paints multidimensional characters and shares their flaws not to mock them but to make them more relatable. We connect with the awkward, embarrassing and painful episodes that he recounts. Not all readers, of course, but Sedaris doesn't want to think about them.
"I hate the thought that someone doesn't like me," he says. "I mean, I know a lot of people don't, but I don't want to dwell on that, I'd rather dwell on the people who do love me. I just think it's a better use of my time."
Original Link: SCMP