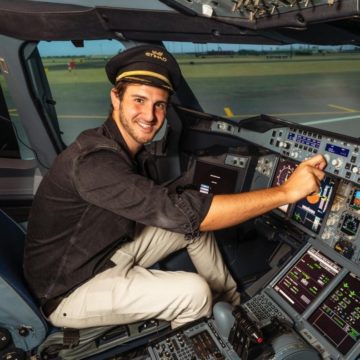 Home swapping app
— December 14, 2019
James Asquith holds the Guinness World Record as the youngest person to visit every country in the world

Holiday Swap, an app that enables users to travel the world through home swapping for just US$1 per night, is experiencing accelerated growth and is eyeing the China market for 2020.Founded in 2017 by James Asquith, who set the Guinness World Record for being the youngest person to travel to every country in the world, the app is now in 185 countries and has more than 500,000 users around the world. Asquith says it is growing by 3,500 users per day and aims to have 5 million users by the end of June 2020.
"Asia has been slowly brewing for us, but next year there will be a big focus on what we do in Asia. In January, we are pushing out simplified Chinese," says Asquith, 29, during a visit to Hong Kong earlier this month.
Hong Kong properties are already listed on the app and he expects to see it gain in popularity in the next year.
Asquith says home swapping has been around since the 1960s, but never took off because no one wanted to make the significant financial investment in the technology. The app allows someone in Tokyo looking to home-swap with someone in London – and the app automatically translates between Japanese and English. But beyond the capital investment, it needed a critical mass of users to really take off.
"We work on scale. We are not asking people to come and use us and open up their wallets, we are actually solving something without money and enabling them to travel and save money," says Asquith.
It was while working as an investment banker that Asquith hit on the idea for Holiday Swap. He became aware that much of the time it wasn't the cost of flights that was stopping people from travelling as much as they might like, it was the accommodation costs when they got there. Airbnb started almost as couch surfing on steroids and you could get cheap deals and then it became more of a profitability platform," says Asquith.
He stayed in plenty of hostels when he was travelling in his early 20s. Aside from the affordability factor, one of the key attractions was the fact that hostels were a great place to meet people.
"You do not really need that now because it's so easy with technology. You do not need to go and sit in a hostel bar to meet people face-to-face like you used to, so why sacrifice your comfort to sleep in a dormitory with 10 people and someone who is randomly blow-drying their hair at 4am?" says Asquith.
Until now, the growth markets for the app have been Europe and America, but he is preparing for growth in Asia and already has staff based in Singapore and Thailand. One of the key challenges in the Asia market will be language.
"In Latin America you have a universal language in terms of Spanish and Portuguese and in North America its English. But in Asia you have Indonesia, Thailand, Malaysia, Vietnam – huge countries with 70, 80 million people and all speaking different languages," says Asquith.
What has helped accelerate the growth of the app in the last year has been working with tourist boards and airlines to create campaigns that showcase certain destinations. The current campaign is focused on London and New York – two big connecting cities for Holiday Swap.
"I think next year we're going to be in a place to show off the more off-piste destinations because the bigger ones will work for themselves," says Asquith.
And in case you are wondering – yes, his own London home is on Holiday Swap. However, he can't always list it on the app because his plans are constantly changing. This is a man who is always on the move – so far this year he has taken 160 flights, many of them long-haul.
"My schedule is always changing, I don't want to get a bad rating on Holiday Swap. But I'm starting to slow down a little bit in terms of the quick moving around and spending longer in places, because I can work remotely," says Asquith.
Original Link: SCMP