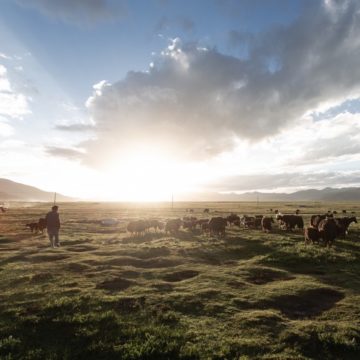 Experience the nomadic lifestyle
— January 25, 2020
Their simple life in harmony with nature is vanishing, but a social enterprise using nomads as guides helps preserve it by taking visitors to camp with herders

If you want an experience that gets you out of your comfort zone and into the wilderness, consider spending some time with nomadic herders on the Qinghai-Tibet Plateau in China.A good jumping off point for such an adventure is Yushu in Qinghai province, known as "the source of the three rivers". The Yushu Tibetan autonomous prefecture is part of the Sanjiangyuan region where the headwaters of three great rivers of Asia, the Yellow River, the Yangtze River, and the Lancang (Mekong) River, are located.
There is a Chinese expression that describes nomads as the people who "follow water and grass". It's an apt description of a people who for many generations have followed a simple life in harmony with nature.
Winter on the plateau is long, lasting eight months, and when the summer comes, they move with their yak herds to summer grasslands. How do they know it is time to leave their winter grasslands? When the marmots – beaver-like rodents that inhabit the alpine grasslands – come out of the deep burrows where they hibernated over winter.
This is a pattern that has been followed for centuries, but since the turn of the century their way of life has been under severe threat.Peng Li, the founder of Nomad's Way, a social enterprise which aims to preserve traditional nomadic culture, has witnessed first-hand the challenges the nomads face. He first went to the region in 2010 after a 7.1 magnitude earthquake struck Yushu.
Serving in a voluntary capacity training teachers in the region, Li met many of the local people. After marrying and moving to Taiwan, he wanted to find a way to maintain his ties with the region and founded Nomad's Way.
Long before Li arrived in Yushu, the nomads were facing big changes. In 2003, the Chinese government launched a policy, officially known as "eco-migration", whose stated mission was to ease pressure on the grasslands by resettling Tibetan nomads in urban areas. Over the course of seven years, some 150,000 nomads were resettled.
Without the skills needed to successfully adapt to city life, many nomads struggled in their new environment. The policy was halted in 2010, the year of the Yushu earthquake, which killed nearly 3,000 people and destroyed 90 per cent of the buildings in Yushu town. Money poured in for rebuilding.
"It quickly became a city with modern buildings, a lot of traffic on the road," says Li on a recent visit to Hong Kong. "Within five years people jumped from a traditional life to modern life. In less than one generation they saw this leap."
Today Li says there are only about 150,000 Tibetan nomads on the plateau. They continue to live as best they can in harmony with nature, some adopting the trappings of modern life. He says it is not unusual to see nomads using a small truck to move their furniture to the summer grassland rather than strapping it onto the backs of yaks. Many have mobile phones, and winter homes are fitted out with washing machines.
Where does the cash for such modern conveniences come from? Harvesting cordyceps, a parasitic fungus better known as "caterpillar fungus" which infects the larvae of ghost moths and thrives near the summer snowline in the Himalayas, has proved lucrative. Cordyceps is used by Chinese herbalists for the treatment of chronic kidney disease, and some people believe it can even cure cancer. As such it commands a high price.
"The current price is 80,000 yuan (US$11,500) for half a kilo; two years ago the price was even higher. Now 70 per cent of their income comes from cordyceps," says Li, who explains that harvesting the fungus at an altitude of 4,500 metres is laborious work.
Sleeping in tents under a starry sky on the high plateau and eating the local cuisine, it is possible to get a taste of what life is like for the last remaining nomads. Nomad's Way offers excursions to the plateau, drawing on a team made up largely of nomads who have been resettled in cities.
"Those nomads who move to the city do not have the city skills or the language. We work with them to create special, unique tours," says Li.
Visitors might observe a sky burial, complete with vultures and hanging prayer flags, on a sacred mountain. A popular experience on such tours is milking yaks at sunrise.
Like all good adventures, it's not just about travelling to a remote region and stepping out of your comfort zone, it's also about adjusting to a fundamental mind shift. When one of Li's guests asked what time the sunrise was, he translated the question for the local herdsman.
"He understood every word I said, but he did not understand the meaning. 'Sunrise is when the sun comes up,' he said. These people do not have watches or mobile phones, their life is simple. We have lost this connection with nature," says Li.
Original Link: SCMP