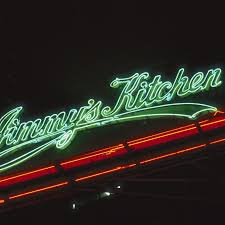 Goodbye, Jimmy's Kitchen
— May 17, 2020

When Jimmy's Kitchen closes its doors at the end of this month many will mourn the loss of one of Hong Kong's oldest and most stories. Indeed, the 92-year-old Central eatery was set to close in April but was given a month's reprieve following a surge of interest from patrons who wanted to dine at Jimmy's one last time.
"The response has been so overwhelming we have extended the closure into May," says Epicurean Group's food and beverage director Anthony Russell-Clark.
Even if you haven't dined at Jimmy's Kitchen, you'll likely be familiar with its large neon-lit sign at the bottom of Wyndham Street. First opened in 1928, the restaurant was controlled by the Landau family until it was sold in 2002 to Sherman Tang, whose Epicurean Group also owns the historic Peak Lookout.
There is talk of Jimmy's reopening when its management finds a suitable location, which may or may not happen. (When much-loved Central restaurant M at the Fringe closed, it too did so with the hope of reopening at a later date. That was more than 10 years ago.)
The past two decades have seen Jimmy's slide into medi­ocrity, its heyday having been in the 1960s, 70s and 80s. Writer and critic Stuart Wolfendale was a junior civil servant in the late 70s and remembers "an interesting mix of clientele – Chinese and Eurasian businessmen who were used to dealing with Westerners, a lot of Shanghainese who were happy tucking into Western food, senior civil servants, senior administrators and the odd barrister.
"No taipans, but smaller business heads, people with their own com­panies. It was a Hong Kong that has now probably gone. I don't remember being chased with the bill. You could take a while with your coffee. And those were the days when people might have a couple of Armagnacs with their coffee".
In the 70s, there were very few good European-style restaurants in Hong Kong. If you wanted to dine on such fare, you went to a five-star hotel or a private club, many of which did not allow Chinese people, the Hong Kong Club being one such example until the late 70s. Jimmy's provided a common ground for Chinese and Western business folk.
Tim Huxley, chairman of Mandarin Shipping, was a regular at Jimmy's from the late 80s and says the restaurant was also a hub for the shipping industry. "You could see everyone who came in," he says. "When the shipping firms were based in Central, a lot of the shipping community used to go there, it was almost like the Baltic Exchange."
Long before Tung Chee-hwa – the eldest son of shipping magnate Tung Chao-yung, who founded Orient Overseas Container Line – became the city's first chief executive in 1997, he had his own table at Jimmy's.
"C.H. Tung's table was past the bar on the left," recalls Huxley. "If he wasn't there, I would get his table."
Lynn Grebstad, for many years the doyen of Hong Kong public relations, recalls how as a patron you "always saw plenty of people you knew, as well as people who didn't want to see you, hiding in a dark corner behind a wrought-iron screen. It was a popular place for trysts, and I suppose no one ever suspected anything because it was in Jimmy's, for all to see".
Wolfendale remembers the staff being fiercely loyal to Leo Landau and his successors, which guaranteed them a job and meant they didn't need to fawn over guests.
"They may not have been terribly polite, but there was a certain – 'warmth' is a strong word – a certain welcome, even if they didn't do people-pleasing well," says Wolfendale.
Grebstad recalls the "waiters shuffling around in their unbecoming pyjama-style uniforms with badges that displayed titles such as 'Bread Boy'".
Neville Sarony QC was less enamoured of the staff, saying the waiters left you with the impression that they thought serving you was a privilege you didn't really deserve.
"Any delay in placing your order would receive a frown, followed by a grump and then a walk-off, indicating that you were wasting their time," says Sarony. "I think they expected you to have memorised the menu and decided what you wanted to order before you even arrived."
Which would have been a challenge because the menu was huge. Huxley recalls a great leather-bound volume with pictures of Hong Kong scattered throughout and a note at the beginning that read: "If it's not on the menu ask Jimmy."
When PR legend Susan Field began doing the marketing for Jimmy's Kitchen in 1990, there were several rounds of discussion about whether to make the menu bilingual to serve the increasing number of Chinese customers. They decided against.
"The menu was so huge it was a tome, so it was decided to keep it in English," says Field.
Sally Lo, founder of the Hong Kong Cancer Fund, arrived from Britain in 1967 to stay with her beau, Robert Lo Kai-leung, and meet his family. Her husband-to-be sent a limousine to meet her at Kai Tak airport, "waiting for me on the tarmac", says Lo. "The driver dropped me outside Jimmy's Kitchen, which was quite British and filled with businessmen."
Her first meal in Hong Kong, the city that would become her home, was oysters kilpatrick. "They were sensational, grilled with cheese and garlic on top," says Lo, who married her man the following year, in 1968. "Jimmy's was famous for them. I've looked for them on menus over the years and never seen them elsewhere."
Wolfendale also had a first date at Jimmy's, in 1984, looking to impress in a place where he knew he would feel comfortable. These were the days when waiters were trained to do tableside flambés, a giant whoosh of flames preparing a decadent tournedos rossini.
Wolfendale usually ordered the old-school favourites Jimmy's was known for, such as chicken kiev, steak and kidney pie or mulligatawny soup, one of the first dishes to emerge from the hybrid cuisine developed in British India.
Kerry McGlynn, who served as press secretary to Hong Kong's last governor, Chris Patten, recalls Jimmy's as the place to go for "good old-fashioned nosh", such as bangers and mash, fried liver and bacon, or a colonial curry.
"I took my partner there one New Year's Eve," says McGlynn. "It was not exactly sedate, neither was it particularly wild. Perhaps that was Jimmy's."
Grebstad loved that each table was given its own bowl of pickled onions – "naughty but so nice and low on the calories" – and she usually opted for the onion soup or the chicken madras while her husband went for the beef stew.
Huxley was a chicken stroganoff man: "It was a unique recipe, apparently brought down by Jimmy from Shanghai." Once a regular, he hasn't been to Jimmy's for a long time, and not regularly since his favourite barman, who could make "the best martini in Asia", retired 20-odd years ago and the vibe of the place began to change. Nevertheless, he says its closure is a loss for Hong Kong.
Wolfendale laments the loss of a treasured haunt but, as so many institutions tend to, he says it had become over­priced. "The prices were getting out of proportion with the product," he says.
Grebstad still has her 1982 edition of the cookbook Jimmy's: Secrets from Hong Kong's Best-Loved 'Kitchen', with an introduction by Australian journalist and corres­pondent Richard Hughes, who wrote, "The old saying still holds good: 'Whether you're a resident or a long-time absentee on solitary return, just visit Jimmy's and in half an hour you're almost certain to greet someone you know.'"
Original Link: SCMP