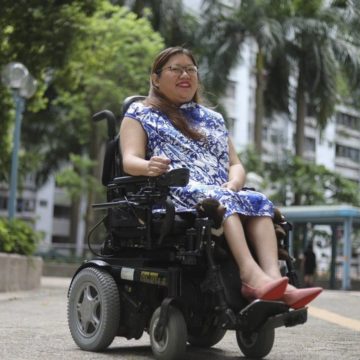 Carmen Yau Ka-man
— July 23, 2020
Born with spinal muscular atrophy, Carmen Yau is a sex rights advocate for people with disabilities
'I talk about sexuality and sex rights for people with disabilities. I also talk about body positivism and how disabled women can be more independent'
Late diagnosis: I was born in 1981. My parents were working as managers at a glove factory in Colombo, Sri Lanka. My mother came back to Hong Kong to give birth and a month later returned to Sri Lanka. When I was a toddler, they suspected something was wrong as my legs were weak and I'd often fall.
We returned to Hong Kong a few years later and I had a lot of medical tests, but it wasn't until I was six that I was diagnosed with (muscle-wasting disease) spinal muscular atrophy, the number one genetic killer of children under the age of two. The onset is usually in infancy or childhood and it becomes serious quickly, you can need 24-hour support and even help with breathing. I didn't look that serious, which is perhaps why it took so long to diagnose me.
The diagnosis meant I was eligible for a special school and I went first to SAHK BM Kotewall Memorial School, which was a well-designed environment – they had a trolley truck that collected all the school bags and delivered them to the school bus.
Absent friends: By the time I was 12, I was on crutches and walking very slowly. I went to secondary school at the John F Kennedy Centre in Pok Fu Lam. The school offered boarding and I lived with a bunch of schoolmates who were also disabled.
Living with other people with similar health issues was heaven for me, but I saw so many good friends die. They died during operations or because of pneumonia or choking, or because they became malnourished and seriously sick. Every year, all the way through my teens, I went to the funeral of someone I knew well, some I'd expected to grow up with.
The government offered special education through to Form Five, but there was no contin­gency for further studies. I got very good exam results and was determined to go on to Form Six. I called all the secondary schools in my area, but none had lifts.
Eventually I got lucky and was accepted by Pui Kiu Middle School, in North Point, which not only had lifts, but also a boarding option. By then I was using a manual wheelchair and had to rely on my mother or classmates to push me. I was there for two years and then went to the Chinese University of Hong Kong to major in psychology.
Call me sugar: At university, I got my first power wheel­chair, which took a little getting used to. I wanted to get a part-time job, as many university students do, but being disabled it was a challenge. I answered an ad for ladies to work at a sex call centre. I told the boss I was in a wheel­chair and he had a phone delivered to me. He told me I didn't have to share my real identity, just play along with the customers and hang up if I didn't feel comfortable.
The people at the centre said I had a sweet voice and I got the nickname "Sugar". On the phone, no one saw me as a disabled girl, I was like a normal, healthy girl. It was a big step to realise what was going on in the adult world.
As I was studying psychology, I took the opportunity to practise counselling skills like empathy or paraphrasing. I discovered how to get to know a person and build an image of yourself that will suit your customers' expectations. I learned a lot during the year I worked at the call centre.
Hard to handle: While I was at university I met my boyfriend, who was physically able. When I graduated, I moved to Yuen Long to live with him. I got a job as a PR officer at Families of SMA Charitable Trust, a charity helping children who have the same disability as I do.
Many parents told me that after seeing me they had a picture of a possible future for their child. I broke my heart into a thousand pieces and put a little piece into each family to give them hope, so it was a torment to see so many pass away, especially the SMA babies.
I loved the job, but after eight years I couldn't handle it any more. I decided I needed to go back to school to be able to better handle my work. By this time, I had a domestic helper at home, which meant I was able to be much more independent.
Back to school: I went to Baptist University and completed a professional diploma in health counselling, getting a distinction and a scholarship, so I went on to Polytechnic University to study for a master's in social work. Studying, working and travelling to and from my home in Yuen Long meant I was in my wheelchair 12 hours a day, which put immense pressure on my backbone.
An hour sitting in my wheelchair is the equivalent in back pain to a woman wearing eight-inch heels for four hours. And sitting so long gave me pressure sores. But the more pain I endured, the more I threw myself into my studies. Your body is in pain, but somehow you find peace in your book.
During my master's, I looked at social issues related to women with disabilities. In my final year, I encountered a lot of family abuse cases and started to look into domestic violence. I studied hard, got a distinction, was on the Dean's List, and had a scholarship, so it was disappointing when I finished the programme that while my classmates were getting jobs as social workers, there was nothing for me. I couldn't find a suitable place that could adapt to me.
Crip sisters: Meanwhile, my relationship with my boyfriend of 14 years had deteriorated and I decided to leave him. In 2017, I sold the Yuen Long flat and moved with my helper into a tiny study at my dad's flat. Initially, I felt lost. Growing up there was no social media and I didn't have a role model, but through Facebook I started to discover many role models, women with disabilities who are living independently, sexually active and proud of their disabled bodies.
I began to get in touch with these women; we call ourselves "crip sisters". We joined together and I learned how things are supposed to be, it turned my world upside down. I thought, "If they can do it, why can't I?" One of these women, even though she is in a wheelchair, is doing strip dancing. She has powerful arms and can pole dance. They are liberating themselves – and that's how I gained the power to stand up for myself.
Sexual revelation: I thought about the many care profession­als who have no idea about people with dis­abilities and decided to pursue a PhD and become a teacher of social work. Two years ago, I began a PhD at Polytechnic Univer­sity on how women with disabilities construct their self-identity on social media.
The government's welfare policies and services focus on employment and housing and rehabilitation for the disabled, but no one really cares about sexuality. So, I've decided to focus on that. I'm a sex advocate. I've written an erotic novella about women with disabilities having different sexual experiences. It's part of narrative therapy, helping people empower themselves through writing and storytelling – it's based on my own experiences as well as stories from my peers.
I talk about sexuality and sex rights for people with disabilities. I also talk about body positivism and how disabled women can be more independent. I was able to apply for a government flat and have been living there for a year. I'm living in a much happier world.
My experiences have shaped me to be very determined and independent. I have a new boyfriend. He offered to be a caregiver and I said no, I have to be independent. I have to think of a sustainable way of getting the proper care that I need. Seeds grow in darkness. I've been in that darkness a long time and now I'm growing into something that is so precious.
Original Link: SCMP