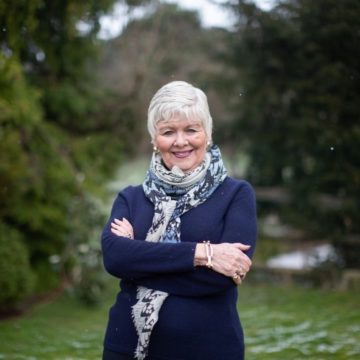 Elaine Goodwin on hitting the glass ceiling, dogs and living in the moment
— March 14, 2021

Goodwin fell in love with Hong Kong when she first visited the city, in 1968, and relocated a year later
Losing everything: I was born during the war, in 1943, in Stanmore, Middlesex, which was in those days a small village just outside London. I remember that we had ration books and my mother used to swap our sweet coupons for orange juice. My father's office was bombed, and they lost everything, and for a while we were evacuated to the north of England because it wasn't considered safe in the south.
I'm the youngest of four, two sisters and a brother. We had a nice house. My mother was keen on the garden and we grew all our own vegetables and made our dresses and she cut our hair. I longed for a bought dress because everything was home-made in our house. My parents weren't well off, they were comfortably off, and they spent their money on education, so all four of us went to private schools. I went to a day girls' school, Heathfield School, in Harrow. I was very happy there until disaster struck when I was 16.
My father imported silks from China, porcelain from Japan and toys from Germany and the war had affected his business. He sold the company to some Americans. It turned out they didn't really want him, they wanted a particular line he had a licence for and after a couple of years they didn't renew his contract. So I had to leave school because my parents didn't have any money. It was a terrible shock.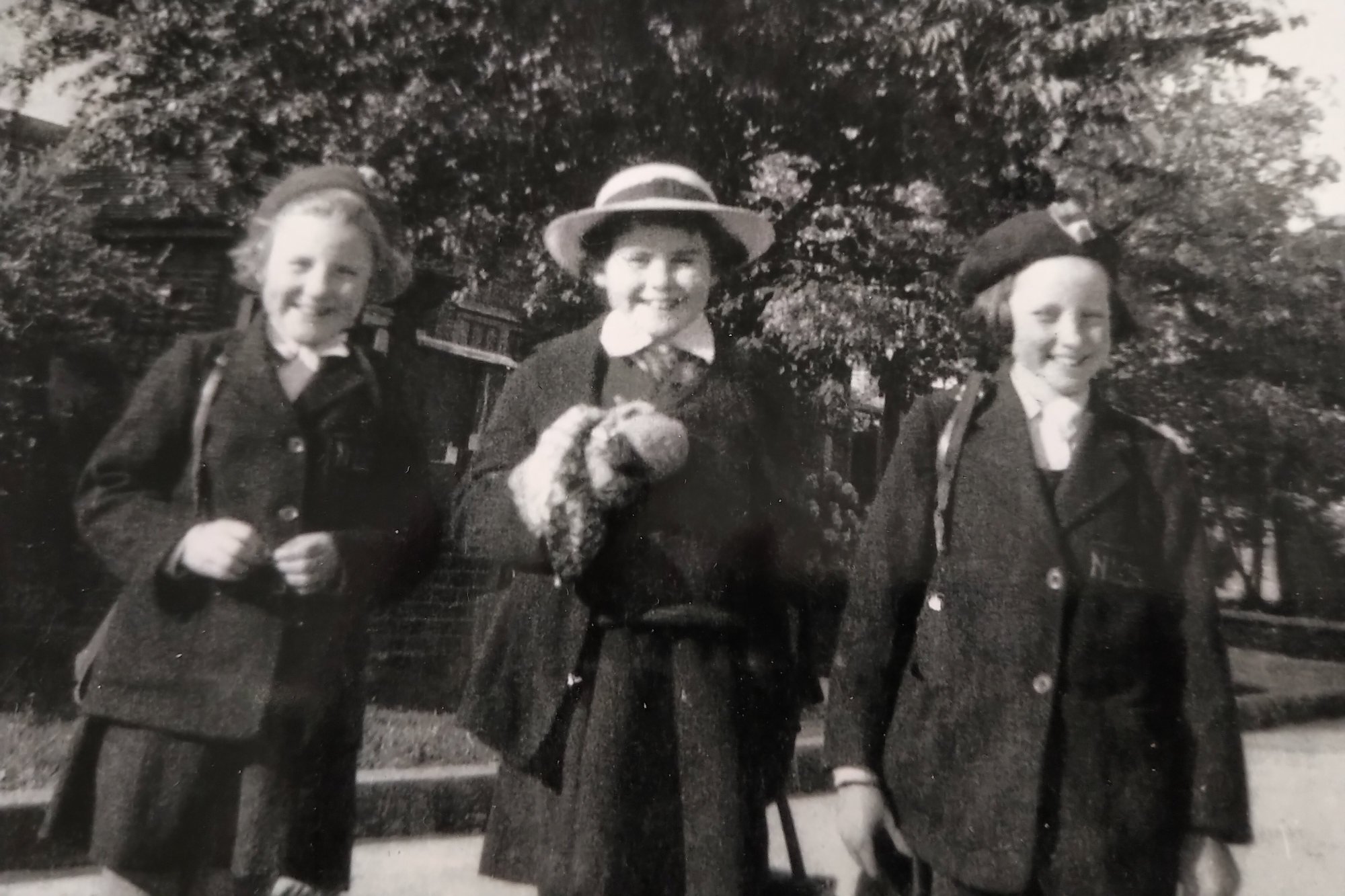 Goodwin (centre) while at school in Britain. Photo: courtesy of Elaine Goodwin
Coming to America: I had an idea I wanted to be a journalist and my mother suggested I do a secretarial course. I began a two-year course at Regent Street Polytechnic but left after a year because I had to make some money. I applied for a job as a secretary at Crawford's Advertising, in High Holborn, in the art department and got it. I worked there for a couple of years and thoroughly enjoyed it.
I was very close to my brother, Graham, who was 13 years older than me. He was the advertising director at The Sunday Times in New York. I was itching to go to New York. My then-boyfriend's sister, Patsy, worked at Air Canada and she suggested I work there, too, because after a year you got a free ticket to America via Toronto. I got a job in the personnel department and went to visit New York.
Perks of the job: Patsy had been on an interline tour, which was like a package holiday that airlines offered to staff on other airlines. Thai Airways had just launched and was offering a free flight from London to Bangkok via Copenhagen and then US$10 a leg on any Thai flight anywhere in Asia and US$10 a night in any Hilton. I booked the tour with a colleague in November 1968.
After three nights in Bangkok, we arrived in Hong Kong and were booked in for three nights at the Hilton and then three weeks at the YWCA. The Hilton overlooked the Hong Kong Cricket Club, which is now Statue Square. It was the first five-star hotel in Hong Kong and the centre of the social universe. 
As we were preparing to check out of the Hilton, a friend of my brother called and said he had a large apartment on South Bay Road and offered to let us stay, so off we went to the lap of luxury. I remember going for a drive to Shek O and thinking how beautiful Hong Kong was, the sea is quite green compared to the Mediterranean.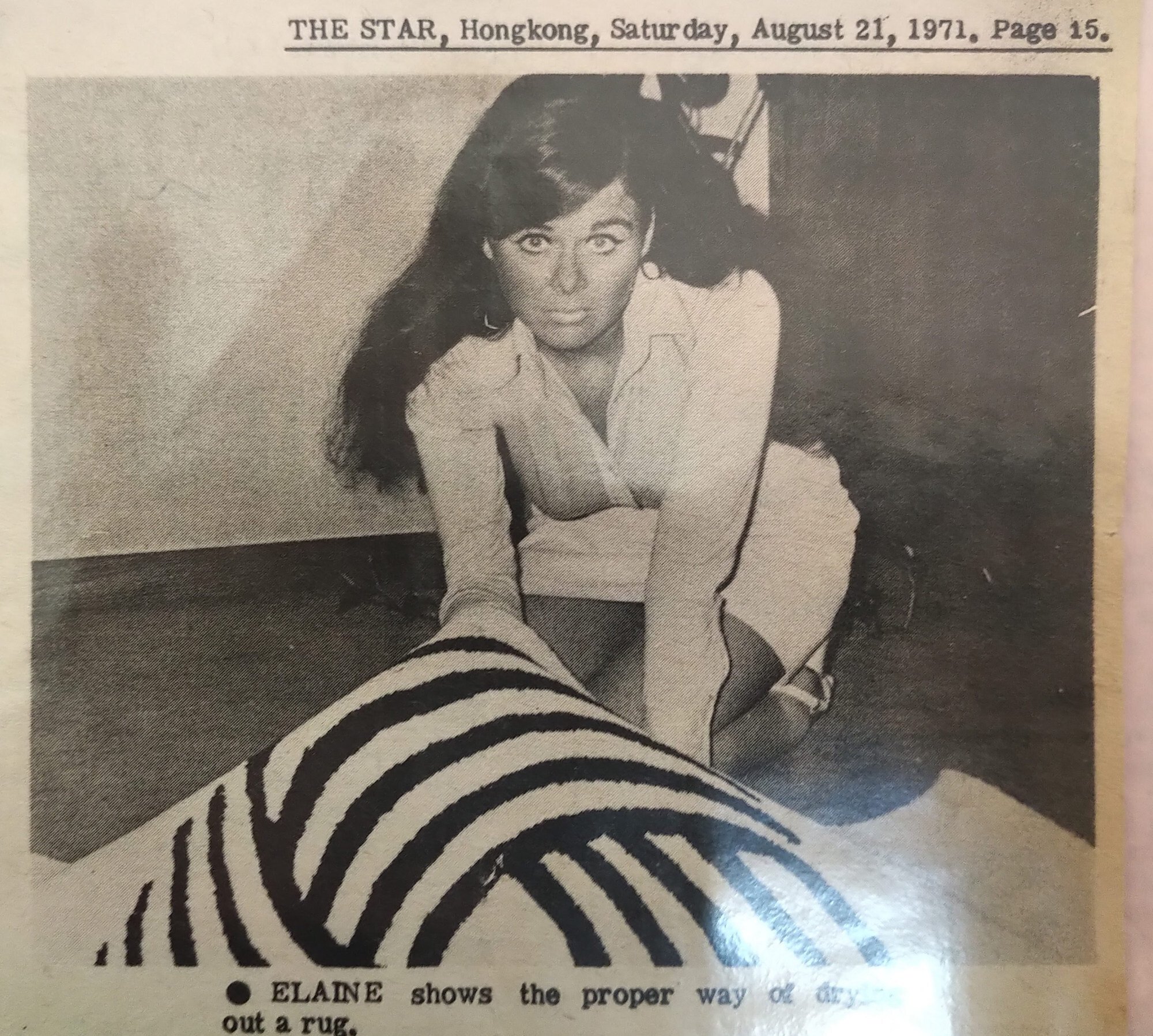 Goodwin shows how to dry a rug, in Hong Kong, in 1971. Photo: courtesy of Elaine Goodwin
Magic moments: When I got back to the UK, I kept thinking about Hong Kong, so I booked another interline tour for the following year and in July 1969 came over with a friend. The plan was to come for six months or so and work. I got a job as a secretary at the investment firm International Overseas Services (IOS) which had offices on Ice House Street.
On Saturday mornings everyone went to Maxim's in the basement of what was then Lane Crawford House – I immediately began to make friends. My boss was called Chris Little. When IOS went broke in 1970, everyone lost their jobs. Chris ended up going back to England. We always kept in touch – he struggled for years and then he started a literary agency. One day someone sent him a manuscript about a child wizard – it was Joanne Rowling.
Out of the blue: I spent a couple of years working in PR for the International Wool Secretariat and then met a doctor in the Royal Air Force who persuaded me to go back to England with him. I did and got a job in sales at the Carlton Tower Hotel. The relationship didn't work out and I was homesick for Hong Kong.
Out of the blue, the manageress of the Godown restaurant in Hong Kong came to see me in the Carlton Tower and said they were looking for an assistant manageress. So, in 1974, I came back to Hong Kong and worked in the Central restaurant and then at the one on Kowloon side, which I didn't like as much as I had to drive back by myself at night. I spent a year managing a new restaurant in Hutchison House called Surf and Turf before it shut.
Hitting the glass ceiling: I saw an ad in the South China Morning Post for advertising sales with the Far Eastern Economic Review. The guy who was doing the interviews was a friend of my brother. I told him that if he hired me, I'd work twice as hard as any man and I'd be conscientious, not go out on boozy lunches.
I started at the Review in 1978 and two years later became advertising director. I loved the job. I ran the Hong Kong sales team for local advertising and would go around the world with the reps meeting their clients. Eventually my boss left, and I was promoted to general manager.
I had a three-year period where we really boomed and then because of internal politics my former boss wanted to move back and he came in over my head. It was torture. I stuck it out for three years because I loved that job so much but then one day, I said a four-letter word and got fired – but I didn't go down without a fight. These days you would call it the glass ceiling.
Cleaning up: When I worked for the Review, I always dressed smartly but every time I took something to the dry-cleaners it got ruined. If there was a stain, they never got it out and everything came back overpressed with the seams shiny. I always had this idea in the back of my mind that someone ought to open a high-class dry-cleaners.
I went home to the UK that Christmas with a little windfall from the Review and looked up dry-cleaners in the Yellow Pages. I saw a company called Böwe that made dry-cleaning machines. It was German, so I thought it must be good. By chance the sales director lived in the next village (in England) and he came around and we talked.
When I got back to Hong Kong, there was a site available on the top floor of a building in South Bay Road. It was a semi-industrial building, which I needed for drainage. I wrote a business proposal and borrowed money from HSBC and flew out the machinery. The sales director sent a manager who came out for six months and lived in my spare room.
Great minds: We opened Goodwins of London in July 1994. I wanted it to look like a Savile Row tailors. The idea was that it would be quality dry-cleaning at affordable prices. Every weekend I would get in my car with the dog to drop off fliers, I must have dropped fliers in every postbox from Shek O to The Peak.
After a while, I realised I was paying too much rent and decided to have the workshop in a factory, so moved it to Aberdeen and later to the New Territories. We opened a shop in Central and one on The Peak and then Great Food Hall approached me because they wanted a dry-cleaners. But eventually rents got so ridiculous we closed all the shops except the one in Great, which is still there, and do it using vans. 
Reign of terrier: I've dated many men. I've had 10 marriage proposals and two engagements. I only ever wanted to marry one man and, unfortunately, he didn't really want to marry me. I spent 17 years flogging a dead horse, so I've never been married. I say if you're lonely, get a West Highland terrier. I've always had Westies.
The great secret in life is to live in the now. We spend so much time regretting the past and agonising about the future; my philosophy is to live in the day, never think that someone has got it better than you, because they usually haven't. Be thankful for all the good things you've got, that's the way I look at life.
I have a flat in Discovery Bay, but I'm in the UK at the moment, waiting until I can come back to Hong Kong. In normal times, I commute back and forth. Hong Kong is in my DNA. When I die, I want my ashes scattered over the South China Sea.
Original Link: Post Magazine