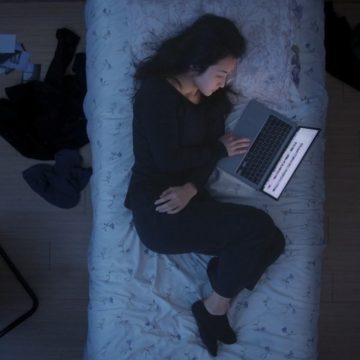 Short film looks at loneliness in isolation
— May 31, 2021

When Yuyu Kitamura returned to Hong Kong from New York, she struggled with how lonely she felt during her two weeks of hotel quarantine. She made and starred in 'Invited In' to highlight the anxiety and fears many of today's young people face while socialising online during Covid-19
Before 23-year-old Yuyu Kitamura returned to Hong Kong from New York last September, she did her best to prepare for her most stressful ever travelling experience while navigating the shifting regulations and paperwork and finding accommodation for the quarantine period. But she wasn't prepared for was how lonely she would feel during her two weeks of solitary confinement.
"It was lonelier than I thought it would be. I thought people would check in on one another. I know it's hard to expect that when everyone is dealing with their own struggles. I deal with anxiety and depression," says Kitamura.
She had recently completed her degree in theatre and acting at New York University and went into the fortnight's quarantine thinking it might be an opportunity to collect herself on her return to Hong Kong, where she had grown up. But quickly the challenges of connecting with people "on the outside" became apparent and she felt a disconnect. If she was struggling, what was it like, she wondered, for someone even younger?
"There are moments in the pandemic where you feel like you need to be included; if not, the sense of the loneliness is magnified. For young people living in this generation of connecting, how you are perceived really matters and is heightened in the pandemic," she says.
Although grateful in hindsight for the period of self-reflection, she says in the moment she felt really sad. But there was a silver lining – when she left her hotel quarantine, she had the backbone of a story which has now been made into a 20-minute film, Invited In, to premiere in June.
The film centres around a shy girl called Annie (played by Kitamura) who finds herself mid-pandemic realising how lonely she has been her whole life. Forced to step out of her comfort zone, she makes her first "real" friend through social media with Emmy (Haley Wong), a brash lifestyle influencer, and soon realises how fake online friendships can be.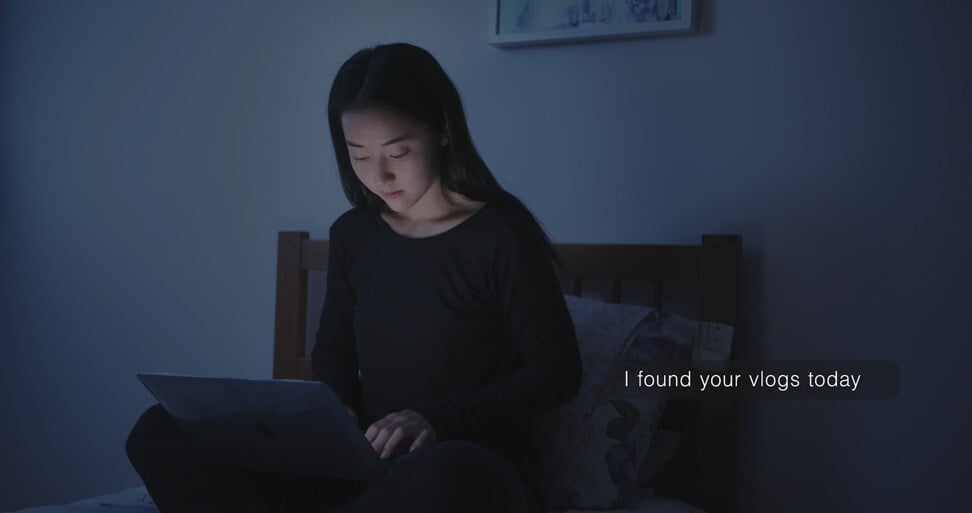 In the film, Kitamura plays a shy girl called Annie, who finds herself mid-pandemic realising how lonely she has been her whole life. Photo: Katie Lau
The film is an all-women collaboration including producer Alicia Sing and director of photography Katie Lau. Kitamura and Sing were schoolmates at King George V School in Ho Man Tin, but only really connected and became firm friends over the last year.
Technology has been a double-edged sword through the pandemic, allowing us to stay connected with friends, family and the wider world through a series of lockdowns, but also risking damaging mental well-being – especially that of young people – through promoting unreasonable expectations.
Responding to a comment from the audience after a preview at Soho House last week, Kitamura says she was struck by the speed of interaction on social media.
"When people live-stream and post comments, it's such a fast-paced interaction. You say something and someone immediately responds, not knowing how it will be received. We are almost so used to it that we forget the effect it has," she says. She adds that as a teenager her only social media was a Facebook account, but now teens are connected across multiple platforms, from TikTok to Instagram and YouTube.
Twenty-two-year-old Sing says that when she was 14, she and her friends had long discussions about the best time to post a profile picture. It seemed very important at the time, and made her feel anxious. "I can only imagine the amount of stress young people now must feel being across so many platforms," she says.
Social media was much slower a decade ago, she adds: "I felt like it was two-way thing – you added someone, but they needed to accept you to form a bond, but with TikTok someone can follow you without you knowing them. You might never have met them. There is a rush with social media of getting a lot of likes, getting noticed."
That's not to say social media is all bad. Kitamura had a positive experience mid-pandemic. She read Alex Banayan's book The Third Door: The Wild Quest to Uncover How the World's Most Successful People Launched Their Careers (2018) which is about the idea that there is always a "third door" – after the front door and the VIP door – to get to do what you want to do, and decided to join the author's 50-day mentor sessions.
"Over 50 days I started making friends with strangers around the world and now they are people in my life who I genuinely admire, look up to and consider friends. The most positive thing that came out of the pandemic for me was knowing there are people out there who care for you," says Kitamura.
And she found that the Hong Kong quarantine Facebook – where people openly discuss not only the logistics of quarantine, but also the mental health aspects – was a great resource.
"I would post [a question] and people would say get this form or do that. It was comforting – someone helped me, and I could help someone. It didn't feel so isolating," she says.
The women behind this project hope that the film will help to start a conversation about the way we connect and react to each other online. Emmy – the film's influencer protagonist – creates a "community" where young people can come together, chat and share. That's a good thing, but the risk is that an online perception can also be disingenuous.
"The last year has taught me that being with people is what really matters," says Kitamura. "There is something more genuine and honest about an [actual physical] interaction. I wish young people could be more aware of that and appreciate that a social media presence isn't as authentic."
Original Link: SCMP