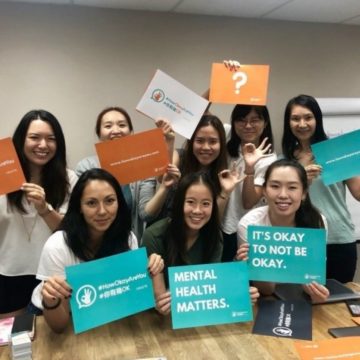 Pandemic, social distancing getting you down?
— August 22, 2020

Mental health charity is offering free remote guidance sessions for Hongkongers whose mental well-being has suffered the most from the Covid-19 pandemic
It has also made it easier to find out where to get mental health support, after 43 per cent of Hongkongers surveyed reported a decline in their mental state
The coronavirus pandemic has hit our mental well-being hard. Many more people are experiencing anxiety and depression and there has been an increased demand for mental health care. In response, the mental health charity Mind HK has launched initiatives to support Hongkongers, especially the most vulnerable.
Mind HK announced its plans alongside the results of a survey conducted in May which found that 43 per cent of Hongkongers noted a decline in their mental health during the early months of the pandemic. It also found that 49 per cent of respondents reported feeling lonely, which affected their mental health and well-being.
"On paper it's a big number, nearly 50 per cent, but from a professional point of view it's unsurprising. No one saw [coronavirus] coming. None of us anticipated that it would hit as hard as it has done. And there's the element of it being so prolonged, everyone is feeling really fatigued by it all," says Teresa Chan, clinical adviser at Mind HK.
The survey found the main barrier to seeking mental health support to be safety concerns around the pandemic, and 21 per cent of those with experience of mental health problems reported this as a difficulty in accessing mental health support or treatment.
Chan, who works in private practice as a psychotherapist, says the impact on people's mental health is being seen across the spectrum, from having a low mood, to anxiety – which heightens a person's sense of threat and fear – to symptoms of depression, especially in relation to the social distancing restrictions.
"The element of constant change around the world – one minute going into lockdown, and then restrictions eased or put back – that's quite challenging," says Chan.
Mind HK's Covid-19 Emergency Mental Health Relief Scheme offers short-term pro bono mental health support to those who have been most affected by the pandemic, particularly the most vulnerable – low-income groups and those in hospital or in quarantine centres. They may be eligible to receive up to three free one-on-one remote sessions to help them manage stress and look after their well-being.
A group of qualified psychologists and counsellors in public and private practice in Hong Kong have volunteered their time for this, and Goldman Sachs Gives is supporting it. Anyone can apply for the scheme through the Mind HK website, with priority given to those in quarantine centres and hospitals.
"Rather than pure online therapy support, it's more guided self-help. The idea is to use those sessions to equip the person with tools and strategies to manage their mental well-being," says Chan.
Another new initiative is "Help me", an online virtual assistant available 24/7 in English and traditional Chinese. The interactive chatbot is designed to give easy access to mental health information and support.
The Help Me project began development in 2018 with seed funding from the family of the late Captain Laurence W.F. Grant, who lost his battle with mental health in northern Laos the previous year. At the time of his death, Grant was seeking to develop a new mental health charity in Hong Kong, where he was living and working, to enable easy access to mental health support.
Mind HK will also launch new Covid-19 mental health education resources, to provide insights and tips on managing mental health specific to the hardships many Hongkongers are facing due to the pandemic.
"Since March 2020, we have trained 1,105 people in managing mental health during Covid-19, published general Covid-19 well-being tips in 10 languages, and developed workplace- and school-specific resources to aid the general public during transition periods," says Mind HK CEO Hannah Reidy. The new initiatives will help deliver more services that directly respond to the community's current needs "and ensure those with a mental health problem receive the support they deserve".
If you or someone close to you is experiencing anxiety about the pandemic, realise that what has happened is so unprecedented that it's natural to experience a roller coaster of emotions, whether it is distress, fear, loneliness or fatigue, says Chan.
"Whatever your emotion, it's normal. You are not alone, everyone is probably feeling that way, too," she adds. A large part of her work is normalising the experience and helping clients adapt.
For example, if social distancing regulations mean that a client can't go to the gym, Chan encourages them to think about what they gain from going to the gym.
"Is it just exercise? Is it about connection and being part of something?" asks Chan, who then encourages them to think about how to find that elsewhere.
If there is a silver lining to the pandemic, it could lie in the fact that the increase in people coming forward has helped to reduce the stigma around mental health issues. In her clinical work, Chan has seen a lot of people reaching out for help for the first time.
"I'm seeing more people without any history of pre-existing problems. Mental health problems are much more out in the open, it's normalised it to some extent. Because a lot of people are experiencing anxiety, low mood, and perhaps are more comfortable about expressing it, it has lifted that stigma a little."
Original Link: SCMP