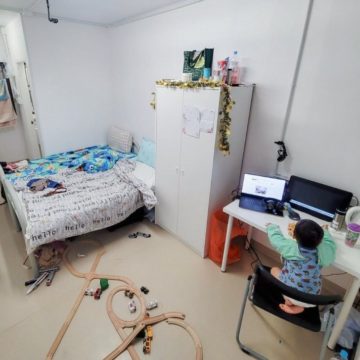 In Hong Kong, going into quarantine is more likely than catching Covid-19
— March 26, 2021

While we should be grateful for our efficient trace and test system, restrictions remain draconian
Government quarantine facilities are particularly tough on children, especially those separated from parents
A year into the pandemic and in Hong Kong we are still at greater risk of being thrown into quarantine than getting Covid-19. Yes, it's a first world problem and we should be grateful for our efficient trace and test system, but it does seem bizarre that the restrictions have become more draconian since we started our vaccine roll-out. Elsewhere in the world, governments have seen the increase in vaccination rates as a signal to ease off on restrictions. Not here.
If you live in Hong Kong and haven't spent time in a government quarantine facility, you almost certainly know someone who has. Anyone who tests positive is sent to hospital while their close contacts go into quarantine for 14 days. Whole classes of school children, rugby teams and members of yoga studios have been carted off despite wearing masks and none of them testing positive. And while the person who tested positive may be released from hospital a few days later, their negative-testing close contacts have to do the full term in austere conditions. Think terrible food, strip lighting and super thin mattress.
It is especially difficult for children, particularly those separated from their parents. The Orwellian stories of asymptomatic children hospitalised, put in physical restraints for their "safety and well-being" and forced to wear nappies – even if parents have been consulted – do not paint Hong Kong in a good light. You don't need to be a child psychologist to recognise this traumatic experience risks long-term damage.
Our 21-day hotel quarantine for returning residents is the longest in the world. That additional week takes a toll on people's mental health – and their wallets – at a time when many of us are feeling under a lot of stress and struggling financially.
Other places – think Taiwan and New Zealand – have succeeded in maintaining zero local transmission with a 14-day border quarantine. If it were possible to still be incubating the virus and test negative after 14 days, wouldn't Taiwan and New Zealand have seen outbreaks?
We are fortunate in Hong Kong and our trace and test system is efficient, but there's room for more flexibility.
Original Link: SCMP