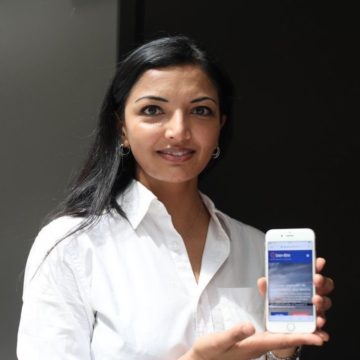 New app for help with anxiety, stress or burnout
— April 28, 2021

Workplace stress was already on the rise, and the pandemic made it worse. Yet only 5 per cent of big companies' staff use in-house mental health assistance
Two women have created an app for employers that will instead let staff consult outside therapists in privacy. It will launch in Hong Kong, Singapore and France
Terry Wou has worked in the finance industry for 20 years, and has seen first-hand the toll that long working hours, work-family conflict and high demands can take on people's mental health.
"We feel that more than half the people in our industry are not well," says Wou, whose husband also works in finance. "A lot are burned or stressed out, or doing crazy things like drugs and gambling … none of them looked for help or wanted to talk about it."
In 2019, the World Health Organisation labelled employee burnout a medical condition, noting that its cause is chronic workplace stress – and that was before the pandemic. The situation has only intensified over the past year.
"Working from home during the pandemic has blurred boundaries, there is no work-life balance. A lot of my friends are working around the clock and with Zoom there are no boundaries, it gets crazier," says Wou, speaking from her home in France. 
Wou and her family moved from Hong Kong to her husband's native France in July last year. She recently completed a Masters in Psychology at the University of Hong Kong while running her own fundraising company and was searching for a new business idea.
Towards the end of the year, she returned to Hong Kong for her nephew's wedding, and it was during her 14-day quarantine that inspiration struck.
"Locked up in a hotel room, the idea came to me and I finished my business plan before I left my hotel room," says Wou. 
That idea was bien-être (French for well-being), a digital mental health service for corporations which will go live at the end of June. The app aims to provide mental health support to employees of large corporations. Digital mental health is a very new space. It's only in the past decade that we have seen B2C (business-to-consumer) online mobile therapy options such as Headspace, Talkspace and Betterhelp. 
Business-to-business (B2B) models have only appeared in the last five years, first in the US and then Europe. Unmind, a B2B service that provides "clinically backed" tools, training and assessments for company employees in order to improve workplace mental health was founded in 2016.
Bien-être – a B2B model – will offer its service to corporations, which will then offer it to their employees. An employee will be paired with a therapist for a one-hour video call within the app. 
Co-founder Dr Gira Patel, a British-registered psychiatrist who has worked part-time as a mental health counsellor at medical clinic OT&P in Central on Hong Kong Island since 2014, says the space felt very new when her friend Wou first floated the idea.
"As we've got into it and done more research and read reports, we've realised this is huge. It was huge before the pandemic came along and it's here to stay; the mental health impact [of the pandemic] will be long lasting," says Patel.
A lot of effort has been taken to ensure that the app is highly secure, with end-to-end encryption and an inbuilt video function rather than using Skype or Zoom, which are open to glitches, to ensure privacy.
Although the employer pays for the service, they won't know which employees have taken up the service or how many sessions they have booked, but they will be given anonymised data analytics. 
"I think we become a mirror. We can say [to the employer], this is the trend we've identified, these are the statistics we've identified, your improvement programmes may need to be more targeted to this issue. They can then call in a consultant," says Patel.
She says she has never been busier than in the past year in terms of client bookings, and many are coming to therapy for the first time.
"I see people who will say, 'I've never seen a therapist before and I'm here because my friend came and going through a similar thing'. Now there is almost permission," says Patel.
So what do employees want in terms of mental health support from their employer? Wou and Patel did extensive research on current employee assistance programmes (EAP) and found that in Hong Kong, firms tended not to offer any support; in multinational firms support tended to be in the form of either a pricey call with no follow-up, or an on-site psychologist.
"I spoke to 10 HR firms and they said the [usage] rate [of EAPs] is about five per cent," says Wou.
Why do so few people take up such in-house offers? Trust and privacy are the key concerns.
"They don't trust the firm's psychologist because they are employees of the firm. Employees are shy to use a company programme because of a lack of trust," says Wou. 
Bien-être will initially be launched in Hong Kong, Singapore and France. Wou hopes that in Hong Kong and Singapore, staff working at multinational firms that buy into the service will take advantage of the app.
"It's not a Chinese thing to seek help. Mental health is seen as the black dog, and people want to sweep it under the carpet," says Wou.
But that "black dog" is affecting more people. In 2018, medical journal Jama Psychiatry wrote: "The lifetime risk of developing depression is considerable; studies over the years from USA, [Britain] and worldwide show the estimated risk varies from one in seven to one in three people with high geographical variability, although higher risk is seen in more affluent, developed societies and in those with existing chronic health problems".
And those numbers have been compounded by the pandemic.
"It's more than stress, it's depression, anxiety, burnout. All these things were there pre-pandemic, but with the increasing awareness employers are sitting up and saying we have to do something about mental health," she says.
"More and more people are talking about it or expecting us to be sympathetic to mental health needs," adds Patel. 
Original Link: SCMP