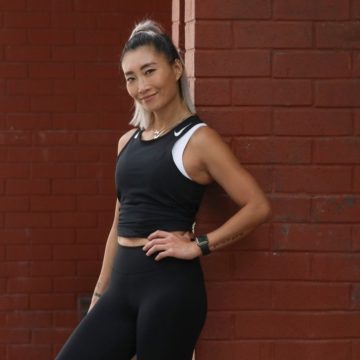 Nike trainer Utah Lee
— March 21, 2021

The Nike Master Trainer and fashion, jewellery and furniture designer talks about her upbringing
She worked for Hong Kong's first fitness chain, TLC, which is where she met her husband
Crowded house: I was born in Hong Kong in 1975 and grew up in Kwai Fong. It was super local. I'm the youngest of four and have two older sisters and a brother, but there were five of us kids in the small flat with my parents because my cousin lived with us until she was three.
My dad worked seven days a week, doing three jobs to take care of us all. He worked in the supply department at the police station across the road from us. He also worked in a methadone clinic and at weekends as a lifeguard. Sometimes my mum would take us to the beach to see him, he'd be in the lifeguard hut or on a speedboat. On the rare days he wasn't working, he'd take us hiking.
Coming into fashion: As a child I loved to dance and took ballet and folk-dance lessons. I also loved drawing. Every year I entered drawing and painting competitions and often won. I didn't enjoy studying, so I didn't go to university after secondary school.
I went to the VTC (Vocational Training Council) and studied pattern making and fashion design for a year. There were 44 students in the class and I was the only one who ended up getting hired as a designer; the rest went into construction or became accountants or the like.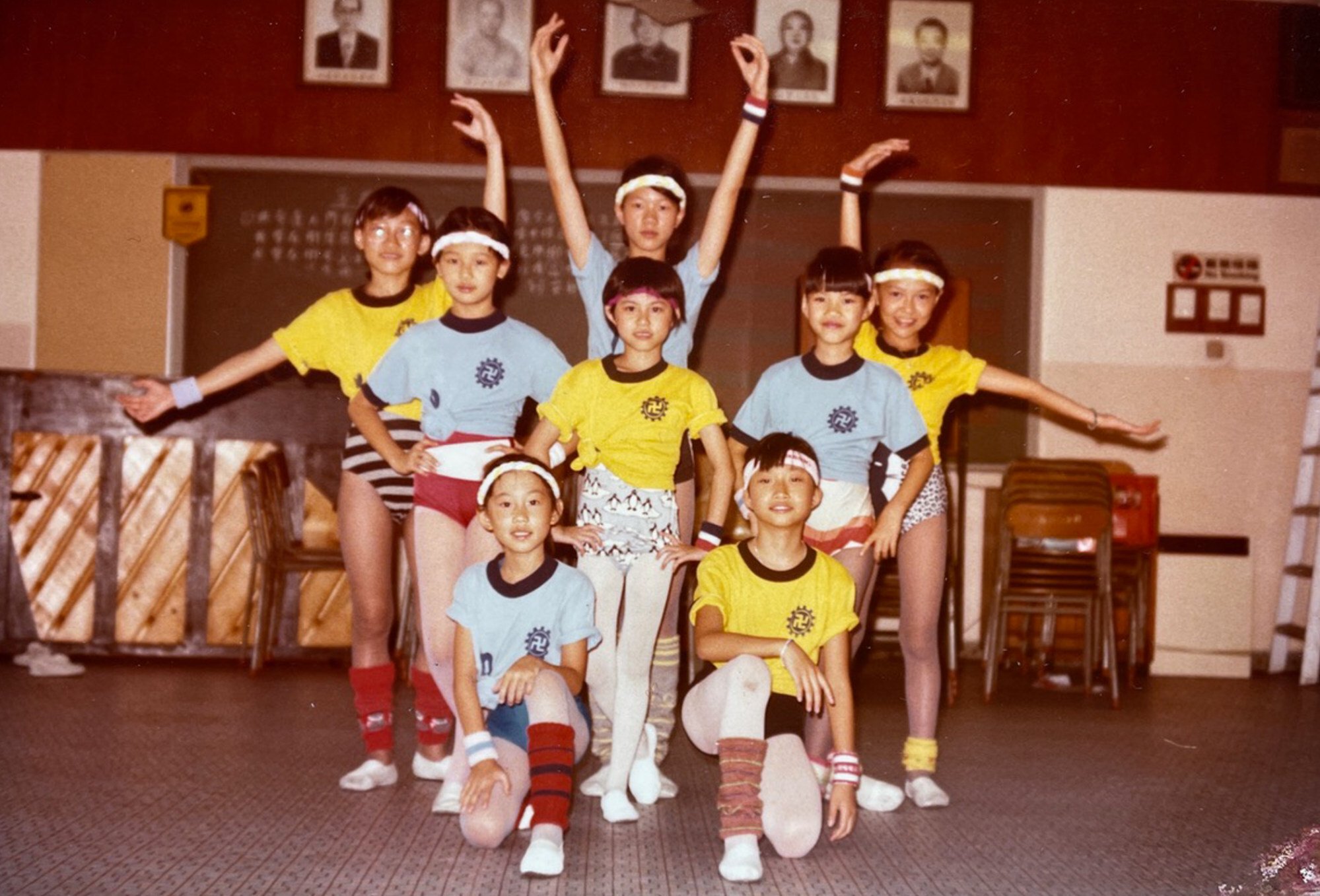 Lee (bottom right) with dancing friends before a show. Photo: courtesy of Utah Lee
I started in the garment industry, working in a factory in San Po Kong and learning the ropes, and then became an assistant designer for three years before I left and went to another design firm. My job involved going to China twice a week, taking the bus back and forth and sometimes having to stay overnight. It was hard work, so I quit.
Arrival of the fittest: Not long after I left the fashion industry, I ran into a friend who was opening a gym called TLC [The Lift Club] in North Point – it was to be the first fitness chain in Hong Kong. I knew nothing about fitness at the time. My role at the gym was to do pretty much everything from greeting the customers and cleaning the machines to tidying the bathroom.
One day the manager asked if I could teach a class. I'd been dancing since I was six and happily agreed. I taught hip hop and street dance and jazzed up my classes. People liked my look – I had permed hair and wore a Nike top with ripped jeans to teach – and my classes were popular.
The gym was on Marble Road and we rented a space on the ground level, below the gym, as a sales office. I did demonstrations there, right next to hawkers selling things on the street. It was a fun time.
Can I borrow a pen? I met my husband, Jason, in 1998 when I was working at TLC. His sister was a part-time aerobics instructor at my gym and she told him, "You've got to meet this girl, she's beautiful." He was teaching at Delia School of Canada, in Taikoo Shing, and started coming to the gym. He'd try to find little excuses to talk to me.
One day he asked, "Can I borrow a pen?" I told him, "You're working out, why do you need a pen?" He said he wanted to write down his workout programme. After a few months we started dating, and that was it. We got married a few years later and now have two kids, Jacob, 13, and Sophia, 11. Jason went on to work at the German Swiss International School for 10 years and now teaches at Renaissance College, which is where our kids go to school.
Just do it: Nike sponsored the TLC staff uniform, which is how they got to know me. In 2000, Nike Hong Kong called and offered me an athlete sponsorship. I was the first person in Hong Kong to be offered that, which meant they sponsored my gear and I represented them. I was able to go to the store and pick out whatever I liked.
At that time, China was developing its fitness industry and they would take me across the border to train the trainers in the mainland. They liked my style and said they wanted all the trainers to look like me and talk like me – I joke that they wanted to clone me. At the annual Nike Super Workshops, there would easily be 1,000 people in a class. The female trainers got the same hairstyle as me, wore the same make-up and clothes, and even got the same tattoos.
One year I started wearing my top off the shoulder and they all started doing the same and bleaching their hair like me. In China, everything's about the bigger the better, it was awesome. In Shanghai, they made a gigantic four-storey poster of me – it was crazy seeing myself so big.
I went to China to train the trainers every year until the pandemic. They built a gigantic Britney Spears-style stage for me to teach on. When I went to Tokyo to teach, Nike Global saw me and hired me as the face of their first dance campaign called "5, 6, 7, 8". In Tokyo there was a nine-floor poster of me outside a shopping mall, which was amazing, it made me feel really good.
Her own master: I moved to California Fitness and Nike sponsored more trainers and set up different levels. I became a Global Nike Master Trainer – there were only six in the world – which meant I could represent Nike globally. I've always taught classes, I was teaching until I was eight months pregnant, and alongside the training, I've always kept up my design work.
Twice a year, I designed a jewellery and accessories collection for the fashion brand Toppy. I did that for about seven years, while I was working at California Fitness. Along the way, I met a millionaire – he had two private jets – and I trained him for about a year. His office was in the same building as TLC in North Point, but I wasn't introduced to him until I was working at California.
He asked me what I did for a side job and I told him I was a jewellery designer. He got one of his staff to do a background check on me at Toppy. I was surprised and asked him why he'd done it and he said he was thinking about investing in me. At the time, I was pregnant with my second child, so when I'd had Sophia we talked again. I made a presentation for him, three boards showing a kid's clothing collection, jewellery and home furniture. He liked it, so that's how I started with a side business of retail.
We opened a store called House of Style on Wellington Street, it was European, shabby-chic furniture. I did everything – I designed furniture, fashion jewellery and clothes, it was like a mini Lane Crawford. Sales were good but unfortunately the rent was very high – HK$200,000 a month – so we closed the shop. He (the investor) opened a pharmacy in the basement of that building and I spent a year running that in between going down the road to teach classes at California Fitness.
Person of influence: I have been freelance training for the past five years. I train private clients – individuals and groups – and sometimes I do corporate. I'm always at our kids' school, I teach fitness and dance for the students and the staff. And I'm a KOL (key opinion leader) on Instagram, which means I get invited to events and asked to test out products. That's actually a good income.
I've been very lucky in my life – if I work a little harder on whatever I'm into, I get it. I'm lucky like that. And I'm lucky that my husband has a stable job, otherwise I don't know if I could live my life like this.
Original Link: Post Magazine