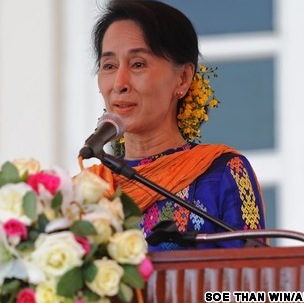 Aung San Suu Kyi draws thousands to Myanmar's first literary festival
— February 5, 2013
Though the "Lady" was the main attraction, the Irrawaddy Literary Festival managed to focus the spotlight on Myanmar's changing book landscape

The Irrawaddy Literary Festival was never going to be a regular book bash. Not with one of the world's great democracy icons as the star of the show.
And the thousands that turned up to hear Aung San Suu Kyi weren't what you'd call the usual literary festival crowd.
"It's the draw of this country and Aung San," said Jane Heyn, the festival's director and wife of the British ambassador to Myanmar, as the three-day festival came to a close on Sunday.
Three thousand made their way through the doors of Inya Lake Hotel in Yangon on Saturday and more than a thousand of those packed the hotel ballroom to hear Ms. Suu Kyi speak.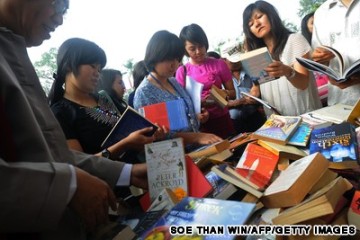 She spoke of how books helped her through the 15 years she spent under house arrest. Outside Yangon'a Inya Lake Hotel, site of Myanmar's first literary festival, book stalls were set up under the shade of bright blue tents.
"I read a lot about prisoners and prisoners of conscience," she said. "Through books you can learn how people cope intellectually and spiritually through the challenges of life."
Suu Kyi's favorite genre — detective stories — have proved more than a source of entertainment. She says they've helped her understand people.
"And now that I'm chair of the Law and Order Council, I know a lot more about the law and courts because of reading detective stories," she says. "The more detective stories you read, the better able you are to work out who the villain is."
For Suu Kyi, literature sustains the soul and gives strength: "If you have ever learned some poems, they will come in very handy if ever you are imprisoned."
Myanmar's changing literary landscape
As crowds flooded out of the ballroom onto the Sunset Terrace to hear Suu Kyi announce the winners of a writing competition, 20-year-old Naing Mie Mie Khin beamed.
"I am so happy today!" she gushed.
Did this student of English at Rangoon University come to join the weekend's literary discussions? "No — I've come to see the Lady!"
Indian novelist and poet Vikram Seth, one of the 26 international writers who flew into Yangon for the event, said it was the draw of Aung San Suu Kyi that convinced him to accept the invitation.
"I wouldn't normally come to a festival when I'm working on a book, but because of Daw San, because it's Burma and because it relates to freedom and free speech I wanted to come."
Although Suu Kyi was the star of the show, the festival wasn't all about her. When she sat on a panel with three other writers — Jung Chang, Vikram Seth and William Dalrymple and moderator Fergal Keane — she was careful not to steal the limelight. She even generously shared that one of Vikram Seth's poems helped her get through a particularly dark time under house arrest.
Alongside the international writers were 120 Burmese writers — some authors, plenty of poets as well as journalists and editors. The names of the overseas writers were unfamiliar to most but that was hardly surprising — under Myanmar's 50-year military regime very few foreign books were translated.
Those that were translated were largely the classics and even they were annotated. Chinese author Jung Chang's bestseller "Wild Swans" was recently translated into Burmese.
But things are changing. For instance, festival speaker Jung Chang's bestseller "Wild Swans" was recently translated into Burmese.
Likewise, the international writers knew little about their Burmese peers.
Although a few have been translated into English, such as the author, journalist and surgeon Dr. Ma Thida, as well as the poet Pandora, most are unknown outside of Myanmar.
"I hope that this event has enriched the outlook of our local writers," said Pandora. "And also that the rest of the world can find out more about Myanmar literature. Our biggest barrier at the moment is language — we need more work to be translated, we need more translators."
Outside on the lawn overlooking the tranquil Inya Lake was a carnival-like atmosphere. Under the shade of bright blue tents were book stalls and food buffets. Festival-goers lay on the grass and chatted. There were marionettes for entertainment and even fire breathers.
But inside were serious discussions — some in English, some in Burmese, all centered on the special moment at which the country finds itself. After five decades of military dictatorship the door has opened to the world, free exchange is permissible and the buzz of change is an almost physical sensation.
Uncertain future for Irrawaddy Literary Festival
Three thousand made their way through the doors of Inya Lake Hotel in Yangon on Saturday, many to hear Aung Suu Kyi speak. Timothy Garton Ash, professor of European Studies at Oxford University, was one of the festival's most successful moderators, deftly smoothing over any cultural gaps and gaffs.
He moderated a panel on writing under censorship and free speech and gave a lecture on what George Orwell — the English novelist and journalist who served as a police officer in Myanmar from 1922 to 1927 — meant for the country.
One of the world's leading authorities on Orwell, Garton Ash's talk was much like the festival itself — entertaining, informative and deeply personal. He was a close friend of Michael Aris, Suu Kyi's late husband, who died of cancer while she was under house arrest.
The house in which Suu Kyi spent all those years is just across the lake from where the festival was held.
It's uncertain whether the Irrawaddy Literary Festival will be staged again next year. Heyn conceived and created a one-of-a-kind festival. She and her ambassador husband will leave Yangon in the summer after four years and no one has yet stepped forward to take responsibility for putting it on again.
If the festival is staged next year one thing is certain — it won't ever capture the special vibe of last weekend. Witnessing a country as it greets its future, as writers meet other writers and discover new ways of expression, is a magic that happens only once.
Original Link: CNN Travel