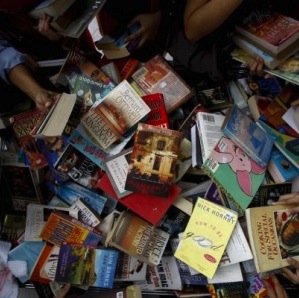 Starved nation tucks into a feast of words at Myanmar book festival
— February 17, 2013
Myanmar's first international book festival drew the country's guiding light, leading writers and a home crowd intrigued by the give-and-take of it all

Media scrums aren't usually associated with literary festivals, but they happen when Aung San Suu Kyi is involved. Myanmar's first international book festival, the Irrawaddy Literary Festival held from February 1-3, drew an impressive line-up of international heavyweights, 120 Myanmese writers and "the Lady", herself a writer.
Suu Kyi has achieved so much it's easy to overlook the fact that she also has two books to her name: Letters from Burma and Voice of Hope. She's almost as passionate about literature as she is about politics. "My years of house arrest weren't hard because I had books," she told the huge crowd who turned out to hear her speak. "They give you a chance to enter a different world from your own."
The turnout for the festival at Yangon's Inya Lake Hotel was impressive. Three thousand people passed through the hotel doors on the Saturday, something that would have been unthinkable two years ago when festival director Jane Heyn suggested the event to Suu Kyi. "Not only getting the visas for the international writers, but even having a meeting with more than a certain number of people was prohibited then," says Heyn, wife of the British ambassador to Myanmar. But that didn't stop Suu Kyi agreeing to lend her support – if there came a day it could be done, she'd be behind it. Neither could have predicted the changes that would come so soon – the move to a civilian government and the opening up of the country after five decades of military dictatorship.
With Suu Kyi on board as patron, followed by BBC correspondent Fergal Keane and writer and founder of the Jaipur Literary Festival William Dalrymple, Heyn had little trouble attracting more big names from the literary world.
Like many of the visiting authors, Indian poet and writer Vikram Seth agreed to come because of who was involved and where it was being held. "Although Burma is a neighbour of India, I've never actually visited before. As for the cast of characters [fellow writers], I've seen them in many different environments."
Literary figures such as Jung Chang, Rory Stewart and Sudha Shah all flew in to Yangon. These writers are household names across the globe, but not in Myanmar. "When I first discussed the festival with local writers, I thought the attraction would be the opportunity to meet international writers, but of course most of them didn't know who they were. I might as well have said I was bringing in Martians," says Heyn.
Myanmar was cut off from the rest of the world for 50 years under the ruling junta. Apart from some of the classics, books by foreign authors weren't translated. That is starting to change: Chang's Wild Swans, for example, has recently been published in the Myanmese language.
Even the format of the festival, with question-and-answer sessions after panel discussions, was unfamiliar. "Literary talks in our country are lectures. Someone stands up and talks, and people listen and then go away – there is no exchange," says Ma Thida, a writer, journalist and surgeon.
A 23-year-old monk, Ashin Dhammika, was the first to stand and ask a question after Chang's talk. A literature student at Yangon University, he says later: "I have been to literary talks before, but this is the first time I've been to one where you can ask questions. This is different. It's good."
Ma Thida values freedom of expression – and has paid the price. Twenty years ago, her political writing earned her six years in jail. She now edits a weekly newspaper and a monthly youth journal, while also volunteering at a clinic, but still finds time to nurture young talent. Along with Myanmese poet Pandora, she encouraged local writers to attend the festival.
Not only was the format new to some, and many of the writers new to each other, but even the audience wasn't the usual set. There was no sign of middle-aged mothers and their book-club pals who are common sights at such festivals. This was a politically astute crowd packed with NGO workers, lawyers, journalists, monks and students.
The talks – given in English and Myanmese – were also heavier than most lit-fest fare, covering freedom of speech, censorship and violence.
Not only had many of the speakers paid a high personal price for daring to write and voice their views, but many who took part in the question-and-answer sessions had also been political prisoners. It's still difficult to get away from politics in Myanmar but the talks weren't depressingly heavy, thanks to the wit and diplomacy of moderators such as Timothy Garton Ash, professor of European studies at Oxford University, and Irish author Keane. Even Suu Kyi offered a rare glimpse of her lighter side, admitting to having read and enjoyed all the Harry Potter novels. Harry and his Hogwarts friends apparently also gave her courage, as had many other fictional characters. In preparing for her talk, she was surprised to discover the impact fiction has had on her life, Suu Kyi says.
"I have been tremendously inspired and influenced by fictional characters and writers, not just political leaders." And her favourite book? "Victor Hugo's Les Miserables, because he talks of two kinds of revolutions: a spiritual one and a socio-political one," she says.
While there was much reflecting taking place over the weekend, with writers mulling over political as well as personal histories, the overall direction was one looking to the future for the country. As the event drew to a close, what seemed to become clear was that the future for literature in Myanmar isn't just about the ability to write without fear of reprisal, but about getting translated, too.
Ma Thida, Pandora and historian-writer Thant Myint-U are the best known of the country's writers: besides books in their own language, they have also written books in English. But other Myanmese writers need to be translated to find a voice beyond their own land, and need to be able to read the works of writers from around the world.
As Myanmar opens up to the world, it needs not only a strong democratic leader but also translators. Philippine poet Dinah Roma Sianturi, an associate professor of literature at De La Salle University in Manila, writes in English and her work has been translated into Malay and Japanese, among other languages. She was beaming as she discussed plans to be translated into Myanmese. "Talking to translators and finding out where to go with translations is for me the most exciting part of this festival," she says.
The ripple effects of the country's first literary festival are expected to continue for some time for many of those involved. "This kind of festival is very good for our kind of society which is just opening up, so we can become a more broad-minded society," Suu Kyi says. "I would like to see it as an abiding force to open us up to the rest of the world."
And as she was led out of the ballroom and through the throng, a dozen young Myanmese festival volunteers linked arms and formed a circle around Suu Kyi to protect her from the crush of the press, hordes of well-wishers and book lovers, and a few stray tourists in the lobby.
Later, Heyn tears up when she talks of how the young volunteers would give their lives for Suu Kyi. It's a memory she will take with her when she and her husband leave Yangon in the summer, leaving this new literary festival without a director – but hopefully not for long.
Original Link: SCMP