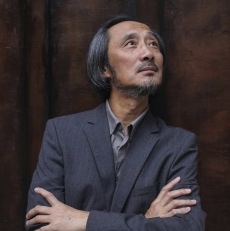 My life: Ma Jian
— November 10, 2013
The London-based dissident novelist talks to Kate Whitehead about the Cultural Revolution, challenging the Party and finding a place to call home

HUNGER PANGS Growing up in Qingdao, Shandong province, I was often hungry. I went to school on an empty stomach and, walk-ing on the road, I would look for seeds, a piece of bread – anything I could eat. When I was seven, a vegetable cart passed through the market and 100 people rushed towards it, trying to get the fallen vegetables. I saw something hit the ground and reached for it, but the cart crushed my hand. I still have the scar. Years later, I learned many people starved to death in the great famine of 1960.
RIGHTIST AND WRONGED My art teacher liked me and kept me after class to teach me to draw. One day he took me to a park to draw and said, 'When people ask you who taught you how to draw, you must tell them it was Lu Xiangyun.' But when the Cultural Revolution happened, he was persecuted as a rightist and I was the first to criticise him, saying he was a painter and bourgeois. We grabbed his paintings, sketches and books and burned them. I thought I was free – there were no teachers to control me. We would criticise and beat "bad" teachers. We had no idea about the world; we only knew about other communist countries: Cuba, Albania and North Korea. I heard classical music on the radio; it was beautiful, but I didn't know what it was. I was 17 and beginning to think seriously about the world beyond China. It was difficult to get hold of books then, but I found Russian literature at the recycling station. I realised my art teacher was a good man and started to go to the countryside to draw.
A DEAD MAN'S GIRL Towards the end of the Cultural Revolution, there was a fight between two groups of students and someone was killed on each side. One of the students, Lu Zhongjian, was caught and executed. I saw him gagged with wire, but that didn't stop him from shouting, "Glory to Chairman Mao!" His mouth was bleeding. His legs were shaking as he was shot three times. I remember this well because, two years later, I met Lu's girlfriend. I didn't know it at the time; it was only after we had married that she told me. I was curious about what happened to Lu after his execution. A friend knew someone at the medical school in Qingdao and we went there. There were bodies in a big tub of formaldehyde. I rolled one over; it was Lu.
PLAYING WITH FIRE I painted every day and began writing short stories. In 1979, I went to Beijing with my wife, Guo Yanping, and young daughter. I got a job as a photographer for a candle company, creating their advertising. For one ad, I took a photo of a half-naked woman, in bed, holding a candle. The film developer saw it and reported me to the police. I think it was the first photograph of a nearly nude woman in modern China. My wife divorced me. I felt sorry for the model; she lost her job. I began working as an official photographer for the All-China Federation of Trade Unions. It was difficult because you never knew what the boss was thinking. I got in trouble for taking a photo of the Nanjing Bridge in poor shape and had to go back with 100 workers, who painted that section of the bridge before I photographed it again. I wrote a letter to the People's Daily saying the Workers' Association didn't speak for the workers – and I was fired.
KICKING UP DUST I took off and travelled all over China for three years. I wrote about that journey 15 years later in Red Dust. I was a Buddhist before that trip, but, after visiting Tibet and seeing the temples that had been destroyed, I lost my faith. I wrote a short story inspired by my travels in Tibet, Stick Out Your Tongue. The government destroyed all copies of the journal and banned my work. Since then, my name has disappeared in China. In 1987, I went to Hong Kong and lived in a friend's bookshop in Wan Chai and read all the books I'd never read back home, then I moved to Lamma Island. I didn't have much; I ate the fishermen's offerings of food at the Tin Hau Temple. But I was happy and wrote two novels.
NEW ERA In 1989, when I heard the news of June 4, I went back to Beijing and stayed for a month. I met the student leaders, took a lot of pictures and met a lot of people, authors. Looking at these photos, I feel sad, because Chinese authors don't speak honestly now; they don't even write about the Tiananmen massacre. It's only me who writes about this because I don't live in China. A year later, I returned to Beijing to write about why the Chinese became indifferent to each other after the massacre – The Noodle Maker. Then I took a break from fiction and did what I could to criticise the Communist Party. I established New Era, a publishing firm, and Trends (a journal) – venues in which to publish banned works.
COMA TO A DREAM The night of the handover, I had an underground party and met the woman who would become my (current) wife, Flora Drew. Ruhr University invited me to lecture, so Flora and I went to Germany, but we didn't enjoy it. University life was boring and there was nothing but two supermarkets and a forest. Everyone wore the same clothes – all from the supermarket. After two years, we moved to London and have been there since. I like London, the rain. We have four children – Jack, Isabelle and twin girls Dorothy and Alice. I wrote Beijing Coma, about a man dying in his own skin, and after that I wanted to write a story about birth. I believe a great nation must have great mothers but, in China, women who have a second child are like criminals. This is what The Dark Road is about. Now, I'm writing about the Chinese dream. There are many people nowadays who have lost their dream and can't find their home.
Original Link: SCMP
About author
Kate Whitehead is a Hongkonger and has made the city her home since she was eight. She got her first degree (BA English Lit) from Warwick University and her postgrad (MA English Lit) from Sussex University. She was on staff at the Hong Kong Standard and South China Morning Post and was the editor of Cathay Pacific's inflight magazine, Discovery.
Get In Touch