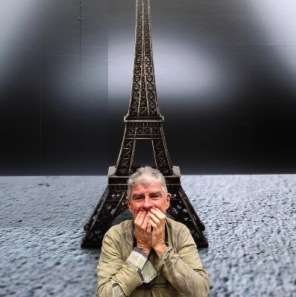 Christopher Doyle
— July 7, 2013
Christopher Doyle is fresh off the plane from Toronto and says he's sipping his first Bloody Mary of the day, but is it really? You have to wonder.

He has that dishevelled bad-boy look down to a T and runs a hand through his unruly mop of hair.
"It's been six weeks and it's only just growing back," says the Australian cinematographer. Doyle is talking about the afternoon Ai Weiwei, the controversial mainland artist, shaved the hair off one side of his head.
"I think he was just p***ed off with the waste of time that filmmaking is, and he said: 'You want me to stay another hour? I'm going to shave your head.' He did the director's hair, too," says Doyle.
Apparently, this is nothing new for China's most high-profile artist and activist: "He does it to everybody," Doyle says. "He does it to his wife, he does it to his friends, he does it to people he doesn't like, his does it to himself … on camera. There's some obsession with shaving."
The scene in which Ai shaves his hair off was shot as part of his first music video, Dumbass. The Chinese title of the song is a lot cruder – as are the lyrics. The collaboration came about in the way that much of Doyle's work does – a personal friendship that, years down the line, leads to a creative project.
"I've known Ai Weiwei forever. How could you not know Ai Weiwei? He throws himself in your face, he's not going to shut up, he's going to remind you he exists and that's the great thing," he says.
Doyle, 61, has been around awhile. He studied Chinese in Taiwan in the 1970s, and when his teacher gave him his Chinese name, Du Kefeng, it stuck. And that's how Chinese filmgoers know him. He's worked on some of the best Chinese flicks, a repertoire that includes all of director Wong Kar-wai's movies from Days of Being Wild through to 2046 as well as favourites Hero (directed by Zhang Yimou) and Green Tea (directed by Zhang Yuan).
Ai Weiwei throws himself in your face, he's not going to shut up … and that's the great thing CHRISTOPHER DOYLE "Most people in China don't know I'm not Chinese. They know me as Du Kefeng," says Doyle, then concedes: "OK, now they see me more because I'm a bad boy, but that's another story."
Shot over three days, the Dumbass music video was launched in March and is based on Ai's 81 days in jail. Slipping occasionally into the surreal, it shows the artist eating, sleeping (a bare bulb above his head, in another scene a blow-up doll in the bed) showering, exercising, being interrogated, on the toilet – all while two prison guards watch.
In a somewhat bizarre turnaround, the guard who watched over Ai during his 2011 incarceration worked on the music video. It turns out he retired soon after Ai's release. Doyle says he's heard of a couple of other dissidents who became friends with their guards after their release. "It's almost like Stockholm syndrome, where you start to have sympathy for your oppressors because they are in deeper s*** than you," he says.
The video isn't just an indictment of the Chinese political system, he says, but it's also something personal for Ai because everything (the set, costumes and scenarios) was replicated exactly as it was in jail. Well, perhaps not everything. "Everything except the girls. The girls didn't turn up when he was there," Doyle says. "That's something that Weiwei and me share – we liked having the girls in the video."
Doyle nudges the waiter for another shot of vodka in his Bloody Mary. It was a long flight from Toronto, and he's trying to keep the jetlag in check. At the annual Toronto International Film Festival, he helped launch the "Century of Chinese Cinema" summer programme, which runs until August 11.
"It happens that in this century of Chinese cinema, I've done a lot of films, and I'm only 61. I've got another 30 years before I'm the century of Chinese cinema," he says.
Doyle introduced Comrades: Almost A Love Story and Chungking Express, and unveiled a video installation called Away With Words. On six TV screens, Away With Words juxtaposes film clips from Hero, Happy Together, In the Mood for Love and Ashes of Time against a video look that blends autobiographical tidbits and abstract images while Doyle speaks in English and Chinese.
"It's officially my first film as director, and it's about celebrating the relationship between image and words. It's my take on what the cinematographer does," he says.
He's got a lot going on and says the interconnectedness of everything is providing even more opportunities. "Some of the greatest films now are being made by artists like Julian Schnabel, Steve McQueen … Hunger is a masterpiece. I think this is a fantastic thing, so I'm working with Ai Weiwei, and I just did the video part of [Beijing rocker] Cui Jian's last concert. I've never done that before."
The Cui Jian film Blue Bone will be out soon, and a Spanish film he worked on in South America, Magic Magic, has just been released and should hit Hong Kong soon.
Plus there's his own film to direct, The White Girl, about an older man, an artist, taking inspiration from a younger woman – a scenario he knows a thing or two about. The site has already been secured – a local fishing village – and he's hoping that his first Hong Kong film as director will harness the energy and magic that Chungking Express and his early films with Wong Kar-wai did.
" The White Girl is very much about the space of Hong Kong," he says. "For me that's what films are about – the location, the space and the people with whom they engage."
Original Link: SCMP