Healthy, wealthy and wise
— June 9, 2013
Multitasking, adventure-loving, billionaire Jim Rogers on his latest big thing

The receptionist at the Grand Hyatt's fitness centre isn't looking convinced.
"You're meeting someone in the gym?" she asks.
Clearly guests in the Wan Chai hotel don't usually receive visitors in the gym, but apparently this is par for the course for investment guru Jim Rogers.
"I often talk and/or have meetings while on the exercise bike to be efficient/multitask," he had explained.
Perhaps you're allowed to be a little eccentric – or should that be diva-ish? – when you buddied up with George Soros in your 30s, made so much money you never need to work again and retired at the age of 37. Having taken several years out to motor around the world – more than once – must afford a man a lot of confidence, too.
Rogers arrives 15 minutes late for our 3pm meeting. Silverhaired and trim in a pink T-shirt and dark leggings, with a laptop under his arm, the 70-year-old American is all Southern charm. He apologises for being late, kisses my hand and says he's come from the Art Fair, where his wife was interested in buying something at auction.
He wasn't kidding about multitasking; he has adjusted the bike seat, set up his laptop and is checking e-mails before the photographer has had time to set up his light stand. There's the ping of new mail, the ping of the flash and the photos are done before the receptionist gets too tetchy.
"Now you have my undivided attention," he says, snapping shut the laptop. This turns out to be almost true.
There is one subject on which you can be guaranteed to have his undivided attention, however – and it's not one you'd perhaps expect of a former hedge fund manager and investing legend: children. His in particular. Rogers is as at ease discussing the hormones that kick in for breastfeeding mothers as he is with the price of gold.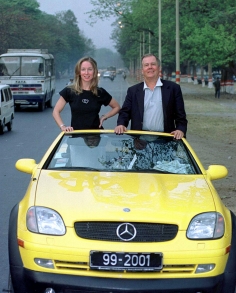 He was 60 when his third wife, Paige Parker – almost 30 years his junior – brought up the subject. "I thought, 'It's a little early to settle down, but why don't I try it?' And lo and behold, it's been just spectacular," he says.
Did neither of his first two wives want children? "Don't know, don't care. It doesn't matter, it's irrelevant – it never came up," he says, uncharacteristically tetchy.
He traces his earlier aversion to children back to his childhood in a small town in Alabama, in the southeastern United States. His father managed a chemical plant and his mother raised five children, all boys. As the eldest, born James Beeland Rogers Jnr, the future billionaire helped out a lot with his siblings.
"My mother was only 23 when I came along. She had four boys in six years, so she was certainly in over her head. It took a lot of time and money and energy, and I must have sensed that from my own parents and I wasn't going to make that mistake."
For someone who was once so adamant he didn't want any, children have had a huge impact on his life. They're the reason he moved to Singapore in 2007. His eldest daughter, Happy (she named herself that aged two), was a few years old when he decided to move the family to Asia. At the time, he was very vocal about the reason for the move; he believed that the future was Asian, so the best he could give his children was an education in Asia and the opportunity to learn Putonghua.
"If the air quality could be improved I would move to Hong Kong," he told the South China Morning Post soon after settling in Singapore, explaining why he preferred the Lion City.
It wasn't the first time he'd raved about Asia being the future. In fact, it has been his cause célèbre since the mid-1980s, when he made his first trip to China. Two years later he returned, this time on a motorcycle, and rode around the country. He returned to the US and told anyone who would listen that China was the world's next great power – he even lectured about it at Columbia Business School, in New York, where he's been a guest professor since he "retired".
Much later in the conversation, after we've moved from the exercise bike to the shaded courtyard, and, admittedly, after he's been asked to share something he hasn't shared with anyone else, Rogers confides: "If I was so smart, I would have moved to China, I would have married a Chinese wife, I would have Chinese kids now. My life would be very different. I'm not complaining about my life, because I've got very keen on my life, but I'm just saying I wonder what would have happened had I done that."
Nevertheless, his children are almost Chinese. At least, his youngest daughter, Baby Bee, despite being blond and blue-eyed, tells people she's Chinese, announcing it in perfect Putonghua. And Happy, who has just turned 10, recently won a Putonghua contest in Singapore.
"Everyone in the room was Chinese and my girl standing up there and she wins the whole thing. I'm extremely proud, of course – and still stunned," says Rogers.
So the effort spent in finding a governess – she had to be carefully screened; they wanted someone who could speak CCTV Putonghua, not Beijing Putonghua and certainly not Singapore Putonghua – to live with the family has paid off. Happy and Baby Bee have grown up speaking two native languages and Singapore is now home. But isn't he a little bored there?
"Singapore has got great education, great health care, everything works," he says.
Yes, but Rogers is a man who has travelled widely and close to the ground, enjoying the thrill of discovering cultures, meeting people and writing books about it. One was even called Adventure Capitalist.
"Singapore gets a bad rap and maybe that was true 15 or 20 years ago, but it is edgy enough for me," he insists. "I don't gamble, but it's got gambling. I've never been to a prostitute, but it's got prostitutes. I'm just saying, it's got all the edgy stuff you might want to do. There's plenty of entertainment, plenty of good restaurants."
Whatever it is, it's all a long way from Alabama. Rogers doesn't have all that much to say about those early days in Demopolis, a town then struggling to adapt to the demise of cotton production through industrial activities such as cement and paper production. Of the 40 students in his graduating year he was the top of the class, but he's quick to point out that that didn't mean a great deal.
"It was a very backwards area and most of the teachers were very devoted and talked their hearts out and cared a lot about us but the standards couldn't be too high because most of the people were not terribly smart or terribly advanced themselves, so, for me, it was extremely easy."
He could scarcely believe it when he was accepted to Yale University and even doubted the admissions officer: "The guy went and got out my file and said, 'Oh my gosh, it says here you got all these 100 averages; you scored 100 in many of your courses.' And I said, 'That's how I got in? This is a terrible mistake – getting 100 in my school was not very difficult, it was easy.'" Concerned he'd be kicked out of the university, he worked hard and in his third year majored in history. He ended up having a good time – and two of his brothers graduated from Yale, too.
Rogers considered a few professions but it wasn't until he discovered Wall Street that he knew he'd found his calling: "I wished the markets were open seven days a week, I loved them so much. I was totally consumed by them. My partner had a knack for trading and I had a deep passion for doing research and finding out stuff, and so it worked."
That partner was Soros and together they founded the Quantum Fund, in the early 70s. A pioneer in hedge fund and international investing in the US, the fund went on to deliver a staggering 4,200 per cent return over 10 years. Rogers readily admits he was a workaholic but says none of it felt like work because he enjoyed it so much and couldn't wait to get up in the morning to get to the office. But it did take a toll on his relationships.
"I have been somewhat of a loner in my life, certainly since university," he admits. "First of all I haven't had time to sit around and have a lot of friends, nor have I had the desire to sit around having a lot of friends.
I've got lots of friends and acquaintances, but no one I call up every day and say, 'Oh gosh, Joe, guess what happened today'.
"Looking back on my life, some of the people that I did speak to six times a day at various stages of my life I haven't seen or spoken to for years, decades."
One of those people is a man Rogers refers to only as Mackie, his best friend at Yale. After university the two went their separate ways – Mackie married young and started a family and Rogers did a second degree at Oxford University and then fell in love with Wall Street.
"I can remember one July 3 [the day before US Independence Day], Mackie called me at 6.30pm or so and said, 'Come to the beach, we're having a big party.' And I said, 'No, I'm staying in the office, I've got a few things I need to do.'" Even though it was more than 35 years ago, Rogers can recount the conversation almost word for word. Mackie's jibe must have stung: "It's July 3, what the hell are you doing? You don't need to be a company man."
Six years later Mackie called him again and said he'd heard Rogers had retired. They were both 37.
"I said, 'Yeah, yeah, I've retired. I've made enough money I'll never have to work again as long as I live.' And I could sense Mackie looking out the window at his mortgage, four kids, car payments – and here is this guy who he was bad-mouthing because it was July 3 and he wouldn't come to the beach. And here I was retiring at age 37."
Rogers sits back in his chair. A ping signals a new message on his laptop.
"I haven't seen Mackie in a long time," he says.
If he missed out on some fun in his 20s and early 30s, he seems to have made up for it later in life. Soon after retiring, he took off around the world on a motorbike with a 24-year-old girlfriend.
"Everyone thinks I took her because she was a tall young blonde, but I took her because she was also mechanical and I'm not."
He doesn't do himself justice with comments like that. For starters, the girlfriend was extremely well educated – as well as being good looking – and she learned to ride a motorbike and took a course in mechanics specifically so she could join him on the road trip. The real Rogers that he occasionally lets slip is more likeable than the showman image he tries to project.
A few years later there was another road trip, and another girlfriend on a motorbike. It was 1986 and his second trip through China and he recalls how, in Fujian province, crowds of people would surround them, surprised at seeing Westerners.
"My girlfriend at that time had large breasts and the people would stare because Asians don't have large breasts. One time the mob was there and an old woman came over and pulled open her shirt and looked down – she was giving a commentary to everyone around."
He's got an interesting story about being held hostage in the Congo in 1990, part of the 20-month world trip that spawned the book Investment Biker. As far as kidnappings in Africa go, it was a tame affair. The chief of police kept them hostage in the best hotel in town, even had them over for dinner, and for nine days he kept up his demands for money. Perhaps the surprising part of this tale is that Rogers managed to convince the chief they didn't have any – and the cops missed a stash of cash hidden in a secret compartment on the motorbike.
We've been chatting for more than two hours and we haven't spoken about the three-year, 245,000-kilometre trip Rogers and Parker undertook at the turn of the millennium, which earned them a Guinness World Record (see below), or touched on his forte. The famously contrarian investor is one of the media's favourite go-to men for market commentary, analyses of the gold price, anything to do with investing. So, what's his big thing now?
"Oh, my kids – they're my only thing," he says, without missing a beat.
Needless to say, both his daughters were given piggy banks when they were born – six each, one for each major currency. And when they have saved up enough, the girls are taken to the bank to deposit the money and get a lesson in interest rates.
As for grown-up investing, Rogers has been keen on agricultural products and farming for some time and insists that's where the big opportunities of the next 20 to 30 years lie. He's optimistic about Asian tourism and owns shares in Chinese airlines.
He's keen on Russia, too, and is looking for something there to invest in. The same goes for Myanmar; if he could find a way of investing in that country, he says, he'd throw all his money – in other words, a lot – in.
He's been buying US dollars, even though he's pessimistic about the greenback in the long term and insists it's only because other currencies are worse.
"I keep meaning to buy more Hong Kong dollars, which will eventually break free from the US dollar and go up. [With the Hong Kong dollars he does possess] I have the same thing as owning US dollars only better, because I have the potential call on it breaking free from the US dollar – and it may well turn into renminbi."
The thing that worries him most about today's economy is the amount of money that's being printed. Every major country and central bank is producing cash and he's convinced that, when it ends, it will end badly.
"If I didn't know any better I'd be jumping in there with both feet and having a spectacular time. And there are plenty of people smarter than me who are having a good time.
"My problem is either that I'm not smart enough or too smart."
Original Link: SCMP
[PDF url=http://www.hongkongkate.com/wp-content/uploads/2014/07/065-SCMP-Jim-Rogers-1.pdf]
[PDF url=http://www.hongkongkate.com/wp-content/uploads/2014/07/065-SCMP-Jim-Rogers-2.pdf]
[PDF url=http://www.hongkongkate.com/wp-content/uploads/2014/07/065-SCMP-Jim-Rogers-3.pdf]
[PDF url=http://www.hongkongkate.com/wp-content/uploads/2014/07/065-SCMP-Jim-Rogers-4.pdf]