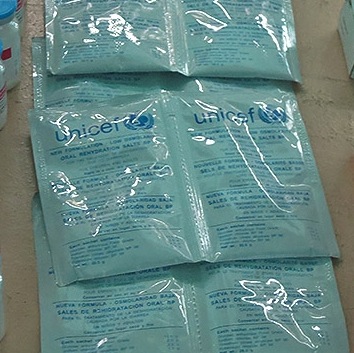 UNICEF medication for sale in N. Korean store
— December 4, 2013
Diversion of medicine from neediest still apparently plagues humanitarian aid

UNICEF medication has been spotted on sale at a shop in North Korea's third-largest city, indicating that international aid continues to be diverted from needy citizens despite improved monitoring capacities.
Sachets of oral rehydration salts – clearly marked with the UNICEF logo – were being sold alongside standard pharmaceutical supplies for 50 won (about 38 cents in U.S. dollars) at a shop located beside the Seaman's Club in downtown Chongjin, photos taken recently show.
"One of the sad things is that those who buy it will be running great big risks because the water supply in North Korea is very compromised and so if they use it – because these salts have to be diluted under proper supervision – there is a risk that it could cause them harm," UK-based North Korea watcher Dr. Hazel Smith told NK News.
The sale of the drugs at a shop frequently visited by local aid workers and foreign visitors raises questions about the aid agency's ability to effectively ensure that medicines reach North Koreans most in need of them.
Smith told NK News that it was "not surprising that low-level medical aid is finding itself into the market, because the whole country is marketized," adding that there was "every incentive to sell this sort of stuff because it is not produced internally and the revenues can be used to buy food."
UNICEF has been active in North Korea since 1996, where acute diarrhea is one of the main causes of death among children under 5, and prevention and treatment of acute diarrhea is one of the main focuses of UNICEF's Child Health Programme.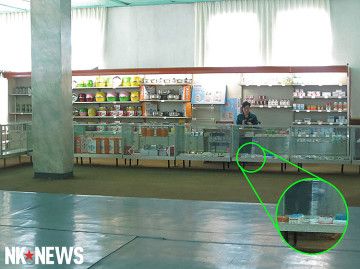 "Thank you for letting us know about this. We were not aware," UNICEF Head of Communication for the East Asia and the Pacific Region Christopher de Bono told NK News when contacted about the photos.
"Oral Rehydration Salts are relatively safe and inexpensive, they are readily available without a prescription in most countries and their use without medical supervision presents minimal health risks, although ensuring that they are mixed with potable water is easier to manage in medical facilities," he said, adding that a key priority of UNICEF in North Korea was addressing "the dangers posed to children by unclean water."
Smith, who lived and worked in North Korea during the famine of the 1990s, underscored that if the medicine was being sold in a public place in Chongjin, then it was likely that it was also being sold in downtown markets.
"This new report confirms our worst suspicions about aid to North Korea, whose government has consistently impeded international NGOs' efforts to deliver that aid to the needy, instead of the military and the elite," Washington, D.C.-based North Korea watcher Joshua Stanton told NK News.
However, Stanton pointed out that this was not the first time that foreign aid has been pictured being illicitly traded in North Korean markets, pointing to photos taken between 2005 and 2010 that show sacks of U.S., U.N., South Korean and NGO-supplied food aid being sold throughout the DPRK.
"Skeptics have suggested that the images could have shown domestically produced food being sold from re-used sacks, but the resale of medicine targeted toward the neediest of recipients, still in its original packaging, casts doubt on that argument and proves that whatever NGOs are doing to prevent diversion by regime officials still isn't working," he said.
"The bigger question is why North Korea needs aid at all — what Kim Jong Un spends on weapons and luxuries each year could buy more than enough food and medicine for every needy North Korean. It may be time to reconsider whether our own failure to hold North Korea to internationally accepted standards for aid monitoring is unwittingly prolonging that crisis."
UNICEF is currently working in nine of North Korea's 10 provinces and received $12 million in programme funds and $1.5 million in emergency funds in 2013.
"The overall goal of UNICEF's 2011-2015 country programme is to support the Government of the DPRK in enhancing self-sustaining national capacities so that all children in the country enjoy their rights for survival, development, protection and participation," UNICEF's DPRK 2013 factsheet reads.
Original Link: NK News