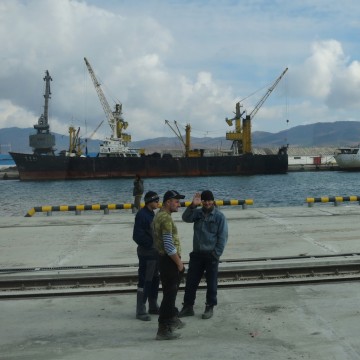 Doing business in North Korea
— April 1, 2014
North Korea has barely been out of the news since Kim Jong-un took control of the regime following the death of his father Kim Jong-il in December 2011. From nuclear threats, public executions, forced labour camps and, most recently, a damning united Nations report, the headlines make clear that the isolated state is extremely volatile.

As a place to do business there's no disputing that North Korea is high risk, but there is a small pocket in the remote northeast that has the ingredients for success and finally appears to be making a breakthrough.
Rason was the first of the DPRK's special economic zones, established in 1991 after the fall of the Soviet Union. Located in the far northeast, bordering China and Russia, its name comes from an amalgamation of the names of the region's two largest cities, Rajin and Sonbong. It always had two big things going for it – it's the region's northernmost ice-free port and it has plenty of cheap labour. But despite those big plusses, it still languished for almost 20 years – until recently.
A couple of developments in the last year have made Rason look a lot more attractive: the Chinese Government funded a new 50 kilometre road linking Rajin with Hunchun in neighbouring Jilin province and in September, Russia completed a massive overhaul of the railway line from Khasan in Russia to Rajin Port. The new transportation links don't solve all Rason's problems, but they do make it North Korea's most promising special economic zone.
North Korea has three other special economic zones: Hwanggumpyong and Wihwa islands, Mount Kumgang region and Kaesong Industrial Complex. Kaesong, a joint industrial zone with South Korea, is the best known. It was shut down for many months during the period of heightened tension between Pyongyang and Seoul last year. Yet another reminder to potential investors of how volatile the situation is in the DPRK.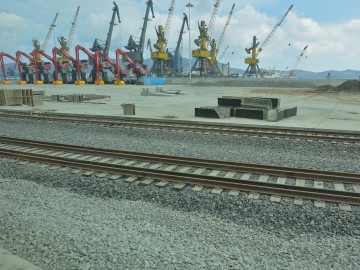 In October last year, North Korea announced plans to set up 14 new special economic zones, one in every province, in an apparent push to attract more foreign investment. And it created a new body tasked with looking after the Special Economic Zone, the Korean Economic Development Association. North Korea watchers greeted the news with cautious optimism, they are well used to seeing the Hermit Kingdom do a sudden U-turn or something to compromise an otherwise solid plan.
That happened in December 2013, when the execution of Jang Song Thaek – Kim Jong-un's uncle and the country's No 2 leader – was announced. Jang had close ties to China and was seen as a moderate who helped push forward the plans for more special economic zones and, among his many roles, was chairman of the committee for the joint development and management of Rason. In the days before his execution, he was slammed with a litany of charges including being overly influenced by capitalist ideas, abusing his authority and leasing out land in the Rason economic zone to foreign countries.
The fallout from those charges and impact on the special economic zone has yet to be felt. Rason is a pocket of relative prosperity in the remote northeast. American companies are not allowed to invest or do business in Rason – or anywhere in North Korea. About 150 foreign companies from 20 countries have invested in Rason, but there is no mistaking where most of the money comes from. The city looks like a giant Chinatown – every third car has a Chinese number plate, restaurants serve Chinese food and Chinese is taught in schools.
"Things are finally happening in Rason, it's making gradual progress. There have been a number of fairly sizeable construction projects this year – a bunch of apartments going up, a new bank was just finished, they are building this mixed use commercial/retail/residential facility," says Andray Abrahamian, executive director of Chosun Exchange, a Singaporean non-profit that focuses on economic policy, business and legal training for young North Koreans in the DPRK.
The Rajin Garment Factory is typical of the many factories in Rason. It's a joint venture with a Chinese firm and the more than 100 workers on the factory floor are almost exclusively women, paid 600 – 700 won a month. On a recent visit I saw them making black puffer jackets for the Chinese market. The workers all wore blue uniforms and matching head scarves and were bent over sewing machines while the all-girl pop band Moranbong blasted over the speakers. They worked quickly and without pause, assembling the jackets, sewing on buttons and zips. The final step in the process was sewing on the label: "Made in China".
"By all accounts that happens widely," says Abrahamian. "If you're a Chinese company outsourcing your labour, there's no way you want a 'Made in DPRK' tag on your clothing, so they send them the tags and they sew them in."
While Chinese investment in the region accounts for by far the biggest chunk of the pie, Russia has also sunk some serious money into Rason. Russian investment in Rajin Port's Pier 3 and the surrounding area is estimated to be 2.2 billion rubles ($66 million) and the overhaul of the cross-border railway line from Russia to Rajin Port means that Russian Railways can increase international container shipments. The revamped line has also encouraged new businesses to the area.
At the end of last year, a Czech brewery sent two Czech staff to Rason to establish a brewery, a joint venture between Zvu Potez and the Rason regional government. The business was only made possible because of the new line that was used to transport the brewing equipment and materials from Prague to Moscow, through Siberia and onto the branch line of the Trans-Korean main line.
Tomas Novotny, Zvu Potez's brewing technologist, and his colleague have been given six months to train local staff in Rason and get the new brewery up and running. Novotny is used to being sent around the world to establish new businesses, but Rason provides a whole new set of challenges. He had been prepared for the power failures and is getting used to being shadowed by a North Korean guide-cum-minder every times he steps out of the house, but not being able to communicate easily with his head office in Prague is a real nuisance.
"I can't just pick up the phone and call my boss, tell him what's happening here. And I miss my partner and son – I can't email them, there is no internet," says Novotny.
Like most of North Korea, Rason experiences a chronic shortage of energy. There is a deal in place to bring power from neighbouring Jilin province, but the Chinese have been holding it up under the pretext of an environmental impact study.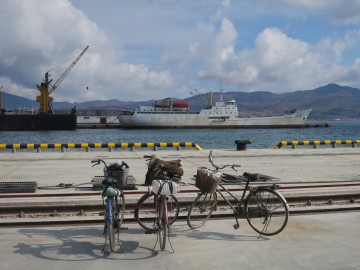 Curtis Melvin, a researcher at the US-Korean Institute at Johns Hopkins University, says more Chinese power can't hurt, but there are more substantive problems to overcome.
"The DPRK cannot currently credibly commit to any policy – no policy stability, rule of law – and has a poor record of honouring its agreements and impartiality enforcing contracts. No independent company will risk serious capital in this environment," says Melvin.
But there are companies willing to take the risk. HBOil, an oil trading and refining company based in Ulaanbaatar, Mongolia, has a 20% stake of a state-dominated joint venture called Korean Oil Exploration Corp International and is looking to get involved with the Sungri oil refinery in Rason. Joseph Naemi is director of
Russian gauge railway, Rajin port's pier 3
HBOil and says he was impressed with Rason officials, describing them as well educated and abreast of the foreign investment protection and taxation issues and the need to offer attractive terms to investors.
"I know a number of Mongolian companies, all privately owned, that are at various stages of either investing in North Korea or finalising their joint ventures so they can invest. There is a robust relationship between Mongolia and North Korea," says Naemi.
He says the biggest problem for North Korea is one of perception: "The sanctions put on the DPRK early last year don't prohibit foreign direct investment – outside of companies concerned with military equipment or the nuclear industry – but unfortunately there is the perception that we can't trust this country."
Researcher Melvin says that sense of distrust is there for a very good reason – "North Koreans have a really poor record of sticking with their agreements". But he is cautiously optimistic about Rason. Melvin was one of the first to use Google Earth images to study North Korea and has been tracking the changes on the ground daily from his home in Washington and noted the development of a big downtown plaza area and leisure facilities over the last few years.
Although other cities, such as Chonjin a little further south down the coast, are seeing similar developments in preparation for special economic zone status, Rason is heading the pack.
"Compared to the rest of the country, it's doing well. Small and medium-sized enterprises from Jilin and Heilongjiang province are continuing to come in – Rason is experiencing growth," says Abrahamian.
But potential investors should never get too confident. As the sudden ousting and execution of Jang Song Thaek showed, the North Korea regime is a volatile one and nothing is ever guaranteed.
BUSINESS TIPS AND ETIQUETTE
Andrei Lankov, a North Korean expert and professor of history at Kookmin University in Seoul, warns that few foreign companies ever make money in North Korea because of the manifold problems – poor infrastructure, bad local administration with little or no understanding of modern business, serious corruption and a low level of managerial control. His tips for the brave investor revolve around having plenty of local expertise.
"You need to have good relations with the North Korean government and you will want to have managers on the ground. It's vital that you have a clear understanding of which demands are acceptable and which are not and, crucially, know who you have to give bribes to," says Lankov.
It also means turning a blind eye to the human rights abuses that the United Nations report in February described as "unspeakable".
"Those who invest in special economic zones don't ask too many questions about political persecution and political beliefs because it's one of the basic survival rules for any foreign businessman in North Korea," says Lankov.
Beyond those harsh words of advice, there are some
social niceties that should be observed. Foreigners are not allowed to enter North Korean offices, so meetings tend to take place outside the office and usually in the evening. The meetings are formal – at least in the beginning, until you are trusted – and a suit is standard attire. It is important to show respect for status and age, so those with the highest status should be acknowledged first, followed by those who are the o.ldest. As teamwork and collectivity are valued in DPRK life and business, it's not unusual for North Korean colleagues to discuss issues as a group before reaching a decision.
HEALTH WARNING!
Doing business in North Korea is not for the faint-hearted, as this article by Hong Kong-based correspondent Kate Whitehead makes abundantly clear.
There are stronger views, which say that doing business of any sort with the country is unacceptable, that it's a murderous dictatorship and that it ought to be completely isolated until it mends its ways. Not unlike apartheid South Africa or Nazi Germany.
But, just as with South Africa, the opposing point of view holds that as much contact with the outside world is what's required to show North Koreans a better way and also that even limited foreign investment creates a few jobs in one of the world's poorest nations.
[PDF url=http://www.hongkongkate.com/wp-content/uploads/2014/07/138-Acumen-Rason-NKorea.pdf]