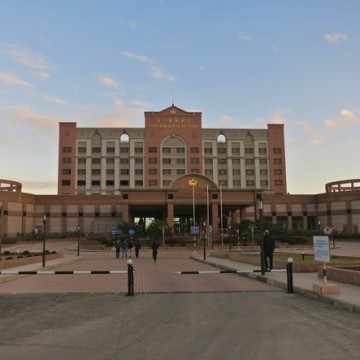 Chinese gamblers boost fortunes of North Korea's Emperor Casino
— November 21, 2013
The number of Yanbian license plates in the carpark of the Emperor Resort & Casino in North Korea's remote Rason district leave little doubt as to the hotel's main clientele.
After a troubled past, the hotel appears to be doing a roaring trade, fueled by increasing travel and investment from mainland China. And most signs indicate the trend is set to continue.
"There were gamblers with plastic shopping bags of 100 RMB (US$16.4) notes going into the casino – it was just crazy," said a longtime North Korea watcher who stayed at the hotel last month and asked not to be named.
The resort, owned by Hong Kong's Emperor Group, first opened its doors in 2000, some nine years after the insular Pyongyang regime designated the northeastern province of Rason a special economic zone.
However, for years Rason languished with geopolitical tensions, international sanctions, and domestic policies all serving to hobble North Korea's economy. Some 20 years later, the situation may be changing.
"I think Rason is making gradual progress. There have been some fairly sizable construction projects this year. If you compare it to the rest of North Korea, then you have to say that things are going pretty well," says Andray Abrahamian, Executive Director of the Choson Exchange.
The North Korean economy returned to growth in 2011, expanding by 0.8 percent, with that trend continuing last year with growth of 1.3 percent, according to July estimates from The Bank of Korea.
In Rason, legal changes made in 2010 served to detach the SEZ from the regional government and make it more autonomous. Further changes in 2012 helped harmonize Rason's economic laws with those of China.
Late last year a new 50-km road linking Rajin with Hunchun in neighboring Jilin province opened, funded by the Chinese government. There are also moves in place to bring power over from Jilin province to tackle the area's chronic power failures. When that comes off, even more and bigger Chinese businesses will want to invest, bringing more Chinese and more potential gamblers to Rason. Trade between China and Rason is currently estimated at about $6 billion.
Rason also held its third International Trade Exhibition in August, attracting 120 entities and securing a pledge from FAW Group Corp, a Chinese state-owned automaker, to invest in a factory there, according to North Korea's Central News Agency.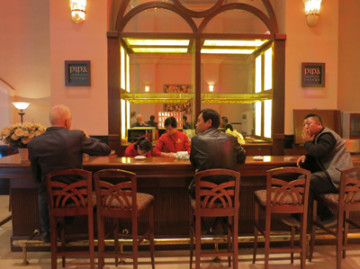 Estimates put the number of visitors to North Korea at about 250,000 annually, with about 95 percent of those coming from China. Although the numbers are relatively small, growth has been robust, with a rise in Chinese visitor numbers of about 22.5 percent to 237,400 last year from the year before, according to Chinese Ministry of Tourism figures.
However, relations with the Chinese have not always been smooth. The hotel was forced to close in 2004 after a senior Chinese official embezzled US$425,000 of public money to fund his gambling sprees.
Cai Haowen, the former head of the Yanbian traffic and transport office, made 27 trips to the casino that year – and lost all the money. He was expelled from the Chinese Communist Party and went into hiding.
The casino's owner, Hong Kong tycoon Albert Yeung, has also had run-ins with the law himself and been the subject of insider trading investigations. In 1981 he served a six-month jail term for intimidating witnesses and was arrested again in 2003 following a corruption probe into Hong Kong's entertainment industry.
"The Chinese put pressure on North Korea to close down and for a long time it (the casino) wasn't running – or rather, it relocated to another floor and was being operated in secret," said the longtime North Korean watcher who asked not to be named.
The casino reopened in 2007, but Chinese authorities warned that Chinese officials or party members should not be permitted to enter.
"You can only gamble at the Emperor if you have a letter of invitation from the casino or else you have to have your CV checked, to make sure you're not in government," said Amanda Carr, independent tour specialist at Koryo Tours.
North Koreans are not permitted to enter the casino. When the complex was first proposed, North Korea opposed the word "casino" in its name because it didn't want North Koreans to know what the word meant.
The gamblers are almost exclusively Chinese. It's much easier for foreigners to enter the special economic zones than other parts of North Korea and Chinese don't even need a visa; they can enter on a travel permit and Rason is only an hour's drive from the Chinese border.
The casino is open around the clock and busy at all hours. It has 52 gaming machines and 16 tables, including Blackjack and Roulette. The minimum bet on all games is US$50, with a minimum buy-in of US$500.
The basic room rate at the hotel is 780 RMB (US$128), rising to 1,680 RMB (US$276) for the top suite – but most guests don't pay this and instead come in on gambling packages.
The hotel's other facilities include three restaurants, karaoke, saunas and a swimming pool. It has an enviable location beside the sea with a private beach overlooking Pipa Island, but no one comes for the beach. They come to gamble and the beach is desolate, the sand littered with broken bottles.
Rason is rapidly becoming a destination for increasingly affluent Chinese and Emperor Hotel & Casino is well positioned to make the most of this, being one of two casinos in North Korea. The other is in the basement of the Yanggakdo International Hotel in Pyongyang.
Original Link: AsiaGamblingBrief