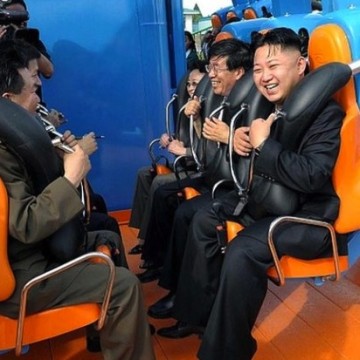 Weapons of mass distraction
— August 20, 2013
Sea life and mini golf are North Korea's latest propaganda tools

Close to two years have passed since North Korea's "Dear Leader" Kim Jong-il died, and already his comical little heir, Kim Jong-un, has given his country's capital a Dolphinarium, a sprawling water-park complex and three new amusement parks. As if that weren't enough to expect from any fledgling nuclear-toting despot, Jong-un has also ordered extensive renovations to several of Pyongyang's aging fun fairs. What better way than chlorinated social diversion to deliver that special breed of North Korean propaganda?
These amusement parks are packed with your average, everyday Kim. It's mostly adults sent as part of a large-scale, government-funded work field trips, which is not mildly strange. One downside is that, in this city already known for its daily power outages, the subsidized parks' popularity is making the erratic electricity supply downright annoying.
Jong-un has nonetheless been increasingly visible in promoting these flashy temples of fun as indicative of how cosmopolitan his country has become. Not only did he visit amusement parks during renovations, but he was also among the first to witness the dolphins' inaugural North Korean theatrics and was there to try out the rides first-hand. He even brought his wife, Ri Sol-Ju.
While Kim's father cut a more austere, reclusive image, it may be that Pyongyang has Daddy to thank for turning the capital into a shiny showpiece. North Korea watchers started noticing the changes five years ago as big construction projects in the city got underway.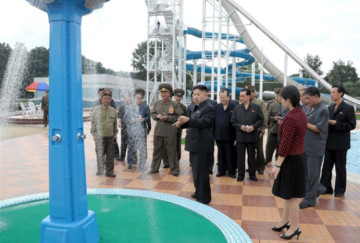 "New parks and recreation facilities are opening and being built," says Curtis Melvin, founder and editor of North Korean Economy. "The realities of everyday life, however, complicate things. Economic and bureaucratic inefficiencies still abound and corruption has run rampant."
When Kim Jong-un took over from his father he promised change and last year rolled out new national slogans such as "no more belt-tightening" and "great leap forward"—just months before he started threatening nuclear war—and he certainly seems to have been splashing the cash about in Pyongyang. Most visible is the recent major construction boom, which has seen dozens of new high-rises in the capital, and a lot of money has been funneled into entertainment facilities.
The most high-profile of the new complexes is the Runga Theme Park, which opened a year ago and includes a dolphinarium, swimming pool and mini golf course. Despite the tough international sanctions that are meant to prevent the import of luxury goods, a team of salt-water dolphins was imported for the shows. How much does a pod of dolphins go for if you're an aspirational global tyrant? Nobody can say—or will say.
Kaeson Youth Park, another popular destination, got 10 new attractions a couple of years ago—all imported from Italy. It includes bumper cars, a pirate ship ride and the Vominator. The Rungrado Recreation ground got a huge water park complete with wave pools and waterslides. And there is more to come—opening later this year is the "miniature world" park that is touted to have replicas of the Eiffel Tower and Big Ben.
North Korea is banking on these so-called miniature worlds helping to both promote tourism and teach North Koreans about the outside world. A visit to a fun fair is on the itinerary of almost every tour of the capital and doubtless those in Pyongyang will get some kind of an education by seeing mini versions of the outside world. Of course the large majority of North Koreans don't live in the capital, and the inequality divide between the haves and the have-nots is vast. In November 2012 the United Nations World Food Programme estimated 2.8 million people, one in 10 of the population, are suffering from malnutrition.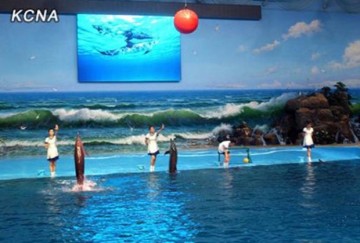 Jong-un's obsession with fun fairs is looking a lot like another kind of propaganda. His father was made deputy director in charge of culture and arts in the Propaganda and Guidance Department in 1970 and understood well the power of film to influence his people, and Jong-un is using fun fairs to similar effect. He is increasingly reliant on the people of Pyongyang for support, and the modern amusement parks are a way of both keeping them happy and further developing the superiority complex they have over their countrymen in the south.
Though the political message of the fun fairs may not be as in-your-face as a good propaganda flick, they are definitely making a point. It seems Jong-un hopes the outside world will get the message: "Look how fun we are, and how successful we are! We treat our people well, and give them dolphins."
Original Link: Vocativ