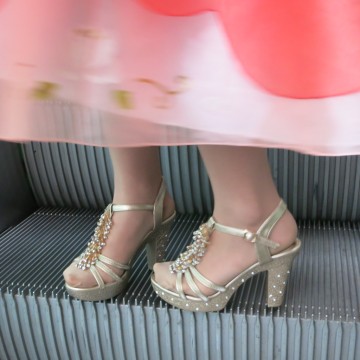 The North Korean Fashion Customer
— October 28, 2013
Thoughts of North Korea and its citizens' wardrobes are likely to conjure up images of drab dresses or military uniforms.

While there are plenty of examples of those looks on display in the Hermit Kingdom's capital city, there is also evidence of a growing fashion sensibility among the women, who favor heels over army boots.
The wide and elegant sidewalks of Pyongyang, observed amid the country's 60th-anniversary celebration of its victory over South Korea, are full of colors. Women of the capital city — office workers and housewives — seem to be making an effort to look their best. Pyongyang is not Seoul or Tokyo, but the country does offer a unique approach to fashion and even some homegrown trends.
"Young women here, or actually almost all North Korean women, care about fashion," explained Sang Su Ye, a 22-year-old student at a linguistic college. But for the most part, North Korean women can only go so far in following international trends, she said.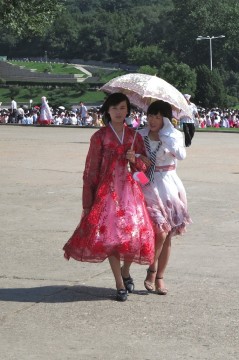 "They don't want to be seen as some sex objects. And they don't want fashion to be complicated. Like, there is no interest in flashy things, in long earrings, or in long hair in the summer," Sang said. "Women here are modest. It is our culture for millennia."
Choe Un Jong, a saleswoman at Rakwon Department Store, made a similar observation.
"In North Korea, women care about fashion. They care about style. They are confident. But instead of following fashion trends dictated by major international brands, they create their own style. Something that really fits their personality," she said.
One of the most noticeable trends of recent years is the ubiquity of the wedge heel and, more recently, thin-heeled shoes. The fashion-conscious of all ages have embraced heels and wear them with traditional dress, military uniform and casual clothing, sometimes with short ankle socks. Female construction site workers have even been spotted in heels. And this is a city where women dress conservatively — skirts and dresses are never above the knee and the women don't show bare shoulders or cleavage.
"Thin heels — four inches high — are very popular now. We started to get them one or two years ago and now everyone wants them," said a 28-year-old woman working as a tour guide.
In the capital, middle and high-heels are almost mandatory, and so are the stockings, even during the summer heat. Blouses are often white and buttoned-up, and there are either pants or skirts falling well below the knees. False eyelashes were a big trend in the capital last year and this summer, it was short hair.
The Moranbong Band, a five-member girl group, is a style influencer. North Korea is not a country known for encouraging its citizens to express their individuality, so it's no surprise that the women in the band, said to be handpicked by North Korean leader Kim Jong Un, look alike. Their style is fairly conservative, featuring pulled-back hair and short sequined gowns. At an event to mark the recent 60th-anniversary of the end of the Korean War, the girls were in fitted military garb.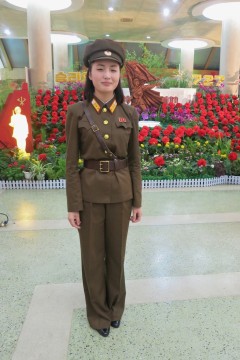 As is common elsewhere in Asia, North Korean women are keen to keep their skin pale and in summer most carry an umbrella with them to shade them from the sun. The umbrellas are usually light-colored — beige, yellow or gold — and many are trimmed with embroidery, lace and sequins. For all North Koreans, regardless of age or gender, the must-have accessory is a "Kim pin." This is a small red badge worn on the left breast of the outer garment and shows a portrait of Kim Il Sung or hisson, Kim Jong Il — and sometimes both.
Simon Cockerell of Koryo Tours has been bringing visitors into Pyongyang for a decade and says he's noticed a big change in the last few years.
"There's definitely a bigger middle class, that's happened in the last few years, there's money trickling down. And people are much more fashionable than when I first started coming in," said Cockerell. British tourist Matthew Durston said he was impressed with what he saw of the North Korean women. "They're very fashionable. Even the women in the military look fashionable because their uniforms are tight in all the right places. I saw some female soldiers in black high heels," he said.
Most Pyongyang residents shop for clothes and shoes in the local markets. Almost every neighborhood has a large blue-roofed market and the majority of the goods come from China. The markets are off limits to foreigners and payment for goods is made in Korean won, which visitors are not allowed to use.For the elite and the capital's rapidly rising middle class, there are a handful of department stores that take hard currency: dollars, euros and renminbi. The best known of these stores are Department Store No. 1 and Department Store No. 2. They all carry a range of men's and women's clothing.
At the two-story Taesung Department store, the women's clothing section occupies half the top floor. Cotton and synthetic shirts and blouses go for $15 to $25 and dresses for about $40. All are made in China, with the exception of the knitwear, which is made in North Korea.
The Hae Dang Hwa department store is part of a leisure center housing luxury spas, swimming pools, high-end restaurants and tennis courts. It looks similar to other department stores in Tokyo or Seoul and sells goods from brands like Chanel, Auprès, Dior and Lancôme. This store sells cosmetics and shoes, as well as apparel for women and men. Quality varies, but it is of much higher standards than what many visitors might expect for the country.
"People love to come here to shop," said Kim Un Ha, a saleswoman at the department store, adding that Dior and Lancôme beauty are two of the store's most popular brands. "There are local people and some foreigners who are frequenting our place. But mind you, this is not the only store of such caliber in Pyongyang. And it is not the biggest one, either."
Original Link: WWD