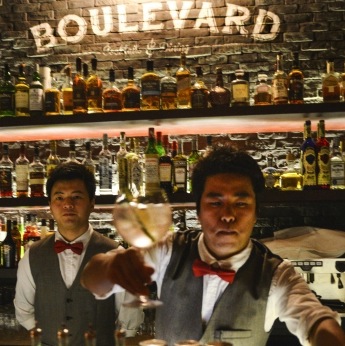 Barhopping through Shanghai's hard-to-find speakeasies
— November 24, 2013
Speakeasies are springing up all over Shanghai. 

"Nothing is wrong if you see nothing wrong in it" – Dr Valentin Narcisse, a character in HBO television drama Boardwalk Empire.
Speakeasy-style bars have been popular in New York for years – although they are by no means as popular now as they were in the 1920s, when Prohibition made all establishments serving alcohol illegal but there were, nevertheless, hundreds of illicit bars in the Big Apple. Now the trend has taken off in Shanghai, with the city embracing the glamour and the thrill of false storefronts and secret passwords.
Senator Saloon was one of the first on the scene, opening in the former French Concession area a year ago, and it is still the most authentic (well, as authentic as something can be when it is 11,000 kilometres and nine decades away from the real thing). There is no sign on the door – just a number, 39 – and in the evening, when the lights are low, it is possible to walk past without noticing it.
"Finding it is part of the fun. Advertising it would defeat the purpose of what you're doing," says bar manager David Schroeder. "The idea of a speakeasy is a place not everyone knows about, where you can hide away, have some drinks and speak freely."
America's short-lived ban on alcohol led to the establishment of illegal bars (about which, or in which, you'd "speak easy", to avoid drawing attention to them) across the country and the popularisation of cocktails, heavily sweetened and flavoured to mask the taste of cheap booze. Shanghai is far from dry – and wasn't in the 20s, either – but that hasn't stopped the city from falling for the glamour that has become associated with the American Prohibition era. (See Boardwalk Empire for a more gritty depiction of the times.)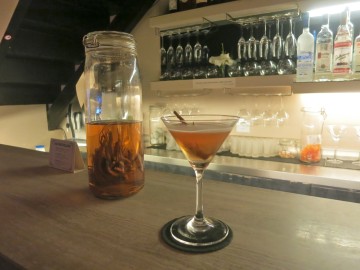 "The trend has pretty much peaked in the States, whereas here it's just started to take off," says Schroeder.
In creating a convincing speakeasy, a pressed-tin ceiling was imported from Texas, the flocked red velvet wallpaper was hand-carried from California, everything from the dark wood and glass booth dividers to the chairs was handmade and Schroeder was recruited from the US to be the face of the Senator.
Fake branded alcohol is a problem in Shanghai, with unscrupulous bar staff known to take kickbacks, so one of Schroeder's first tasks was to put suppliers straight. Being an ex-cop, he knows how to lay down the law.
"Fake alcohol leaves you feeling terrible, like someone has kicked you in the head," he says.
No doubt that's how Prohibition-era drinkers felt after a night on the bathtub gin – but that would have been a little too much authenticity. Shanghai's speakeasy bars take that backstreet grit and mix it with top-notch ingredients.
"These cocktails tasted good in the 1920s made with terrible stuff; now made with high-quality alcohol they are totally awesome," says Schroeder.
Senator Saloon appeals to a largely expatriate crowd but, Schroeder says, he has noticed more local Chinese coming in. How readily they embrace cocktail culture will determine how long the trend lasts in Shanghai. "What's awesome is that they are ordering bourbon. It's new, it's different and I think it's more palatable to them – it's sweeter than single malt, which has been hammered in China for the past two decades," he says.
Opened at roughly the same time as Senator Saloon is Ginseng, a small bar on Yongkang Lu. True to form, there is no sign on the black door, just three small peepholes that let you peer into the bar. A note on the well-thought-out cocktail list says the owners were inspired by a chance discovery of a hole-in-the-wall bar in Brooklyn, New York.
The Ginseng bar gives an Asian twist to the speakeasy cocktail trend, with house-infused spirits. A shelf above the racks of liquor looks like a chemistry experiment, with roots and herbs steep-ing in large glass demijohns of liquor. The ginseng martini – gin, sweet vermouth, maraschino liquor and bitters – is the signature drink.
A year ago, Yongkang Lu was a quiet street; now it is buzzing on a Friday night. While most of the bars that have recently opened here appeal to a young, student crowd and serve 20 yuan (HK$25) drinks, Ginseng draws a more discerning drinker with its 80 yuan cocktails.
Ginseng opens at 5pm but doesn't get busy until 10pm and is the only joint on the street to stay open past midnight. Inside, you'll find a friendly late-night crowd, reminiscent of the early days of the Feather Boa on Hong Kong Island's Peel Street.
Some of Shanghai's more recent speakeasies haven't pulled off the look and feel as successfully.
The Boulevard – also in the French Concession – is the new kid on the block and is trying just a little too hard. It gets full marks for its concealed entrance – a recorded message on a vintage phone tells you to enter through the bookcase. But push back the bookcase and the fun is over – it is empty on a Friday night. The house cocktail is a sickly sweet mix of gin, rhubarb bitters and passion fruit. Unless you're dead set on walking through a bookcase, it's not worth the visit.
Kathleen's Waitan, on the Bund, has been labelled a "speakeasy", but it's not. While the knockout view is great, it's not remotely speakeasy in atmosphere or style. Most likely the classic cocktails it serves have earned it the title.
"What we would call a craft cocktail bar in the States gets called a speakeasy in China," says Schroeder.
Likewise, The 1515 West, Chophouse & Bar, at the new Jing An Shangri-La Hotel, is called a speakeasy. Although it's too big to be an "illicit" bar, it does embrace elements of the style, with small nooks for drinkers to hole up in and an extensive cocktail list.
Jing An Shangri-La's bar manager, Dario Gentile, has been in China for two years and believes the passion for classic cocktails will endure: "We can make a spicy ginger parmesan cheese mojito, but in two years no one will remember it. But we'll still make old fashioneds and manhattans – the classic cocktails will never go away."
For the time being, though, if you look hard enough, you can sample the unconventional in the glamour of the faux-illicit.
"There must be at least 10 secret bars in Shanghai," says Ginseng bar manager Elaine Song. "There are probably even more; they just haven't been discovered yet."
EASY DOES IT
Senator Saloon (open daily, 5pm to 1am), 98 Wuyuan Lu, near Wulumuqi Zhong Lu, tel: 86 21 5423 1330.
Ginseng (Mon to Sat, 4pm to 2am; Sun, 2pm to 12am), 39 Yongkang Lu, tel: 86 21 6416 0069.
The Boulevard (open daily, 6pm onwards), 7/F, 10 Baoqing Lu, Fuxing Lu, Xuhui district, tel: 86 21 6474 7979.
Kathleen's Waitan (open daily, 4pm to 12am), 4/F, 200 Huangpu Lu, tel: 86 21 6660 0989.
The 1515 West, Chophouse & Bar (open daily 11:30am to 2:30pm, 6pm to 11:30pm), Jing An Shangri-La, 1218, Yanan Zhong Lu, Jingan district, tel: 86 21 2203 8889.
Original Link: SCMP
[PDF url=http://www.hongkongkate.com/wp-content/uploads/2014/07/128-SCMP-Shanghai-speakeasy-1.pdf]
[PDF url=http://www.hongkongkate.com/wp-content/uploads/2014/07/128-SCMP-Shanghai-speakeasy-2.pdf]