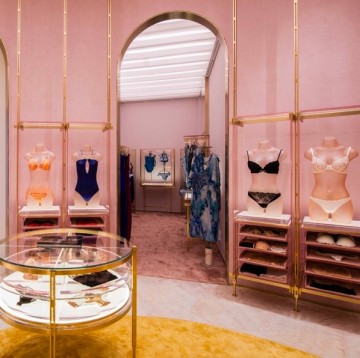 La Perla Opens Concept Stores in Hong Kong, Macau
— May 14, 2014
HONG KONG — La Perla has opened its first concept stores in Hong Kong April 25 followed by a massive new store in Macau. The move is part of an expansion plan in the region that will see growth focused on Mainland China.

Chiara Scaglia, La Perla's chief Asia-Pacific managing director, said "a lot is happening in China" for the luxury brand.
"It's a very important market. The economy is doing very well compared to the rest of the world and the spending power is high. It's a growing market for luxury and consumer goods," said Scaglia.
La Perla entered the China market in 2007. It has stores in Beijing, Shanghai, Hangzhou and Shenyang. The two in Shanghai were previously operated under license. The license expired recently and the brand will reopen them as new concept stores over the summer. The two in Hangzhou and Shenyang still have some time to run on their license. In addition, there are new stores to come in second-tier cities.
"We have a few exciting things in the pipeline between Q4 and Q2 of next year. Contracts are being signed in Nanjing….The store should open soon….And in Shenzhen, we will have one or possibly two stores, plus an outlet outside Shanghai and a few more possibilities in Northern China," said Scaglia.
Model Liu Wen flew in from New York to help launch the new Hong Kong and Macau stores. Her appearance in La Perla's global advertising campaign at the end of last year marked a radical departure for the brand, which had previously done without high-profile models.
"Before, I didn't really understand what is sexy, but working with La Perla has taught me that sexiness and confidence come from the inside out," explained Wen.
Scaglia said Wen will do one more major advertising campaign with La Perla and that the one-year deal with the model had been very successful. The brand will continue using major models in future.
"We hired her not just because she's one of the best models there is, but because she embodies the dream for a Chinese woman — she's beautiful, sophisticated, intelligent, young and she has a career. She's a fantastic brand ambassador," noted Scaglia.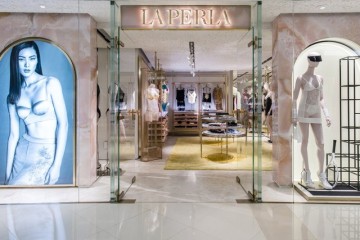 While she enjoys the look and feel of magazines, Scaglia said they aren't the most effective way of tapping the Chinese dollar. Instead the brand focuses on digital media.
"People in China buy huge amounts online, they live on their mobile phones. On your phone you have Weibo and WeChat and you can do online shopping. We work a lot with online shopping platforms because at the same time as selling you are also advertising," she said.
La Perla will relaunch its Mainland Web site over the summer. The revamped site will be available in both simplified and traditional Chinese and consumers will also be able to buy directly from the site. At present, La Perla products are available on two of China's leading shopping sites — Tmall and Shangpin — and talks are in progress to add more.
"These e-commerce sites are becoming very sophisticated. They have a lot of editorials, magazines, and they send e-mails to their VIPs and database. We try and work with them to figure out interactive and interesting content in order to propose La Perla as new products," said Scaglia.
When La Perla broke into the China market, brand executives were vocal about the need to educate Chinese consumers to see lingerie as more than a functional undergarment. Several years on and Scaglia said the message must have gotten through because sales are increasing. Sales data reveal the top-selling size is a size two and a B-cup bra. La Perla plans to launch a new "Asian fit" and a new size zero for spring 2015.
"More than reeducating the consumer, it was to educate ourselves and really see how our items can be worn both in and out. These are not just lingerie items, they are things that can be worn to the beach, a cocktail party or to work," she explained. Her experience with sister company Gold Typhoon, a Chinese-based entertainment company, has opened her up to the "crazy" and colorful world of Mainland pop culture.
As a fun exercise, La Perla gave Wen three items and asked her to style them in her own way. Wen wore a tight-fitting black corset over a white T-shirt and paired it with jeans. "People think you can only wear lingerie inside, but don't be shy: You can wear it outside as well. It's very cool," she said.
Victoria's Secret recently launched in China, but Scaglia isn't concerned about a new lingerie-maker in the market, saying the brand is aimed at a different consumer: "Victoria's Secret is more for younger girls and the price point is much, much lower. It's like fast fashion. We are focused on creating a luxury world," she said.
One product that was launched in Europe six months ago is expected to do especially well in the new Macau store at the Venetian Resort: the Maison Collection Gold edition, which is tailor-made using gold thread and 18-karat gold shoulder-strap decorations.
In a town known for its lavish casinos, resorts and uberhigh-end boutiques, it's not surprising Scaglia is quietly confident that Macau's high rollers may well be spending some of their winnings on the gold lingerie.
"Will it do well in Macau? I'm counting on that," said Scaglia.
Original Link: WWD