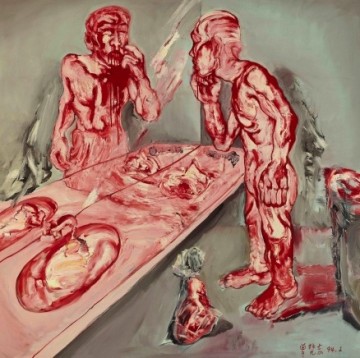 Growing interest in contemporary Asian art spurs Christie's new sale
— March 30, 2014
Christie's debut Asia+ auction is designed to appeal to both established and beginning collectors The gradual surge of interest in contemporary Asian art over the past few years has spawned a new auction platform aimed at committed art investors as well as those looking to begin a collection.

Christie's first "Asia+" auction on Saturday promises to add a new dimension to the art landscape. Focused on 20th-century and contemporary Asian art, the sale will be significantly different from the regular big auctions in May and November, and will see a carefully curated selection of pieces go under the hammer.
"We are seeing a dramatic appreciation for the arts. I don't think an auction like this could have happened 10 years ago. Now is the right time," says Sandy Ma, associate specialist of Asian 20th-century and contemporary art at Christie's Hong Kong. Last year Christie's sales in Asia were close to US$1 billion, 30 per cent up on 2012, and the interest is expected to continue growing.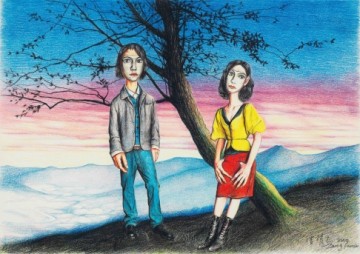 Ma says Asia+ will be smaller and more focused and, therefore, draw collectors' attention to the diversity of Chinese art. "These works are very different from our main sales, we are really trying to present a 360-degree development into the perspective of the artists."
Among the big names is Beijing-based avant garde artist Zeng Fanzhi who is best known for his "Mask" series which achieved record-breaking prices at auction. (His The Last Supper was sold at Sotheby's here last year for US$23.3 million, a record price for a contemporary Asian artwork.)
In that series the figures are well-dressed urbanites who wear white masks and have large hands and intense, puzzled expressions. Asia+ features a couple of Zeng's works that show a fresh perspective on the artist.
His 1994 oil painting Bathroom shows a figure looking at himself in a mirror. He is seen probing his face with his finger. Unlike the figures in the "Mask" series, he is completely exposing himself, investigating himself in a way that is quite unlike Zeng's other work.
"We are talking about the corporal reality of the distorted figure and the naked flesh behind the canvas. It's almost like an attack of the senses with this type of colour, the fast brush strokes, a sensational probing into the human soul behind the flesh," says Ma.
Bathroom was created before the "Mask" series came into full maturity and is a visual expression of Zeng's development and maturity as an artist as he struggles to understand the psychology of the figures he creates.
"It shows a lineage between this work and the 'Mask' series where he's talking about truth and artifice and the juxtaposition between the two in contemporary Chinese society," Ma says.
The other rare Zeng piece in this sale is a colour pencil on paper work. It features the iconic "Mask" series, but in a medium rarely used by the artist. It was originally used as a private New Year card in January 2005 and later featured on small notebooks the artist gave as gifts to his friends.
"You can see all the attentions of the psyche and the manifestations of the flesh and also the skill that he uses behind creating this work on paper. It's a rare opportunity for a collector because it features his 'Mask' series and is so intimate in terms of the story behind it," Ma says.
Another work at the auction – to be held at the James Christie Room in Alexandra House – is a ceramic tile by Zao Wouki, one of the biggest names in 20th-century abstract art. Made available from a private collection, it is a preparation study prior to the realisation of the mural in the Lisbon metro station.
The Chinese French artist is best known for his oil on canvas works – his Abstraction (1958) fetched US$14.7 million at a Sotheby's sale in Beijing last year.
"In terms of selection, we have picked big-name artists for Asia+, but the types of work on offer are really different from our main sales – we want to present a unique perspective of the artists, it's about the range in media and format of expression," Ma says.
There will be a big range in terms of price point too, with one lot priced at just HK$20,000 and the most expensive estimated at HK$6.5 million.
Also featured in the upcoming auction are three artists from the Stars Group, an avant garde group who first exhibited in 1979, mixing art and politics and earning international attention. There is a 1987 work by Stars Group founder Ma Desheng, with an estimated asking price of HK$140,000 to HK$180,000, as well as works by two artists from that seminal exhibition, Wang Keping and Qu Leilei. Goddess by Ma Desheng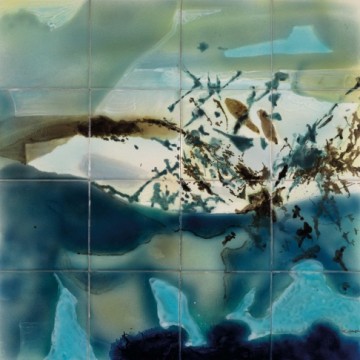 "With these three artists in the lot we are really trying to create a dialogue about the development of art history within China," Ma says.
Another theme explored within the collection is the new ink art movement. The stand-out artist here is Yang Jiechang with his Hundred Layers of Ink, a 1990 ink and mixed media work on canvas that is priced at HK$220,000 to HK$320,000. The painting has a complex, textured surface of gloss and sheen created simply by the application of ink.
But it's not all high-profile artists: some emerging names from the mainland and Japan are also featured. Look out for Ryoko Kimura, who uses traditional Japanese pigment on silk for his bold, contemporary subjects.
Another one to watch is 35-year-old Chinese artist Chen Ke, who is earning a reputation for her melancholy images. "Her works are almost personable parables of this childlike persona that represents the artist herself, set in a whimsical landscape," Ma says.
She expects a lot of local as well as international interest in the auction that has a pre-sale low estimate of HK$22.3 million for the 51 lots. Another Asia+ auction is tentatively scheduled for October.
Original Link: SCMP