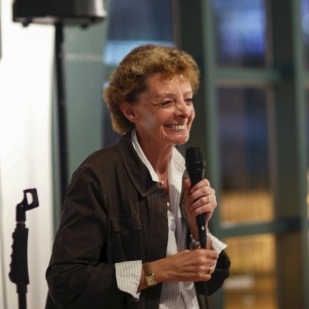 Cafe Scientifique talks capture imagination
— June 3, 2014
An initiative to promote informal discussion with experts about science topics is gaining popularity

It's a rainy Monday evening and a French scientist is holding court in a bar, recounting the story of the plague and its re-emergence. The crowd is rapt, their chairs turned towards the speaker, glasses in hand. And when she finishes her engaging tale, there is a barrage of questions and lively debate.
Sound like it might be taking place in the sophisticated salons of Europe – Paris or London, perhaps? Dr Elisabeth Carniel, director of a WHO collaborating centre studying the Yersinia bacillus, which causes the plague, was speaking at a Cafe Scientifique event in Hong Kong.
Cafe Scientifique is an initiative to promote informal discussion about science, built around interaction between experts and non-scientists.
Duncan Dallas, a British television producer of science programmes, set up the first Cafe Scientifique in Leeds in 1998. Based loosely on the Cafe Philosophique movement in France, the evenings began with a scientist talking briefly about their work in a topical or controversial area and then the floor would be open for questions and debate.
Rather than present a traditional lecture, the emphasis was on interaction. The format proved a hit and when Dallas died last month, aged 73, he left a legacy of hundreds of Cafe Scientifiques across Britain and the world, including Hong Kong.
Scottish author and broadcaster Vanessa Collingridge had the idea for a a local version when she came to Hong Kong. Having run the Glasgow café for nine years, she was familiar with the format for the evenings and saw Hong Kong as a good fit.
Together with three friends – Sarah Lazarus, Scotia Ryer and Stephen Davies, then curator of the Maritime Museum – they held the first Hong Kong event in May 2013.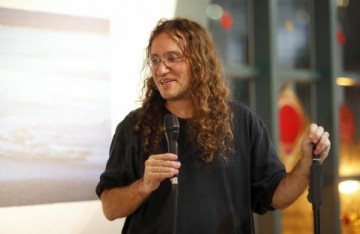 Collingridge has since returned to Glasgow and Davies is busy with work commitments, so it has fallen to Lazarus and Ryer to run the evenings, which are free.
"Science affects almost every aspect of our daily lives, but people don't get to interact with scientists directly. This gives them an opportunity to and to do it in a way that is convivial, sociable," says Lazarus, who has a master's in biological anthropology from Cambridge.
"The traditional hierarchical relationship between the speaker and audience is broken down – it's a very different way to interact," she adds. Lazarus began her career making wildlife documentaries before becoming a science writer.
A comfortable environment and a bar (considered necessary to ensure a convivial atmosphere) are essential ingredients for a Cafe Scientifique. The Maritime Museum, with its high ceilings, and affordable bar fits the bill.
Lazarus says the large number of great scientists based in Hong Kong means they have no problem finding speakers, although she occasionally finds one who is passing through town, as in the case of Carniel.
Past speakers have included interdisciplinary researcher and entrepreneur Ben Goertzel, talking about artificial intelligence, Professor Malik Peiris on the subject of bird flu, and Edoardo Zamuner, a post-doctoral fellow at Hong Kong University's psychology department, who spoke about emotion, perception and delusion.
There are a couple of firm rules for speakers: talks are limited to 20 minutes and PowerPoints are banned. "This ensures that it's a very different feel from a lecture. The speaker isn't on a raised platform, they are on the same level as the audience. There are drink breaks through the evening so people can refill their glasses. It's all about the discussion," says Lazarus.
Felipe Cucker, professor of mathematics at City University, spoke about the intersection of maths and art at the cafe last October and found the breadth of questions refreshing. He has been a regular ever since. "The questions were pertinent. I'd not considered them all before, and some I had to think about for half a minute," says Cucker, whose book Manifold Mirrors: The Crossing Paths of Arts and Mathematics was published last year.
More familiar with addressing an audience on campus, he says local university students are often shy about asking questions, and are sometimes fearful of making a fool of themselves.
But at Cafe Scientifique all questions are welcome, and Lazarus makes a point of saying that there is no such thing as a silly question before she opens the floor to discussion.
The largely professional audience comes from a variety of backgrounds ensuring a topic is considered from many angles.
"Hong Kong is full of well-educated people who are interested in the world, but there are not that many opportunities here to engage with intellectual topics. So I think that's part of the reason why there is this huge appetite for it," says Lazarus, who moved to Hong Kong with her family five years ago.
Communications consultant Sarah Monks has been to three evenings and describes them as a place for the curious and a chance to meet others who are curious about the world.
"We all lead pretty full-on lives in Hong Kong, focusing on work, and then you go to something like that, meet people from all walks of life, all ages, and suddenly you're learning again. It's exhilarating," she says.
Like many people, Monks said goodbye to science at an early age when she opted to study arts subjects, and she relishes this opportunity to indulge in what until now has been a private interest.
"For me, this secret world, where I've been privately getting books and looking into things, is opened up. You don't have to feel so isolated. You discover there are lots of [other] people interested," says Monks.
Cafe Scientifique is part of a movement to make science more accessible to the public. Television documentaries and science journalism have gone a long way towards distilling complex scientific theories and making them relevant to our everyday lives. The cafe is a chance to get close to those scientists, and chew over the ideas.
"I think scientists have got better at communicating, and certainly there is more emphasis now on that. But there are still not that many opportunities for it to happen outside of an academic context," says Lazarus.
Held on the first Monday of the month, the evenings have proved so popular the ticketing is now managed through Eventbrite, and tickets are snapped up within a matter of hours. Lazarus says that despite the demand, the number of places will be kept to about 65 to ensure the intimacy and accessibility of the evening.
The British Council has also adopted the "Cafe Scientifique" moniker and runs its own brand of science talks, but the format diverges from Dallas' model in a few key areas.
The Hong Kong evenings, which take place roughly every three months, are held in a classroom setting – no booze – and PowerPoints are standard. While these events are certainly informative and enjoyable, they fall wide of the mark that Dallas was aiming for.
"The glass of wine is quite important and so is the setting; we're lucky we have the Maritime Museum. It's about creating a relaxed, sociable environment in which to meet great scientists," says Lazarus.
The museum cafe, Café 8, is staffed by young people from the Nesbitt Centre, a social initiative that gives disabled children the opportunity to learn to work in a restaurant.
Lazarus and Ryer run the events on a voluntary basis. "I really enjoy it. I've met a lot of interesting people. I'm fascinated by all the topics we cover. It's a nice opportunity to make something that is fun and worthwhile happen," Lazarus says.
Stardust, the cosmic seed of life, will be the next subject for discussion. Scientists tell us that every atom in our body has at one time been inside a star or was made by a star.
If that gets you thinking, then try and get a spot at the cafe on June 4. Professor Sun Kwok, dean of the science faculty at Hong Kong University, will be the speaker.
Original Link: SCMP