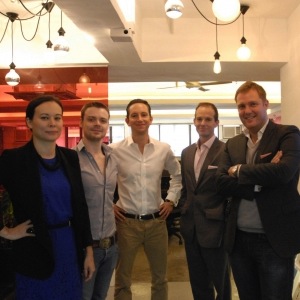 Nest gives budding entrepreneurs their big chance
— May 17, 2013
At incubator company Nest, budding entrepreneurs get 15 minutes to wow investors into funding their dreams

It's Saturday in Sheung Wan and Simon Squibb is explaining the rules of the game for the third time this morning – there will be 15 minutes for the pitch, during which the judges stay silent, followed by a Q&A session and then feedback.
"We don't make a decision today – this isn't a TV show, this is real," says Squibb, CEO of Nest, an incubator company which nurtures start-ups.
Pitch day at Nest may not be a TV show, but it has all the trappings of one. The conference room is decked out in raw concrete and glass, a computer screen the size of a door stands in the corner, and the judging panel, armed with laptops and lattes, are looking effortlessly cool.
But if Mexican entrepreneur Salvador de la Barrera is nervous he doesn't show it. His company, flipter, is out to build the world's largest database of opinions. He has flown in from Mexico to make this pitch, one of seven chosen from 90 applications, and his presentation is well-honed.
"Sit down, have some water," says Squibb before the questions begin.
"Have you trademarked your name? Why not?"
"It's a fantastic product," says Lawrence Morgan, a Nest partner. "You need to lock down as many people as you possibly can."
"And update daily on Twitter," says Helen Griffiths, another partner.
Squibb isn't afraid to admit he's made mistakes, some of his businesses failed and he's learned from them. He's not keen on investing in restaurants – "they're hard to scale" – and when he tells de la Barrera to trademark his business, he admits to learning that lesson the hard way.
"We invested in a start-up that scaled and then later found out the name was already taken, it very nearly crushed the business," he says.
The feedback comes fast. De la Barrera gets out a notebook and jots down a few pointers. His reaction is unlike the first pair that pitched, who sat there, eyes wide and jaws slack, as the judges fired questions about their product, an innovative set of headphones.
"If you launch this it will be copied quickly and you will die," says Squibb.
Morgan was harsher: "Just because it's innovative doesn't mean it'll get sold. What's your profit margin? What volume are you hoping to sell in a year? You're utterly confused. I don't get where you are, is there a market for your product at US$189?"
"Have you spoken to brands?" asks Squibb. "Why don't you pivot – go to Boss or Sony with this idea."
The ability to pivot – to try out new ideas, to be flexible and adjust a plan – is key in the entrepreneurial world. But the headphones duo aren't keen on rethinking their business. What's more, Squibb is looking for passion and commitment. So when they say they aren't prepared to drop their day jobs to focus on their startup it does not go down well.
Of the seven ideas presented at April's pitch day, one may be chosen to join the Nest incubator. Squibb likes to joke that it's more difficult to get into Nest than Harvard University.
"A lot of investors look at the numbers only – we're about the individual. We look for businesses that are scalable by people with relevant experience, who can fulfil the business plan. We want to know can we work with them. What's their moral code? Are they going to be fun?" says Squibb.
The second pitch of the day is by two Hongkongers who Squibb has already spent some time with. He likes what they're pitching – an online platform for event ticket sales – but the pair haven't followed up on all of his suggestions. The judges tell them what they still need to do – people they need speak to, areas to focus on – and then to come back. The door is left open.
Nest offers entrepreneurs seed money – from HK$200,000 to several million, but usually about HK$500,000 – and takes a stake in the business, typically 30 to 40 per cent.
"If I put in a lot of time and money I may take a larger share, but I generally prefer to be the minority stakeholder," says Squibb.
"[The entrepreneur] has got to have some skin in the game," Morgan adds. "They've got to have put their own money and time in there – they've got to have something to lose." The biggest problem for start-ups in Asia, Morgan says, is getting parental approval – and he's not entirely joking.
Start-ups, he explains, are seen as a gamble, so Asian families prefer their offspring to enter "safe" professions, such as law or banking, where a high wage is eventually guaranteed.
"There's plenty of money here, but start-ups are seen as high risk. It's not – it is measured risk. We try to structure in a rational, logical way to evaluate the risk in investing in a business," he says.
There's a good reason so many entrepreneurs are trying to get into Nest – and it's not just about money.
"We provide a full-service incubator which is rare – we can offer help with legal and contracts. We help people to structure and scale their business; it's a logical approach," says Morgan, who worked at J.P. Morgan Chase before setting up his own businesses and then becoming a partner at Nest a year ago.
To date, Nest has taken on 12 start-ups, with most spending three to six months in the Nest "incubator". Outfits that have flown the nest include the Hong Kong magazine Foodie and gift experience company Red Packet.
You can see that incubator from the glass-panelled conference room. Beyond the airy pantry is a large, open-plan office packed with computers, and large blackboards. It's probably the closest Hong Kong has to a Google-style office.
"We give them boot camp," says Squibb, who keeps daily tabs on the entrepreneurs in the first few months. "They come in on Monday morning and we have a meeting. By Friday we're asking them, 'What have you achieved?'"
Squibb says what took him 12 years to achieve with his first company, creative agency, Fluid, he could have done in two if he'd had the support of an incubator such as Nest.
De la Barrera, 31, who has lived in Hong Kong for eight years and is married to a local, says there was very little support for entrepreneurs when he set up his business five years ago.
"People in Hong Kong are interested in finance and property investment. They don't like risky things. They would ask me 'Why haven't you got a proper job?'" he says.
But he's noticed a shift in the past 2½ years. "Forbes just listed Hong Kong as the tech hub of the world after Silicon Valley and New York – things are changing here."
So how did he think his pitch went?
"I've done a lot of pitches – this one was good because usually you only get three to five minutes to say your idea," says De la Barrera. "When I started out I was paranoid people would take my idea. Now I realise it's more important to put it out there. At the end of the day, if they take your idea they still have to do all the work you did."
Squibb, meanwhile, is back in the pitch room with the other judges. With an hour devoted to each start-up, it's a long and intense day of back-to-back presentations. Filtering through up to 200 applications, replying to each individually, listening to pitches and offering feedback – it's a lot of work to do every month.
Money is definitely a motivator – there's the potential to make up to 40 times their investment – but that's not the whole story.
"I find it very rewarding to get a company off the ground. This type of investing is much more rewarding than investing in property or the stock market," says Squibb.
"In Hong Kong you've got co-working spaces, such as The Hive, but there's no one else doing what we do. We want lots of people to copy us to help the ecosystem grow."
Original Link: SCMP