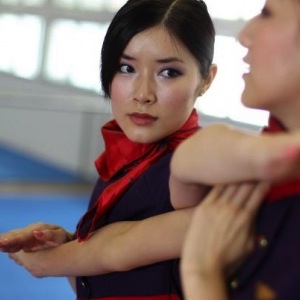 Cheers as passenger attacks air crew
— March 26, 2013
Incidents of rage on flights between the city and the mainland are on the rise, as witness tells of passenger who punches stewardess

Violent attacks on cabin crew during flights between Hong Kong and the mainland are becoming so common they often go unreported, it has emerged.
The threat posed by unruly passengers and a mob mentality was highlighted on Thursday, after a physical and verbal attack on a flight attendant was loudly cheered and applauded by others on board.
British business executive Graham Fewkes, who was on flight HX162, said the attack on the Hong Kong Airlines stewardess happened while the plane sat for six hours on the tarmac at Sanya Airport, Hainan, waiting for flight clearance.
He said that four hours into the delay, an elderly mainland passenger's frustration boiled over.
"He went completely mental and stormed up the plane and into the business class. I heard a punch and looked up and he was attacking the stewardess," said Fewkes, who travels to Sanya regularly for work and was on the flight's business class.
"What surprised me was that passengers were applauding as the man was hitting her. It was a crescendo of noise coming down the plane," he said.
Fewkes and another Western businessman pulled the man off the stewardess and eventually the man calmed down and was allowed to return to his seat.
None of the airline staff members made any attempt to remove him from the plane.
"We were still on the tarmac, so they could have kicked him off the plane, but they didn't," said Fewkes.
The airline said it had not received a crew report on "any case involving physical assault on HX162" on Thursday.
Last August, the airline reported an average of three incidents of disruptive passengers every week.
To deal with such incidents, Hong Kong Airlines cabin crew receive compulsory training in Wing Chun, a martial art.
The airline's corporate communications department said its flight attendants have been given basic Wing Chun training since May 2011 to boost their health and strength, and to give them more confidence to deal with emergencies on planes.
Katherine Cheung, an instructor at the Wing Chun Union in Wan Chai, said recruits undergo six hours of training.
"We teach them basic self-defence movements to deal with unruly passengers.
"It basically gives them a little more confidence to deal with those passengers. I think air crew these days are facing more of these situations."
Margie Logarta, managing editor at Panacea Publishing Asia, which produces Business Traveller, said incidents of air rage on flights from the mainland were becoming more common, fuelled by delays caused by the military using the air space.
Describing the atmosphere on board as something of a "Wild West", she said the insufficient outlets for passengers to complain and voice their grievances compounded the problem.
Of Thursday's incident, Logarta said: "[The air hostess] knew she might have a lynch mob on her hands if she didn't restore order."
Original Link: SCMP