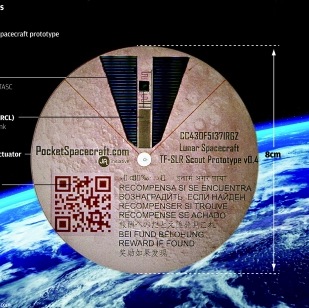 Physicist dreams of sending his pocket craft into space
— July 14, 2013
Physicist Michael Johnson is drumming up support and funding for his project, to launch tiny spacecraft into space and to the moon

Ever wanted to explore space with your own spacecraft? Now is your chance – and you don't have to be a multi-millionaire.
For just £99 (HK$1,160), Pocket Spacecraft is offering the public the chance to send personalised CD disc-like spacecraft – known as Scouts – into earth's orbit. For £199, the Scout will go all the way to the moon and you can monitor it every step of the way.
Let's be clear, the spacecrafts are tiny. Made of polyimide, the same material as space suits, they are paper thin and slightly smaller than an actual CD. Those who back the project will be able to personalise their spacecraft by adding a photograph or message. The more technically minded will be able to customise it to run their own software.
Thousands of the Scouts will be loaded into an Interplanetary CubeSat mothership, a 30cm long satellite. Physicist Michael Johnson, founder of Pocket Spacecraft, describes the process as like stacking Pringles potato chips in a canister. The CubeSat will then piggyback on a commercial rocket that's heading in the right direction. Some will be released into space and flutter back to Earth and others will be released months later, when the mothership reaches the moon.
Johnson studied at Imperial College London and then spent a decade running a software development company before returning to his real passion four years ago. He has taught workshops on small satellites at Cornell University, MIT and California Institute of Technology. The Pocket Spacecraft project is a labour of love until it gets funded.
He's hoping to raise the £290,000 needed for the project through the crowd-funding platform Kickstarter, and that will mean at least 2,000 people signing up. It's not the first time he's raised money this way. Two years ago he and his team raised US$74,586 on Kickstarter – more than double their goal – to send postage- stamp-sized satellites into space. That mission is due to be launched by Nasa at the end of the year.
Crowd funding isn't just a means of getting cash. He sees it as integral to the project's philosophy because it gives everyone the opportunity to get involved in space exploration. And after more than 1.2 million people signed up to have their name etched on a computer chip that went with Nasa's Curiosity Rover to Mars last year, he's sure there's a public thirst for being personally involved in space exploration.
So far the bulk of interest has come from engineering students in universities around the world with project proposals ranging from the seriously scientific to the fun and quirky. "
People are thinking about control systems – how you steer these spacecraft in space, different kinds of communications. Some are trying to record the solar winds, the sounds of space, and others want to do measurements to see how cosmic rays affect the spacecraft. People have also wanted to send messages on behalf of humanity, we've had marriage proposals," says Johnson.
The Pocket Spacecraft team is a healthy mix of techies and creative types, which explains why alongside the earnest scientific proposals the website also suggests some less high-brow options, such as laser tag in space – that idea courtesy of the onboard game designer.
"Just because it's a science mission doesn't mean you can't have fun," says Johnson.
And the project has plenty of fun elements. Everyone who takes part will be able to download a Pocket Mission Control app and monitor the mission's progress on their smartphone, from the lab and out into space.
For the environmentally minded, Johnson says that the Pocket Spacecraft's impact will be very small, almost insignificant compared to the other craft that have been sent into space, as it is so light. And when it comes time to bring the mission to an end, they will crash responsibly, staying well clear of the lunar landing sites that are designated heritage sites by Nasa.
Of the 200 to 300 proposals that are submitted each time Nasa puts out the call for scientific proposals for an upcoming mission, only one or two are chosen.
"We're hoping this will give scientists who perhaps weren't successful in applying to the bigger missions the chance to apply for a small amount of funding and do these scientific interests. This sort of complements Nasa, it doesn't in any way compete," says Johnson.
Last summer he ran a workshop on small satellites at the California Institute of Technology and says half the participants were from Nasa. "They were very excited about the prospect of this small spacecraft and came up with half a dozen ideas for how these can be used for science missions," says Johnson.
In the future, the small satellite strategy – as used in the Pocket Spacecraft mission to the moon – could even prove useful for Nasa. Curiosity's first images from Mars were undoubtedly exciting and the rover's findings remarkable, but it hasn't covered a huge amount of physical ground. Johnson says all the rovers that have ever been sent out into the solar system have only actually covered about 80 kilometres.
"If you dropped 10,000 of these [small satellites] on Mars, you could get pictures from 10,000 points around Mars and then it would be useful to find out where you might want to send the next rover," he says.
He has big plans for small satellites. One of the most exciting is sending them into the rings of Saturn. The distinctive rings are made up of billions of particles that orbit the planet, making it too dangerous for a large spacecraft to get close and have a look. A job well suited to small satellites, in other words.
"Because they are so small and inexpensive, it doesn't matter if they get destroyed as they pass through the rings. The pictures that would be taken could be stunning," he says.
The Kickstarter clock is ticking. A little more than two weeks into the campaign and Pocket Spacecraft has raised £32,624.
Original Link: SCMP