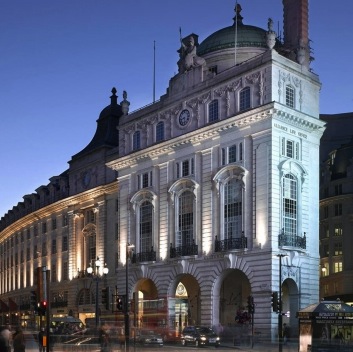 Café Royal, London
— April 13, 2014
If it sounds more like a bar than a hotel, that's because it was. For a long time, Café Royal was a place to see and be seen for the people of London.
What is it? Opened by a French wine merchant in 1865, within 20 years Café Royal had become the drawing room for high society, and it continued to be a magnet for celebs until the 1970s. Rudyard Kipling, W.B. Yeats, H.G. Wells, Winston Churchill and Noel Coward were all regulars at this Regent Street venue. Then came the rock stars and royals, think Mick Jagger and Princess Diana. It was at Café Royal that Oscar Wilde met the son of the Marquess of Queensberry and here that David Bowie and Lou Reed "kissed".

Then what? In 2008, the property was bought by hotel group Alrov Properties, known for transforming heritage buildings into luxury hotels. The metamorphosis took four years and involved blending three quite different buildings together, highlighting original features, such as gilded boiseries and carved-stone moldings, and giving the place a modern look with cast-plaster walls that resemble the building's façade.
Is there anything left of the old place? The iconic Grill Room (pictured) has been restored, the ornate Louis XVI decor and detailing having been revived, and there are still red banquets and plenty of flashy gilt and mirror. It's a place you might choose to go to for champagne cocktails and perhaps a light dinner. Reminders of past patrons are all over if you know where to look – the tulips, for instance, are a nod to Wilde. One evening, the writer got so smashed on absinthe that he began hallucinating and thought he was watching the waiter watering a field of tulips when, in fact, he was stacking chairs. The absinthe might not be as potent as it was in Wilde's day but you can still order cocktails based on the "green fairy" at The Bar.
What about the food? The Ten Room is the only area still "settling in" and there are plans to revamp the seating and cosy up the atmosphere, which is a little stark. The food, though, is top notch. This is where breakfast is served but it's worth coming back for dinner. The Café deserves a visit even if you're not staying at the hotel, for its divine cakes and pastries.
And the rooms? Well, they are all as lovely as they should be, but the bathrooms! You could almost live in one of these, with their heated floors, televisions and marble tubs.
Anything else we should know? They have saved the best till last. Although the hotel has been operating for a year, the spa in the basement has only just opened – and it's an absolute treat. Within is a generous and decadent pool inspired by Roman baths, a hammam, steam and sauna rooms, four treatment rooms and London's only watsu pool, for aquatic massage treatments. Swimming laps in the pool, it's hard to believe that below you is the Piccadilly Line – plenty of insulation means you can't hear the tube trains.
What's the damage? Rooms start from £295 (HK$3,800) a night. For more information, visit www.hotelcaferoyal.com.
Original Link: SCMP