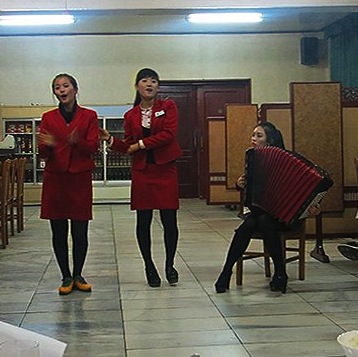 Off the beaten track in North Korea
— May 30, 2014
Planning a trip to North Korea's seldom visited north-east? Kate Whitehead provides a guide to the best hotels

Although most tourists who visit North Korea are content with visiting well-worn sites like the Juche Tower, Kim Il Sung Square and DMZ, for those going back a second time or interested in seeing something truly unique, the north-east of the country awaits.
Visited by just a handful of tour groups per year, the DPRK's north-easterly region contains a diverse range of cities, towns and villages that have opened to foreign visitors in recent years. Last year, for example, the Tumen border opened to Western tourists for the first time, meaning access to towns like nearby Hoeryong and Namyang became possible. This year trains are now making it possible for tourists to travel north from the east-coast city of Hamhung, meaning visits to Chongjin and Chilbo are finally possible without the need to charter aircraft – a mysterious but previously official requirement.
But while tourists visiting the north-east can see an increasing range of sites and attractions, the hotels they can stay at are for the large part limited to just one or two per city. To find out more about what's on offer, Kate Whitehead provided NK News with a guide to the region's hotels – which, it seems, remain some way off the luxury quality now seen in other parts of the country.
Hoeryong Hotel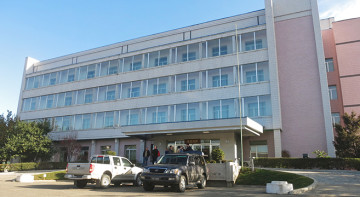 This is a new property – we stayed in mid-October and were the second group of Western tourists to visit. At night the frontage is lit up with coloured neon strips. The obligatory Kim Il Sung painting in the lobby is worth noting for the artist's creative license with the Mt. Paekdu backdrop: instead of the usual blue the artist made the lake red and the steam rising from it gives a Satanic feel to the scene.
Rooms: Those at the front have small balconies and look out over the hotel entrance; those at the back overlook a car park. Rooms have thoughtful amenities (slippers, flask of hot water). However, there are very thin curtains (bring an eye mask if your sensitive to the light). The water ran a muddy brown in the bathroom, though cleared after a while. Hot water is arranged for one hour in the morning and the evening. For most this was successful, but it didn't work in my room. This was not such a bad thing as the alternative was a bucket bath in the sauna room. There was plenty of hot water there.
Facilities: Ping-Pong room (you'll need to request that the room be unlocked if you want to use it), sauna (lashings of hot water), karaoke, small shop (sells water, beer, snacks and a small selection of literature).
Food: Dinner was a vast spread of mainly cold dishes – Kimchi, fried potato, fried fish, tofu (hot!), pork and vegetables, rice, soup and fruit. (There's a performance immediately after dinner and guests are encouraged to get up and dance). For breakfast there's the option of a Western or Korean meal. The coffee is great.
Chongjin Hotel, Chongjin
The staff is especially welcoming and seems genuinely concerned about making sure guests enjoy their stay. After dinner the waitresses turn singers and make pretty good songbirds, with one on the accordion and the other three singing and dancing.
Rooms: The rooms are large. I was in a single room that had two bedrooms (four beds) and a bathroom. The under-floor heating is excellent. Keen train spotters should try and get a room at the back of the hotel, overlooking the railway.
A couple of trains go past in the night. From the window you can also observe daily life – people walking and cycling to work.
Facilities: The big attraction is the sauna. There are three sauna rooms, each of which can accommodate about five people. Attached to each sauna is a washroom with two large tubs of hot water and a small room for drying / dressing. It's worth getting up early and making a mad dash across the car park to enjoy the sauna. There is a small shop beside the check-in desk that offers a selection of books by Kim Il Sung and some good maps of the region.
Food: Dinner is a huge spread with the usual Kimchi, coleslaw, fried potato, pork and vegetables, rice and soup. The octopus calamari was especially good. It's a relatively small dining room with a low ceiling, making for casual and comfortable dining – especially when the evening entertainment kicks off.
Homestay Village, Chilbo region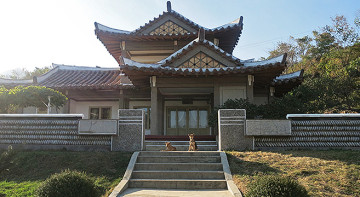 There are homestays all over North Korea, but this is the only one that foreigners can stay at, with the exception of Americans. The concept is simple – you stay in a house with a local family. Although it is a little contrived (the houses are much more comfortable than most North Korean homes), it is an opportunity to spend some quality time with a local family.
Without a guide to translate conversation can falter, but you can go a long way with sign language and it's useful to have photographs from back home to share and a small present for your hosts.
The Homestay is set back from the beach and its one of the very few places you can stay where you have the freedom to roam around a little. The grounds and gardens of the homestay as well as the beach are all accessible. The no-go area begins at the end of the beach and the neighboring village is absolutely off limits. Although the place looks deserted there will be someone around to guide you back if you "stray", even at 5.30am.
Rooms: There is the choice of staying at a Western or Korean home. If you opt for the Western-style home you will sleep in a bed, Korean-style and you bed down on a padded mat on the floor. It's very comfortable – the floor is under-heated, there's plenty of additional bedding if you get cold, and the bathroom is en-suite. (There was running cold water and a bucket of hot water in the morning).
At the double-storey Korean homes, guests sleep upstairs and the family sleeps downstairs. As with everywhere in North Korea, the power supply is unstable so a torch comes in very useful. The beach was a one-minute walk from the house I stayed at and I went to sleep listening to the waves crashing on the shore – a great spot.
Facilities: There's plenty to do. Aside from enjoying the beach and grounds, the homestay families suggest plenty of activities – we played volleyball (foreigners vs. North Koreans – they won), wrestling (North Koreans won again), and were shown how to make the local rice noodles. After dinner, we went down to the beach for a bonfire and singsong under the stars with a number of the homestay families joining us.
Food: Given the proximity to the sea, there's plenty of seafood on the dinner table. You won't go hungry here. The meals are generous and there were plenty of snacks in-between as well as the homestay hosts offering little treats.
Kyongsong Guesthouse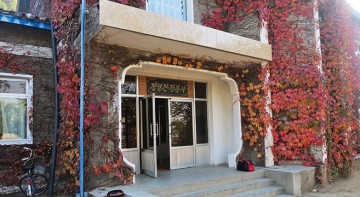 The best aspect of staying at this property is that it is affiliated with the hot springs two minutes down the road. Before checking in, our group had a 90-minute session at the hot springs. Men and women are separated and everyone gets their own tub, with a reasonable degree of privacy and lashings of hot water. You are requested to bring the towels that you used at the hot springs to the hotel.
Rooms: The rooms are smaller than other hotels in the region, but very comfortable. Whoever was in charge of the décor wasn't afraid of colour and clashing patterns. The room I stayed in had patterned lino, matching wallpaper on the walls and ceiling, brightly coloured bed sheets and retro accessories. It had a kitsch charm. The under floor heating was ferocious, but you can turn it down.
Facilities: Very little by way of facilities, but there is a reasonable-sized shop that sells the usual Kim Il Sung books and water as well as a wide selection of souvenirs, including jade and jewelry.
Food: Come to dinner hungry – we were presented with a huge feast and it was so beautifully laid out that almost everyone got their cameras out to snap a shot of the spread. There was plenty of seafood, including a whole fish and a couple of large hairy crabs.
Pipha Hotel
This property is only a year old and feels new. We stayed in mid-October and were the first Western tourists to visit. The view from the terrace looks out towards Pipha Island and offers a good view of the Emperor Hotel & Casino, owned by Hong Kong tycoon Albert Yeung. The most exciting aspect of staying here is hot water 24/7 – after a week of buckets of hot water this comes as a very big treat.
Rooms: Rooms are a reasonable size, comfortable and clean. There's a kettle for making tea/ coffee (if you're a caffeine addict make sure to bring sachets of instant coffee as there is none on offer at breakfast). Excellent heating. There were no curtains, so if you're sensitive to the light you will be grateful for an eye mask. The power supply was stable; I don't recall a single blackout during a three-day stay.
Facilities: The laundry service was excellent – fast, efficient and cheap. I paid about 7RMB to have a pair of jeans, 2 shirts and socks washed. There is a communal sitting area that makes for a good gathering point, not least of all because it is beside a large fridge well stocked with beer, soju, water and soft drinks. A bottle of beer is 10RMB.
Food: The dining room is a five-minute walk from the hotel, through a pretty wooded area; it makes for a pleasant stroll to breakfast. Breakfast includes bread, a fried egg, tofu, Kimchi, fish, rice and soup. It's a big meal, so even if there are some things you don't think you can stomach so early in the day, there's still plenty to eat.
Original Link: NK News