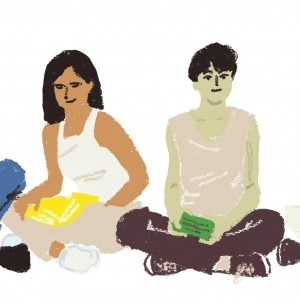 Hong Kong Book Fair pulls in crowds but needs to attract bigger-name authors
— July 6, 2013
Hong Kong's own book fair celebrates 25 years with rising attendances, but the line-up of visiting authors leaves room for improvement

The Hong Kong Book Fair looks set to hit the one million-visitors mark as it celebrates its 25th anniversary this year. Without doubt it's the biggest event on the city's literary calendar and does an incredible job at what it set out to do – sell books – but there is still room for improvement including a better line-up of visiting authors.
"In a way it's extraordinary, with a football crowd of people going late into the evening. It's quite heartening, especially at a time when people are saying the physical book is going and everyone will switch to digital," says David Parrish, the Random House Group's sales and marketing director for East Asia.
If it hadn't been for a black rainstorm warning, last year's fair could have attracted a million visitors. The numbers through the doors hit 980,000, some braving the rain to see the 550 exhibitors. Organisers are hoping for clear skies for this year's fair, from July 16-22, but they recognise that it's not just about chasing the big numbers.
The fair is managed and funded by the Trade Development Council (TDC), but unlike the two big events in Europe – the Frankfurt and London fairs that cater to the book trade – it was always intended first and foremost for consumers. The Convention and Exhibition Centre was two years old when the first fair was held in 1990, deliberately staged during the quiet summer months.
"July and August is the slack season for us. Most trade buyers come to Asia from January to May, so we wanted a fair to help publishers promote their books and for youngsters to get new publications for their summer reading," says Benjamin Chau, the TDC's deputy executive director and manager of the fair.
Beginning with about 140 exhibitors and 200,000 visitors in 1990, the numbers have been rising steadily. Of the 980,000 who attended last year, about 11 per cent came from outside Hong Kong, with 90,000 of them from the mainland. And as the fair has grown, it has evolved. The biggest change came in 2005 with the decision to expand beyond merely exhibiting books to host international authors; since 2010 the fair has also featured an annual "author of the year".
"We got a lot of requests to further enhance our cultural side. A fair [has] an obligation to promote culture, so this is what we've been doing since 2005," says Chau. He admits the TDC isn't necessarily the best equipped to manage this side of the business and it has reached out to literary groups, newspapers and publishers for advice.
The person who has had the biggest impact in this regard has been businessman David Tang Wing-cheung. "He is an important resource – any literary organisation or event that has David's support is likely to do very well. He's done three out of the past five fairs," says Peter Gordon, editor of the Asian Review of Books.
Tang's absence is obvious this year. In the past he marshalled an impressive haul of household names: in 2010 he talked his actor friend Stephen Fry into attending along with Frederick Forsyth; in 2011 he moderated a lively forum that included food critic and essayist A.A. Gill and Tom Parker Bowles, son of the Duchess of Cornwall; and last year he hosted a literary debate that included Erica Jong and Jung Chang.
This year the key international authors are Susan Barker, whose new book The Incarnations was released last week (see review on Page 12); Lawrence Osborne, who recently released his second novel, Ballad of a Small Player; Barbara Demick, who is best known for the book on North Korea, Nothing to Envy; and French writers Francois Dremeaux and David Foenkinos.
The French consulate put forward the names for the French writers, while Harrison Kelly, founder of Arts and literary PR agency Flatcap, prodded the British Council to invite Barker. Nobel laureates Gao Xingjian and Mo Yan were invited but declined, as did Haruki Murakami.
That's not to suggest that the fair will be short on writers – 300 will attend, the highest number yet – but most will be better known to Chinese readers. The author of the year is Dung Kai-cheung and other Hong Kong writers include Chung Hiu-yeung, Liu Wai-tong and Wong Pik-wan. Mainland writers include Jiang Fangzhou, Jing Yucheng and Mai Tianshu and from Taiwan will come Bai Xian-yong, Cai Ming-liang and Chen Xue.
From Japan comes Kyoko Nakajima, who won the Naoki Sanjugo prize in 2010 for The Little House, and Hello Kitty designer Yuko Yamaguchi. "She is the third-generation inventor for Hello Kitty. We expect her to make quite a show in Hong Kong," says Chau.
Marysia Juszczakiewicz, founder of the Peony Literary Agency, is a supporter of the fair, but wishes more had been done to persuade well-known overseas authors to attend. "With it being the 25th anniversary, you would think there would be a larger group of international authors to celebrate," she says.
Flatcap's Kelly is also less than impressed with the line-up: "It could have been better. The fact that the fair isn't on the map internationally might be why it's hard to get people to come, especially without David Tang calling up his friends."
While the calibre of the authors has varied from year to year, there is no doubt the fair has had a huge impact on the city's cultural landscape; this year will be the third year it hosts "Cultural July", a series of cultural events starting from the end of June through July and held all over Hong Kong.
"People kept asking us to extend the show period and we've grown from two to three to seven days. We can't make it longer than that, but we can help support cultural activities outside the [Convention and Exhibition] Centre," says Chau.
These offsite events have swelled from 50 in 2012 to 170 this year, with something happening in almost every district of Hong Kong. The TDC has produced a "Cultural July" map – unfortunately only in Chinese – in collaboration with Hong Kong's favourite cartoon pig, McDull.
As for popularity and pulling in the crowds, the Hong Kong Book Fair is outstanding. What's more, it attracts people who might not be in the habit of going to bookshops, with a sizeable proportion making the visit to stock up on books and magazines for the year, says Parrish. "The impression I've got from my customers is that they believe a lot of the people who buy books at the fair don't go to bookshops regularly. They go there to stock up and get good prices. These are regular books – classics, general fiction – they aren't offloading excess stock."
The past few years have also seen a growing number of librarians from the US, Australia, Canada and the mainland. "Public libraries in places with big Chinese populations need Chinese books and they are coming to the fair to source them. We are encouraging this," says Chau.
And there is also a new element to the fair, an "International Copyright Exchange", marked on the fair's website as "Copyright Corner" which aims to help publishers sell book rights. "This is a very initial attempt to promote business-to-business transactions. It's been going about two years and it will take more time and effort. Hong Kong's market is not as big as Europe's," says Chau.
Neither Juszczakiewicz nor Kelly has heard of the attempt to promote copyright trading, but the move will bring the fair more in line with the type of book fair that Kelly is familiar with. "For me, a book fair is where people come to buy and sell rights and there is more engagement," says Kelly.
While Parrish agrees with Chau that the Hong Kong market isn't developed enough to draw those wanting to buy and sell copyright, he says he'd like to see more done to develop the line-up of authors. "Alongside the selling of books, it could have more author events going on, giving people the opportunity to connect with authors," says Parrish.
Attracting more high-calibre authors is also a priority for Chau: "In the future we will not chase numbers – it is already very popular. We hope to see more renowned writers, Nobel writers, important books and authors choosing to launch their book in Hong Kong, at least for the Asian launch," he says.
Original Link: SCMP