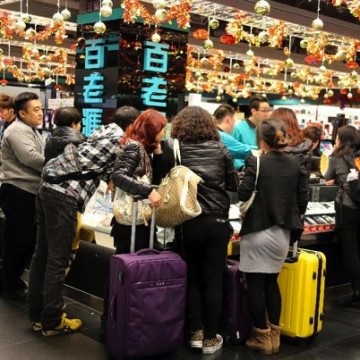 Hong Kong Retailers Hit by Tensions Over China Tourists
— June 11, 2014
Debate over a controversial proposal to curb the number of Mainland tourists was already tense with concerns that any cut would hurt the retail sector and put a dent in the economy. Now new figures show retailers have every reason to be concerned, especially those in the jewelry, watch and luxury goods market.

Hong Kong's retail sector has evolved over the last decade to accommodate the cash-rich Mainland shoppers who have been arriving in increasing numbers. Of the 54 million tourists that came to Hong Kong last year, more than 40 million were from the Mainland.
But as the cash registers have been ringing, Hong Kongers have grown increasingly resentful about the influx of visitors from across the border. In 2012, a group of locals branded the Mainland visitors "locusts" in a full-page newspaper advertisement and tensions have been simmering ever since with almost weekly anti-Mainland demonstrations.
Last month, Hong Kong chief executive officer CY Leung attempted to ease tensions by proposing a 20 percent cut in Mainland tourists. There was an immediate outcry. Liberal Party lawmaker Vincent Fang was among the many who expressed shock at the suggestion, warning it would not only hit the retail sector but the whole economy. Leung backed down, saying it was only one of a handful of suggestions up for discussion, but the number crunchers were already calculating the potential damage.
Chinese tourists spent $28 billion on shopping, food and hotels in Hong Kong last year. Days after Leung's proposal, investment bank Goldman Sachs predicted that a 20 percent cut in arrivals from the Mainland would translate into a $2 billion to $3 billion loss in retail sales for the city.
The retail industry, particularly the high-end sector, is at risk. Hong Kong's retail sales in April plunged 9.8 percent year-on-year to $38.8 billion Hong Kong dollars, or $5 billion at current exchange, according to figures released by the Census and Statistics Department. The biggest hit was seen in high-end goods, such as jewelry, watches and valuable gifts, which fell almost 40 percent. This category was responsible for bringing down the overall figure. A government spokesman attributed the fall to a high base of comparison caused by a spike in gold sales the previous year and more moderate spending by Mainland visitors after a period of prolonged growth.
If Leung's proposal to cut Mainland tourists by 20 percent goes ahead, there is no doubt that it would further damage retail sales. Nicola Ko, senior luxury analyst at Ledbury Research, describes the plan as "another nail in the coffin" following the anti-Mainland protests and warns that Hong Kong should be careful if it wants to stay in the game.
"Hong Kong is the most convenient place for Mainlanders to travel, but they are not restricted to Hong Kong anymore. More and more countries are opening up to the Chinese, easing their visa restrictions," said Ko.
Lulu Zheng is from Fuzhou, a one-and-a-half hour flight from Hong Kong, and like the majority of Mainland tourists she has come to shop and is stocking up on cosmetics and beauty products that are much cheaper in Hong Kong. Squatting outside the two-story mega Sasa store in Causeway Bay, she and her friend are struggling to zip up her large, bulging suitcase.
"I am buying for myself and some friends. If I have more time and more money, then maybe I will go to Italy or America, but Hong Kong is easy for us," said Zheng.
Zheng is aware of the tensions in Hong Kong and discussed it with her friends and family before leaving home, but said it wasn't enough to put her off coming. "We came for the shopping and they are polite to us in the shops, I don't notice anything strange," said the 24-year-old clerk.
Mainland visitors have been coming in increasing numbers since the introduction of the individual traveler scheme in 2003, and locals have complained of being squeezed out of retail areas and priced out of the property market. Some have branded the Mainlanders as rude and impolite and there is an element of envy — the Mainlanders are flush with their cash while many in Hong Kong are struggling.
Those in the retail industry are holding their breath, concerned that the tensions may escalate and further dent sales. Some are even wary of discussing what is seen as a very sensitive subject. Marie-Helene Prevot, associate director at Gouten Consulting, has been in Hong Kong 11 years and has discussed the issue with her friends who manage luxury brands.
"The people I spoke to, they are critical of Hong Kong people for their uncivil attitude. We are educated people — we shouldn't insult people. And at the same time, they point out that it's only a handful of Hong Kong people with this extreme attitude," said Prevot.
While she concedes that Mainland tourists aren't always respectful and are often noisy in public spaces, she said this is an issue around the world and could be dealt with through education and awareness. "Working in retail, there is this kind of love-hate relationship — we love them because they come with a different, fresh perspective and want to spend. In Europe, no one enjoys any more shopping. It's not just the money, [Mainland Chinese] want to learn, they want to try," said Prevot.
She pointed a finger at the press for stirring up a sensitive issue and suggested that the media is to blame for inflaming tensions between Hong Kongers and Mainlanders over the three-day Labor Day holiday at the beginning of May.
"During the Golden Week there was a boom in Macau and definitely there were people going to Macau instead of Hong Kong, but I don't think the effect is long-term," said Prevot.
For the first time in nine years, there was a fall in the number of Mainland visitors over the Labor Day weekend, down 2 percent to 388,070. And Macau wasn't the only place benefiting from the temporary disenchantment with Hong Kong. Taiwan also saw a spike, with a 33 percent increase on last year to 32,000 Mainland tourists over May 1 to 3.
The May Day weekend decline was partly attributed to an incident in late April in which a Mainland mother who allowed her young son to urinate on a Hong Kong street was harangued by angry locals. Images of the scene were splashed across the front pages of local papers. Such volatility between locals and Mainlanders was reminiscent of the angry scenes in January 2012 when more than 1,000 people demonstrated outside Dolce & Gabbana's flagship on Canton Road. Their fury was sparked by a security guard who reprimanded people for people taking photos outside the shop and was further compounded when the luxury brand said foreigners and Mainland Chinese tourists were exempt from the photo ban, a move which was seen to pander to high-spending Mainlanders.
So have lessons been learned since the Dolce & Gabbana incident? Prevot thinks so.
"Yes, definitely brands have learned. That was an extreme situation, a crisis. Now training is important, they train constantly staff management to be able to react better to what is happening and be more flexible while still having a brand direction. You have a process now of what to do in a crisis," said Prevot.
Flexibility is definitely an asset for luxury brands in such a lucrative but volatile market. Whether Leung curbs Mainland visitor numbers, they choose to travel elsewhere or continue to stream across the border in the millions, the retail sector needs to be able to adapt quickly.
Ko suggested that high-end brands try and improve their relationship with local Hong Kong customers so that it is not so dependent on the Mainland shoppers.
"[Luxury brands] have been focusing a lot of effort on the Chinese and getting Mainland staff. They can focus more on the local customer who has been overshadowed," said Ko.
Prevot also sees an opportunity for luxury brands in Hong Kong to reach beyond the Mainland customer that has dominated the sales and attention in recent years.
"The luxury brands are now thinking of how to react nicely with other Asians — the Japanese and Koreans. You used to get a lot coming to Hong Kong, but not so much anymore," said Prevot.
Original Link: Women's Wear Daily