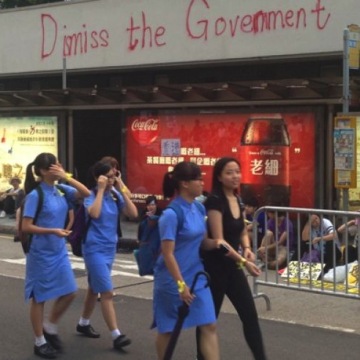 Hong Kong protesters prepare to make – or repeat – history
— November 8, 2014
The protest has gained broad public support since the government's heavy-handed response on Sunday.

HONG KONG – David To watched with a mixture of pride and apprehension Thursday as a new generation of students demonstrated for democracy and wondered if history would be made or simply repeated.
To, 53, still vividly recalls being in Beijing on business in 1989, when the Tiananmen Square protests erupted into violence and the Chinese government smothered the spark of freedom. As he watched teams of students hand out water and food to protesters, his voice cracked with emotion.
"Hong Kong people are beautiful; I am proud to be from Hong Kong," To said. "I came here today to see for myself what is happening.
"We need to have change in Hong Kong," To added.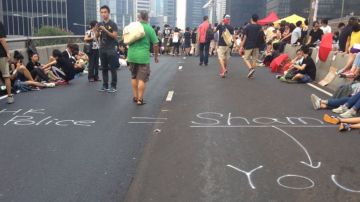 He spoke Thursday, nearly a week into the protests that have shut down parts of the city and challenged Chinese rule over the former British colony home to 7.2 million people. Beijing has proposed elections for Hong Kong's chief executive begin in 2017, with the stipulation that there can be no more than three candidates, all approved by a Beijing-controlled panel. Democracy groups and parties in Hong Kong have demanded election rules that allow an "unfiltered vote," and they have called Beijing's proposal a fraudulent voting exercise.
Calls for free elections began peacefully on Friday, but tensions escalated sharply on Sunday when police fired tear gas canisters at protesters, a heavy-handed reaction that has swung public support dramatically in their favor. Estimates of the number of protesters have been elusive, but the crowds have swelled in recent days with aerial footage shot by a drone appearing to show thousands of demonstrators.
Students are now demanding the resignation of Hong Kong Chief Executive Leung Chun-ying, who has in turn signaled his fealty to Beijing. On Thursday, police arrived at the scenes of protests with reinforcements and a huge cache of what is likely riot gear.
Demonstrations have been held at three sites, two on Hong Kong Island — outside the government offices in Admiralty and in the main shopping district of Causeway Bay — and one in Mong Kok on Hong Island.
The protesters, dressed in black T-shirts and wearing the yellow ribbon that has been adopted as the wish for universal suffrage by pro-democracy groups, are angry about China's plan to vet candidates for the city's first democratic elections in 2017 and are demanding that Leung – who they refer to as "CY" — step down.
"CY is always lying to us," said 19-year-old student Harry Lam, who lives in one of the they city's poorest areas, Tin Shui Wai, and came to Hong Kong Island to join the protest movement. "He said he would not use tear gas and then look what he did on Sunday night — he is a liar, he must go."
The protest has been so peaceful that many parents brought their young children to walk among the demonstrators, with some attempting to explain to the democracy movement and its implication for the future.
But Lam expressed concern that although the student protest has been very peaceful — so calm and well-mannered that it has been nicknamed the "polite protest" — there are mainland Chinese elements that are trying to stir trouble. He said he and some of his friends from Tin Shui Wai had received messages offering them money to join the student demonstrators in Mong Kok and try to stir up trouble.
"There are some bad guys, they wanted me to go there and try to tear down the signs and shout and make noise. They want to make some trouble so that the police have an excuse to stop the protests," said Lam.
Leung came in for further ridicule Thursday when his troubled 22-year-old daughter Chai Yan Leung — who attempted suicide in July — appeared to mock taxpayers on her public Facebook page. Her comments were posted after she received negative publicity about a necklace she wears in her profile photo.
"This is actually a beautiful necklace bought at Lane Crawford (yes – funded by all you HK taxpayers!! So are my beautiful shoes and dresses and clutches!! Thank you so much!!! Actually maybe I shouldn't say "All you" — since most of you here are probably unemployed hence have all this time [for] bombarding me with messages."
The anger has made its way down to even younger students who would be too young to vote even if there were fair elections. Chloe Ng, a 14-year-old student who joined the protest with her schoolmates, expressed disdain for Leung.
"He won't even come out and talk to us," she said. "This is only one word to describe him — bad. And now look at what his daughter wrote on Facebook — she is no good for Hong Kong. CY must go."
The police have kept a low profile since Sunday night, but with the end of a two-day public holiday and the return to work for most on Friday, authorities are believed to be preparing to bring an end to the civil disobedience action that has paralyzed large parts of the city.
That could set up a confrontation with students, who have taken over a six-lane highway that runs through the city center and insist they are in it for the long haul. Early Thursday evening, a steady stream of police was seen entering government headquarters, about 50 yards from one protest site.
"Even though they have weapons and we don't, I'm not afraid," said Daisy Leung, 17, as she watched the reinforcements from the blockaded highway. "I am going to try and occupy the building," said Leung.
A poster near the encampment urges protesters to keep calm.
"Don't attack the police, it will destroy the campaign," reads the poster. "Talk to people so they will understand what we are doing and be prepared for the situation to change at any moment."
As talk of police stockpiling riot gear and rubber bullets circulates and tension on the street is palpable, To wonders what Hong Kong's immediate future holds.
"I can see lots of similar comparisons with [Tiananmen]," To said. "Who knows what will happen?"
Original Link: Fox News