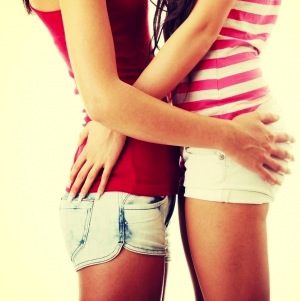 Hobby turns into career for lesbian erotica writer
— October 7, 2014
Former civil servant becomes Hong Kong's only dedicated author of adult genre

Hong Kong has been the dramatic backdrop for bestselling books and films; now it has also served as the exotic setting for a series of lesbian erotic romance novellas.
Harper Bliss (a pen name) is Hong Kong's only dedicated writer of lesbian erotica. Working full time as a civil servant in Belgium, she had little chance to indulge her urge to write aside from keeping a light-hearted blog.
But when her partner Caroline Manchoulas got a job in Hong Kong four years ago, she moved with her and found herself in a new city with time on her hands.
"I'd always wanted to write, but I never thought I'd be writing erotica. I just thought I'd give it a go and I really enjoyed it and then it just started to take off," says Bliss.
Her timing could not have been better. Fifty Shades of Grey was flying off the bookshelves, and E.L. James' steamy bestseller introduced erotica to more than five million readers around the world. Bliss thought she could do something better, and decided to tackle the genre of lesbian erotic romance.
"I tried to read Fifty Shades but it was really bad. I got halfway through the first book and I couldn't take it any more," says Bliss.
She tried her hand at a few short stories, and then decided to write something set in Hong Kong. The result was several novellas detailing the lives and loves of four women who live in a fictional building, The Ivy, dubbed the "sexiest building in Hong Kong".
Thirty-six-year old Bliss has compiled them into a collection called High Rise. At the time she and Manchoulas, who were married in a civil ceremony shortly before leaving Belgium, were living at One Pacific Heights in Sheung Wan, a building she says is nicknamed "One Gay Heights" because of the large number of gay people living there.
Although the characters are completely fictional and High Rise isn't about the goings on at One Pacific Heights, she admits the stories might be loosely based on what they have observed there.
The four characters include a fitness instructor, a psychiatrist, a writer, and a banker ("this is Hong Kong, there had to be a banker," she says).
The women meet outside The Ivy, as the banker is taking classes with the fitness instructor, and their romances develop from there.
High Rise was published 2½ years ago, and continues to sell well. The tagline "Four women. One building. A million complications" sums it up, and there are plenty of dramas.
"It's important in this genre to have a happy ending. I like a happy ending, too," says Bliss.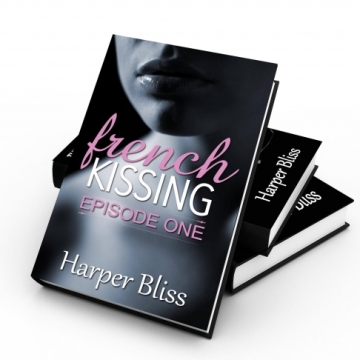 High Rise went straight into the top 10 in Amazon's lesbian romance charts. That speaks not only of the success of the book, but also of the development of the market. Today there is a lot more competition.
"It's so much more difficult to get onto the chart now because it's so easy to publish, and more and more authors are doing it," says Bliss.
Erotic fiction is a genre especially well suited to eBooks. As Manchoulas puts it: "You can read the dirtiest book but as no one sees the cover, you can read it anywhere. That definitely helped the genre take off," she says.
What began as a hobby for Bliss has become the couple's way of life. When Manchoulas' company suggested she relocate, she decided to stay in Hong Kong instead and set up a publishing house, called Lady Lit, to publish Bliss' work and other lesbian erotica.
Part of the decision to stay in Hong Kong was the ease of setting up a business here.
"Hong Kong is a good place to have a company because the taxes are so low, but, of course, that is offset by the high rents," says Manchoulas, 39.
The books are sold through Amazon. However, the real money is to be made through eBooks and this represents the bulk of their sales, with 90 per cent of their readers in the US. For readers who want to have a physical book, Amazon offers a print-on-demand service through Create Space.
While writers around the world are pushing publishers for a bigger slice of royalty fees for eBooks, Bliss doesn't have to worry about that, as she's married to the publisher. It's a successful partnership.
Their day involves Bliss writing at home in the morning, with an ideal target of 2,000 words, then joining Manchoulas in the office in the afternoon. Manchoulas does the initial edit, but they use freelance editors as well. Everything is done in-house, including buying saucy stock images and creating the book covers.
The pair have since published another collection, French Kissing, inspired by their monthly trips to Paris when they lived in Belgium. Bliss calls the first collection "Season One" and says the current trend in eBooks is to write as though you were writing for television.
"The season has its resolution, but there's also a bit of a cliffhanger so people stay interested. There will be a 'Season Two'," says Bliss.
Her website has a warning beside each book: "These novellas include countless hot and graphic f/f sex scenes and may make you blush [among other things]."
"I said, 'I want to take it a bit further with my own books'. That's why they are explicit, and why I'm glad my parents can't read them," says Bliss.
Bliss has given her parents, who live in Belgium, copies of a few of the books and they've put them on their bookshelf. But they remain unread because their English isn't good enough, although she says her family knows what they are about. Nevertheless, it can make for some awkward social moments at family parties.
"Saying that you publish adult romance is the clean way of saying it," says Manchoulas.
E.L. James has made things easier: "You can just say you write something like Fifty Shades of Grey, everyone knows that. So it was a really good thing, despite being a bad book," says Bliss.
In Hong Kong, their friends have been very supportive of the publishing house, although their male gay friends haven't actually read the books.
"They don't want to read about it, it's too explicit for them; they're scared of the female anatomy," says Manchoulas.
Bliss knows that straight men read the books because she receives e-mails from them. It doesn't bother her. "If someone enjoys my books, I'm happy."
Later this month Bliss will join a Pink Season event at Azure in Hotel LKF, one of several LGBT artists to be featured – others include a painter and a photographer.
"Hong Kong's gay scene is small, but it's quite active. There is also a LGBT literary group that meets once every few months and has readings," says Bliss.
But as far as she knows, there is no one else writing and publishing lesbian erotic fiction in English. Manchoulas says they may consider translating the books into Chinese, but that's not a priority at the moment. "China is huge, but there is always the risk of censorship. Taiwan has a very active LGBT community, so there is a market there and other countries that have Chinese," says Manchoulas.
Lady Lit has a string of new titles coming out over the next few months. In addition to a novel by Bliss, there will be several anthologies, one of them edited by a big-name in the lesbian erotica world, Cheyenne Blue.
Bliss has several more novels on the go, and plans to write another series set in Hong Kong.
Original Link: SCMP 
About author
Kate Whitehead is a Hongkonger and has made the city her home since she was eight. She got her first degree (BA English Lit) from Warwick University and her postgrad (MA English Lit) from Sussex University. She was on staff at the Hong Kong Standard and South China Morning Post and was the editor of Cathay Pacific's inflight magazine, Discovery.
Get In Touch