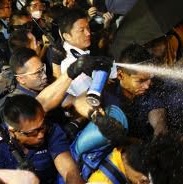 Hong Kong Protests Pinch Retailers
— October 31, 2014
The pro-democracy demonstrations that have lasted here for just over a month show no sign of coming to an end

HONG KONG — The pro-democracy demonstrations that have lasted here for just over a month show no sign of coming to an end, even if the number of protesters has decreased considerably since the apex of the action in late September and early October.
The Occupy Central protests are taking place in three busy shopping districts: Admiralty and Causeway Bay on Hong Kong Island and Mong Kok on the Kowloon side. Government officials have warned that continued action will severely damage the city's economy, particularly the retail and tourism sectors, but others have countered that these fears are exaggerated. Recent figures on mainland tourist flows actually show an uptick in arrivals.
Last week, the city's first chief executive, Tung Chee-hwa, said hotel bookings and total credit-card spending had dropped 20 percent to 30 percent since the student-led protests started.
"The fall is staggering, and even more worrying is that it was not a gradual drop but a sudden plunge," the 77-year-old, now a vice chairman of the Chinese People's Political Consultative Conference, told a packed press conference.
The protests began following police use of tear gas on student demonstrators on Sept. 28, just ahead of the national "Golden Week" holiday when mainland visitors flock to Hong Kong, many with shopping as their primary focus.
The Chinese government quickly slapped a travel ban on mainland tour groups from Oct. 1 to Oct. 7, but this did not dampen the overall number of visitors from across the border. Total mainland visitor numbers, including tours, rose 6.8 percent, to 1.09 million, during the Golden Week holiday, according to the Hong Kong Tourism Board, although it's important to remember that the growth is coming off a comparatively low base. A tourism law that banned certain cheap tours likely bit into last year's figures.
Executives have expressed varying levels of concern about the situation. Retailers with shops close to the protest sites say their customers were affected by the demonstrations and related traffic congestion; however, the impact was largely felt in the first week, and shoppers soon found away to work around it.
"We haven't seen any significant slump in sales. I would rather say that, in the very first days of protests, we have seen a sort of psychological effect — due to social uncertainty and traffic challenges — that led customers to shop in different ways, particularly through e-commerce and personalized services," said Andrew Keith, president of Lane Crawford and Joyce.
Keith said Lane Crawford's online business more than quadrupled during the first three weeks of the protest, compared to the same period last year, and that the company had received a number of requests for its "trunk service, which sees a personal stylist assemble and present a selection for Platinum customers at their home.
"Being a connected commerce business and offering special services to our customers allow us to be extremely flexible and to quickly adapt to external factors," said Keith.
I.T Limited chief financial officer Eymon Tsang said Golden Week retail sales fell 30 percent at its stores in Admiralty, Causeway Bay, Central and Tsim Sha Tsui. He saw a significant part of this shortfall coming from the decline in mainland visitors.
"During Golden Week, a lot of mainland Chinese come to Hong Kong to shop. They spent less money shopping this time because of the blockage of roads and the affect [of the protest] on people's attitudes," said Tsang.
Although sales have bounced back at stores in the protest-affected sites, Tsang said it was hard to guess how the situation would play out but that he hopes the government will settle the issue soon.
"We have recovered a little bit, but the fundamental economy has been affected. The shopping behavior of overseas travelers has been reduced. We are still seeing the effects of this political argument," said Tsang.
Top executives at two of luxury's biggest names, Dior and Gucci, expressed divergent views of the Hong Kong situation. Dior and Gucci have 10 and 11 stores in Hong Kong, respectively.
"Within this context, people are not particularly interested in shopping. I hope, not for shopping's sake, but I hope for Hong Kong, I hope for international relations — I hope this entire situation is resolved, even if I am not exactly an optimist," said Gucci chief executive Patrizio di Marco. "Let's hope this doesn't happen, but if, hypothetically, the Occupy Central situation degenerates, it's a mess — and it's a mess not just relative to Hong Kong. Let's remember that Hong Kong is a financial hub, it's a travel hub, not just for China-Hong Kong but Hong Kong [and the] rest of Asia."
Dior ceo Sidney Toledano seemed less concerned. He said it's true the protests kept some mainland Chinese shoppers out of Hong Kong, but they went elsewhere to shop: Europe, Singapore, the United States. He also noted that, far from the protest action, certain Dior stores did well with local customers.
"I mean, Hong Kong is not Kiev….The business with the Chinese was a little bit impacted in Hong Kong, but, globally, we are doing well," he said.
Marie-Helene Prevot, associate director at Gouten Consulting, said Hong Kong shoppers adapted quickly to the new environment. She said the protest didn't stop people from shopping; some just chose to do it in areas away from the protest sites.
"The first week was, 'Wow, what is happening?' But already, by the second and third week, business was back," said Prevot. "Yes, the protests impacted people — and retail — but we quickly saw people reshuffling their way of doing things and finding a kind of balance. After the first week, we saw business getting higher in other areas. It might have been down in Causeway Bay, but it was higher in Sha Tin," said Prevot, referring to the urban hub north of Hong Kong Island in the New Territories.
The deadlock between government and students makes it difficult to predict how much longer the protests will last. On Tuesday, thousands of protesters turned out at the Admiralty site to observe an 87-second silence to mark the month since 87 rounds of tear gas were fired in an attempt to halt the pro-democracy rally.