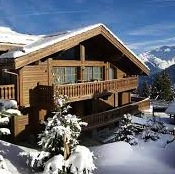 Property: A Powdery Panacea
— November 1, 2014
Luxury ski properties abound wherever there is a slope and some snow. They have become status symbols and private winter wonderlands – and Asian buyers are getting in on the action.
A brilliant day skiing on some fantastic mountains, taking in the scenery, followed by some chance encounters with billionaire industrialists and the finest in luxury amenities. This is the lifestyle that a growing number of the world's wealthiest citizens are after.
Europe, the US, Japan and New Zealand all have exciting ski property offerings. Each has its own attraction and boosters, but a few stand out as the most prestigious place to own a slice of powdery heaven and a ticket to an enviable lifestyle. Property specialist Knight Frank monitors luxury ski properties with its Prime Ski Property Index, released annually and tracking prices across 20 of the world's top resorts. Overall, the index was up 5.9 per cent in the year to June 2014. The index reached its lowest point in June 2009 and has since risen by 23.5 per cent. Interestingly, the report also found that Chinese ultra high net worth individuals expressed the greatest interest in buying such properties, above even US buyers. Wealthy Indians and Indonesians were also high on the list of potential buyers.
"For a luxury resort where money is no object, then it has to be Europe. It's not just about the skiing, it's about what you do after the skiing," says Joachim Wrang-Widen, a senior vice-president at Christie's International Real Estate.
Wrang-Widen says the dual attraction of culture and nature combined with the opportunity to meet like-minded – and equally high net worth – people make Europe's venerable ski resorts highly sought after. And as many wealthy people looking to invest in a ski property already have a base in London or Paris, Europe is the obvious destination. Though prices in Knight Frank's index indicate only a one per cent rise in Europe, it remains the 'see and be seen' place to be.
 EUROPE'S MOUNTAIN PLAYGROUNDS

"If you are mainland Chinese, Hong Kong Chinese or a Singaporean industrial tycoon and you want your family to mix with the same type of crowd, make the most of social connections, see the Alps and enjoy the gastronomy and shopping, then it has to be Switzerland," says Wrang-Widen.
One of Christies' most exciting Swiss properties is Villars, a luxurious chalet in the heart of
the Swiss Alps. Little more than
an hour by car from Geneva and
the international airport, the five-bedroom property is intended as a year-round retreat – there's
an outdoor pool for the summer months. Idyllic retreats such as this, within walking distance to the ski resort Barboleuse in Gryon are on the market for CHF7 million (nearly HK$58 million).
Switzerland is one of the most expensive places in the world tO buy a ski property and this is partly due to a quota on how many square metres of property can be bought by foreigners each year – such tight restrictions only drive prices up.
"In Switzerland the property market is based on the concept of democracy, so locals don't get priced out of the market – the quota varies from community to community," says Wrang-Widen.
There have been further restrictions on property sales. In 2012 a national vote was held to decide whether or not there would be a limit on the number of second homes as a percentage of the whole in a community. It went through by a narrow margin and today no more than 20 per cent of homes in any community can be second homes.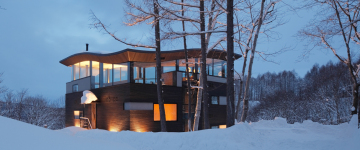 "Most ski resorts are already well over the 20 per cent, with
at least half the properties being second homes, which means
they can't take any more. This restriction only increases demand and that increases prices," says Jeremy Rollason, managing director at Alpine Homes that works in association with Savills.
A Knight Frank report notes that even some of the wealthiest owners of ski properties are now renting them out as the market continues to tighten in Switzerland.
Stamp duty is a flat rate of 2.5 to 3 per cent and when it comes time to sell, there is a sliding scale of capital gains tax depending on how long the property has been owned. Less than five years and the tax is 28 per cent, but that drops to about 10 per cent after 20 years.
Rollason sees Verbier as one of the hottest Swiss ski spots. From a small hillside village it has evolved to become a seriously chichi resort, with boutiques and excellent restaurants. He says it's one of
the most popular destinations for Asian buyers, who tend to pay for properties in cash rather than rely on a mortgage. A slightly cheaper option is Nendaz, a, small village overlooking the Rhone Valley, where prices are a third of those in Verbier. Rollason says he has seen interest from Hong Kong and Singaporean buyers here, too.
Chalet Hellebore is one of Verbier's most desirable homes currently on the market for CHF9.5 million. Hellebore is an old wooden chalet that has been finished with painstaking attention to detail. The property is split over five levels, each with stunning views across the valley. There is a gym, sauna and steam room on the lower ground floor, two guest rooms with en suite on the floor above and the ground floor has a stunning open plan dining area, stone fireplace and fully-equipped kitchen. The ski room is on the same level as
the garage and the top floor hosts the master bedroom with exposed timber ceilings and access to a second-floor balcony.
Austria is a close contende for the European country with
the most glamorous ski resorts. Kitzbuhel heads the pack. Well established as a resort for almost
a century, Kitzbuhel attracts
many of the world's most affluent holidaymakers, serving to drive up the prices. As with Switzerland, a quota system operates on property sales, and Rollason says that some properties will only be for sale to citizens of the country.
One that Alpine Homes has on the market for foreigners is Haus Taube, a traditional chalet in an exclusive part of Kitzbuhel. It's this niche location, on one of the most sought after roads in Kitzbuhel, combined with the mountain views and private spa, wine cellar, entertainment room and huge underground carpark that explain this seven-bedroom chalet's hefty price tag of €12 million (around HK$118 million).
For those who prefer a more remote location, Adnet just outside Salzburg, promises to be an idyllic retreat. The villa's design is very contemporary, with large floor- to-ceiling windows throughout. The villa is almost self-sufficient in terms of energy consumption, using a heat pump combined with a geothermal system to recover unused heat.
Italy also has ski resorts and property here is more affordable, but these resorts aren't of the same caliber as those in Switzerland and Austria and cater mainly to the domestic market.
If return on investment is your most important concern, then Rollason says you'd be better off putting your money in equities. But people who buy a pad amid the powder are after more than just making a quick return – they are in it for the lifestyle, the kudos and the fun. That said, it doesn't hurt to make a wise investment and in this sense he says Austria is a good choice offering double the investment returns of Switzerland.
THE AMERICAN ADVANTAGE
For buying a ski property with investments returns, Wrang- Widen says you can't go wrong with one of the top two resorts in the US – Aspen or Jackson Hole. These have long been the playgrounds of the rich and famous, and that alone is a big draw card.
"It's where the billionaires
go. Here you can bump into these people socially, where they walk down the main street casually, not guarded by PAs. For some people this is important, they want to mix with the same type of people," says Wrang-Widen.
Forbes Magazine rated Jackson Hole Mountain Resort the Number One ski resort this year. The efficient gondola, classy new hotels, gleaming new airport, great restaurants and excellent powder skiing all add up to earn this Wyoming resort the top posting. And for those looking
to invest in property there are other advantages. Julie Faupel, Associate Broker at Jackson
Hole Real Estate Associates says Wyoming's tax friendly status is a big draw.
"Jackson's lifestyle benefits are matched only by the financial benefits of Wyoming residency. Continually rated one of the most tax-friendly states by Bloomberg Wealth Manager, Wyoming has no state income tax, corporate tax, estate tax, capital gains tax
or trust tax. Additionally, sales tax, property tax and inheritance tax are among the lowest in the United States," says Faupel.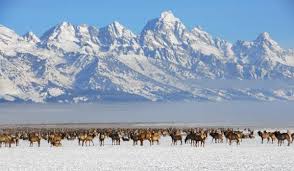 The VendeWater Ranch is a huge 389-acre property in Jackson Hole Valley. Made up of four parcels of land that include creeks, alpine and meadowland, the ranch has been in the same family since 1939. The 3,950-square-foot main home on the ranch was built in 1922 and has three bedrooms
and bathrooms. There is also a caretaker's home and another cabin near the creek. This property isn't about boasting the latest technology – it's all about the beauty of the land and being close to nature. Bordered by a national forest, it can certainly be said to imbue the "spirit" of Jackson Hole. This is the classic western ranch of the cowboy days and its beauty lies in its simplicity. It also comes with a US$55 million price tag.
For an altogether different ski property, where the emphasis is on the ultimate in comfort and luxurious living, there is The Ski Home in Aspen that is on the market for US$45 million. The seven-bedroom property has a private gated entrance, ice-skating rink in the winter and for the summer a swimming pool and tennis courts. There is even a spa.
And it has ski access to Aspen Mountain and is within walking distance of the town.
PACIFIC POWDER
For some Asian buyers, the long travel time to reach US and European resorts is a drawback, particularly if they plan to use the holiday home regularly. In this case, Japan is an obvious choice and Niseko is the top destination.
"Niseko is a truly international ski resort – it has more than 100 bars and restaurants and is very different from the traditional Japanese ski resorts where people tend to eat breakfast, lunch and dinner at the same place, buffet style. Niseko is more like Aspen or Whistler," says Nicolas Gontard, Director of Odin.
In the late 1990s, Australians discovered Niseko and began investing heavily in the resort. The second wave of buyers were mostly expatriates from Hong Kong and Singapore. And now Gontard is seeing a new trend.
"Niseko is seeing a lot more Asian buyers – from Taiwan, Singapore, Malaysia, Indonesia and Thailand. Gordon Wu from Hopewell (Holdings) has built a hotel (Chalet Ivy) and a personal property here – there are a lot of wealthy billionaires investing," he says. The market grew quickly from 2005 until 2011 when the Fukushima disaster scared many buyers away. After a two-year lull, Gontard says the market began to recover and really picked up last winter.
An advantage of Japan is that the stamp duties are low at about two per cent. Capital gains tax varies from about 30 per cent if the property has been owned for less than five years to less that 15 per cent if it has been owned for more than five years.
Gontard first visited with friends 12 years ago and enjoyed it so much that he and some partners bought the pension they were staying at and renovated it into a boutique hotel. They have since built a handful of luxurious properties, among them are the Odin House, a four-bedroom unit perched on the top of a steep piece of forestland facing Mount Yotei. This is a home built for entertaining and the living and dining spaces look out onto the dramatic views. On the market for US$6.5 million, Odin House has a Japanese Onsen-style spa-bath, gym, suspended steel fireplace, Jacuzzi and dry room for ski gear.
Another Pacific destination that is seeing a lot of interest from Asian buyers is New Zealand, where Queenstown is the hot spot, with properties around its top
four resorts – Coronet Peak, The Remarkables, Cardrona and Treble Cone – all reportedly selling well.
"We've definitely seen an increase in the last 18 months
from Asian buyers. Traditionally we dealt with a lot of Hong Kong and Singaporeans; more recently we are seeing mainland Chinese, Japanese and Hong Kong Chinese," says Mark Harris, managing director of Areinz, Sotheby's International Realty.
Based in Queenstown,
Harris says a ski property is a lifestyle option for many wealthy individuals, a second home where they can spend not only winter holidays but also vacation time in the summer. And New Zealand is a famously easy place to invest in property with no stamp duty or capital gains tax – unless you are a developer.
"New Zealand is the number one place for ease of doing a property transaction. There are virtually no restrictions. It's only when a property is over five hectares and borders a lake waterfront that government approval is needed and even then that's just a process and is approved 99 per cent of the time," says Harris.
Queenstown has invested in heavy-duty snow-making guns that top up the natural snow fall and ensure good conditions throughout the season. Besides the skiing, there's another big draw for many
Asian buyers – education. "We've seen Asians buying a property in Queenstown with the added idea of sending their kids for education here – and with the end goal of becoming residents," says Harris.
On the market for NZ$15 million (around HK$92 million)
is 17 Wilding Road in Queenstown, a stunning 700-square-metre property with 200-square-metres of deck, five bedrooms, indoor pool and even its own theatre for the long wintry nights. Positioned on a hill with 360-degree views of the surrounding valleys, lakes and mountains, it is very private and the cutting-edge contemporary design will appeal to buyers with a modern sensibility.
And in the same neck of the woods, but at a third of the price is 120 Slopehill Road. Just 15 minutes from downtown Queenstown and the ski resorts, the five-bedroom property is set in 43 acres of pristine, elevated private land and has an asking price of just NZ$5.25 million.
While everyone wants property to be a sound purchase, ski properties are about more than investing wisely, they are about enjoying life – fresh air, a natural environment, exercise and the opportunity to hobnob, wine and dine and shop with some equally classy individuals, in summer as well as in the winter.
[PDF url=http://www.hongkongkate.com/wp-content/uploads/2014/11/252-Peak-Ski-properties-.pdf]