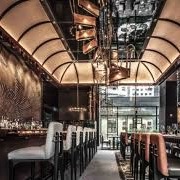 Getting Surreal
— October 1, 2014
The design world can't seem to get enough of Joyce Wang. Her aesthetics are so familiar yet so strange, coming from neither the future nor the past.
Joyce Wang was
born in the same
year that Hong
Kong and Shanghai Bank's imposing headquarters opened in Central. She was eight years old when she visited the innovative Norman Foster- designed building for the first time and it made a big impression.
"The experience of going up the escalator really stuck in my mind as a kid. I didn't have much in my account, but I felt really self-important," says interior designer Wang.
Her father explained that an architect designed the building and she decided then and there that's what she wanted to do. After a degree in architecture at the Massachusetts Institute of Technology, it made absolute sense that the first place she wanted to work was Foster's office
in London – he was after all the man who had inspired her.
It was a time when Foster was designing a lot of airports and she cut her teeth working on the retail sectors and the baggage carousels. A year flew by and in the summer, she went to the graduate shows of the architecture schools in London and decided to go back to school. The two-year architecture and interiors course at the Royal College of Art gave her a lot of confidence and shifted her perspective, she says. For the first time, she thought seriously about interior design as a career. She got her break when she returned to Hong Kong in 2009 when a friend who was working
on a retail shop – a cupcake store – asked Wang to chip in.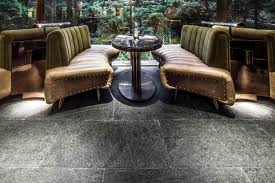 "I really enjoyed being on-site, working with contractors, it being really dynamic. I would draw something and the next day we'd test it. And I got to work with a lot of materials – that was something
I never got with architecture. The learning curve was really steep
and I remember thinking this is something I really love," says Wang.
Next came a big project in Los Angeles – the Hollywood Roosevelt Hotel. Wang is straight up about how she managed to land the project as a young designer with limited experience. "It was persistence – and them trying to do it on a budget and us offering to do it for not much," says the 31-year-old. And that persistence paid off. Two years later, the hotel was launched and Wang had her first
big project under her belt and the confidence to set up her own studio – Joyce Wang Studio – a delightful airy space just off the trendy Star Street in Wan Chai. And it was soon after
in Hong Kong that she landed her breakthrough project – AMMO, the restaurant at the Asia Society Hong Kong Center's new base in Admiralty. She was fresh off the plane from LA when she went to visit the site.
"The same day that I landed, I went to see this amazing site and I immediately started sketching on site what I thought the space should be," says Wang.
It was the space – very modern architecture with slick clean lines set amid the thick jungle hillside
– that gave her an overwhelming sense of the surreal.
"It was the two things together that made me think it has to be an interior that is neither of the future nor of the past. It can't be Art Deco or futuristic, it has to straddle the surreal aesthetic – if there is one," says Wang.
Buying the furnishings would have risked destroying this sense of the surreal – a Philippe Starck chair, for example, would have given it away as a modern space. So Wang has all the fixtures – light fittings and furniture – custom-made.
"The forms are timeless – some of them reference Art Deco, some reference mid-century – it's neither one nor the other. It is an amalgamation of the things I like best," says Wang.
Custom-made furnishing has become one of her specialities. Given the opportunity to either buy or tailor-make a piece of furniture, she will always go down the couture road. As a result, Wang has side tables and larger tables sold online.
The three years since she opened her studio have been busy – professionally and personally. Not only has she established herself
as one of Hong Kong's hot new designers, but she has also found the time to get married and have
a baby. "I try not to think about it too much – just one day at a time, embrace it," says Wang.
[PDF url=http://www.hongkongkate.com/wp-content/uploads/2014/11/236-Peak-JoyceWang.pdf]