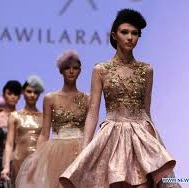 Hong Kong Fashion Week Struggles With Direction
— July 15, 2014
The 21st edition of Hong Kong Fashion Week wrapped its four-day run late last week

HONG KONG — The 21st edition of Hong Kong Fashion Week wrapped its four-day run late last week, as attendees found underutilized Chinese factories actively seeking deals from even smaller, developing brands.
The openness of Chinese factories suggests a new flexibility in price and production levels. One buyer looking to establish her own clothing line with contacts cemented at the fair, Hong Kong-based Russian Anna Leonardo, noted that a generally quieter mood of the week was working to her advantage.
"Some of these China factories wouldn't talk to me three years ago, not with the quantity that we want to do, and now they are making deals with people like me. It's hard for the China factories; everyone knows it and they are negotiating hard and making the prices lower," Leonardo said.
The spring event, held at the Hong Kong Convention and Exhibition Centre, maintained its international mix, attracting some 1,250 exhibitors from 19 countries. The figures were marginally down on the previous year, but regulars at the fair said it lacked the energy and clear direction of previous editions. A spokeswoman from the Hong Kong Trade Development Council, or HKTDC, said buyer attendance inched down about 2 percent on the previous year to nearly 17,000, but attendance from certain Asian countries such as South Korea, India, Indonesia and Malaysia saw double-digit growth.
The HKTDC staged eight runway events, featuring the work of brands such as Clara Tan, ZeevanCo by Meggie, Kenax Leung, Walter Kong, Mim Mak, Petra Vanessie, Chloe Sung and Flux by Sandra Chau. In terms of trends at the fair, there were many vibrant colors like citrus orange and yellow as well as blue denim and pink. Prints were dazzling, with bold designs and jewel-encrusted garments — a lot of depth and texture.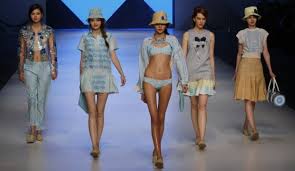 There were two new areas at the fair this year — for sportswear and cashmere and wool — but several exhibitors expressed concern about waning traffic patterns and questioned whether there are too many markets to shop in Hong Kong.
Ismail Colak, sourcing for the Turkey-based Isoptik Ltd., said he was disappointed with the turnout compared with recent years. "There are at least four fairs in Hong Kong now, it's too much. Two would be enough, it's the same people going to these fairs and they are now spread out over four, that's why it's quiet here. And it's expensive to come to Hong Kong," Colak said.
Despite the slightly somber mood on the hall floor, well-established brands with a long history with the fair said it was still a key date on their calendar. Jaipur, India-based Aanchal Ahuja, from the family-run garment firm Ahuja Overseas, said many customers were like family.
"The quantity and quality of buyers is less. It's still good for me, though, I have a lot of old customers visiting, from South America, Europe and Japan," said Ahuja.
"Before, there was always a line of people in front of my table; it was so busy I couldn't even take lunch. Now every year it's getting quieter," said Joey Tang, manager at longtime fair exhibitor Wai Ho Trading Co. Tang blamed the shortfall on the fact that many buyers were now going directly to China, Bangladesh, India and Vietnam.
Angela Chen, sales manager at Ningbo Yinshan Garments Factory, voiced a similar view. She lamented that few European customers come to Hong Kong Fashion Week. Most bypass it in favor of the Canton Fair, held in nearby Guangzhou.
Australians Sophie Faning and Laura Sarraj were among the group of 25 buyers from Melbourne. Their first time at the fair, they were looking for inspiration and sexy prints.
"In Melbourne, there is just one kind of cool look and everyone wears black, but here there is so much going on. We've seen some of the shows and made some contacts," said Faning.
The mood among Chinese exhibitors and buyers was generally confident the market had improved over the last two years and was now seen to be stabilizing, but most were looking for new avenues to expand. Ningbo Yinshan's Chen, said a drop in European orders meant they were looking to the U.S.
"We want to make business with the U.S. because the quantity of orders in the U.S. is much bigger than Europe," said Chen.