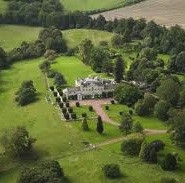 Mind Your Manors
— September 1, 2014
Country properties in the UK are attracting Asian buyers for various reasons, from contract farming and investment to education and sheer prestige. There are big hidden costs, but the gains can be very rewarding.
Picutre this: a grand manor house standing high on a hill overlooking lush parkland and a lake. Designed by renowned architect James Wyatt in the 1790s, the imposing front door opens into an octagonal entrance hall. Beyond are the entitlements of a privileged family life in the country – a formal dining room, opulent drawing room, library, bar, billiard room and a spiral staircase leading to a vaulted cellar kitted out as the ultimate entertaining space.
Lasborough Park in the UK's South Cotswolds is the stuff of fairy tales, could be the set for a Downton Abbey spinoff ,and its on the market for £12 million (HK$154 million). Set in 55 acres of peaceful Gloucestershire countryside, it is one of a number of imposing country properties that are senior vice president at Christies International Real Estate.
Country manors and fine homes within two hours of London are enjoying the strongest demand. Oxfordshire and Berkshire are the most popular locations, says Hannah, but he also sees sales improving in Hertfordshire, Sussex and Dorset.
"Property in North Oxfordshire has increased 12 per cent over the last eight months. We're seeing a lot of interest from people in China and Hong Kong, they want to educate their children in schools in Oxford or at the university," says Hannah.
 CAMPUS ATTRACTION
Holborow also sees the big draw of a British education for overseas buyers. In addition to Oxford, he says the areas near some of the elite public schools such as Marlborough, Harrow, Eaton and Winchester are also attractive. And as a number of the most prestigious preparatory schools allow students to opt between boarding or day school, some families are choosing to buy a home near the school and base themselves there while their children are educated.
Kingstone Lisle Park in Oxfordshire – which is on the market for £30 million – is one
such home. The stunning Grade II Listed Georgian house is close to a handful of top Oxford schools and 13 miles from Didcot Parkway railway station that provides a fast rail service to London. The house has
a grand history – it was built on the site of a 12th century castle – and the grounds are spectacular with a walled swimming pool, tennis court, croquet lawn, stables, paddocks, private golf course and woodland and parkland that is suitable for pheasant and partridge shoots.
Also in Oxfordshire, in the heart of the North Cotswolds, is Little Rollright, a Grade II manor house set in 509 acres of pasture and arable and woodland. For those with an eye to history, there is the added attraction of the mysterious formations known as the Megalithic Rollright Stones on the northern edge of the estate that are part of a Neolithic stone circle. The property is also close to a few towns for daily shopping needs.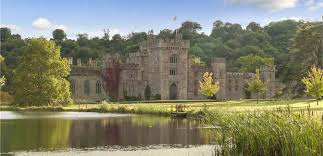 Another prestige property close to top universities and a rail line is Southways, in Guildford, Surrey, which is about 48km from central London. Offered through Strutt & Parker at an estimated £12 million, this imposing seven- bedroom brick mansion has all manners of high-tech toys woven into its interiors, including a heated indoor pool and gym. To top it off, Chelsea Flower Show gold medallist Philip Nash did the gardens and external lighting.
Hannah advises buyers not to overlook properties beyond a two- hour drive radius of London. A high-speed rail link known as HS2 was announced last year and is due for completion in about 10 years, linking the north of the country with the south. What's more, a 118-kilometre east-west Crossrail is due for completion in 2018.
"At the moment, properties [outside the immediate reach of London] are undervalued. The new rail links will increase prices. It's a good time to be getting in," says Hannah.
LORDS OF THE MANOR
Take Mamhead House in Devon – 16 km from Exeter and with stunning views along the East Devon Coast. The 16-bedroom Late Georgian house is ideal for those wanting to entertain. On the market for £8 million, the dining and reception rooms look out onto a landscaped formal Italian-style terrace and sunken garden. There is a lily pond and parkland and woodland totalling 164 acres (66 hectares).
In addition to buyers from Asia – predominantly China, Hong Kong and Singapore
– high-end realtors also see interest from Eastern Europe, particularly Russia. One of the attractions for European buyers is the relative freedom in terms of what property owners can do in the countryside. Places such as Holland have tight restrictions on what you can and cannot shoot and whether you can rear birds, says Holborow, whiles UK regulations are relatively lax.
For others, it's owning farmland that is the lure – not necessarily
to farm oneself, as such estates often rent out the arable land for
a very profitable sum. The Peplow Estate in Shropshire – which is
on the market for £12.5 million
– offers such a possibility. The Georgian house that dates back
to 1725 comes complete with its own organic farming estate – an extensive range of commercial farm buildings, stabling and organic farm with integrated irrigation system.
"Some buyers say they want to buy land and then rent it out under a contract farming arrangement. The income produced then offsets the house costs," says Holborow.
OFFSETTING COSTS
And the maintenance costs of such prestigious properties do not come low. Holborow estimates that once you have factored in a housekeeper, staff, two to three gardeners as well as machinery for grounds upkeep, it will set you back about £150,000 to £200,000 a year.
Hannah estimates that for
a significant estate or mansion costing at least £10 million, the running costs – from the chef to the security – will be about 5 per cent of the purchase price every two years.
And there are other costs, too. For properties over £2 million, the stamp duty is set at 7 per cent. That's assuming that the buyer purchases it in his or her own name. Previously, it was cheaper to buy such luxury properties through a company, but tighter regulations over the last few years mean that's no longer a cheaper option. And on top of the lawyer's fees, there is the buying agent's fee that in the UK is usually about 2 per cent of the cost of the property – considerably less than the 5 per cent charged across the border in France, says Hannah.
And it's worth bearing in mind that when it comes time to sell the property, there is capital gains tax. This varies greatly depending – among other factors – on the owner's net worth, but can be up to 26 per cent. But even with
capital gains, most owners stand to make a tidy profit when they sell. Although such homes haven't increased in value at the rate of properties in central London – they perform at about 50 per cent of that rate – they still make sound investments, says Hannah.
"The general mood in the UK
is very upbeat. Things are really improving here. The economy is growing, manufacturing is growing and so is the banking and property sector," says Hannah, adding that an expected 0.25 percentage point interest rate rise at the end of this year will have little impact on potential buyers, as 80 per cent pay for the homes outright in cash, with no need for a mortgage.
[PDF url=http://www.hongkongkate.com/wp-content/uploads/2014/11/241-PEAK-Property-Manors.pdf]