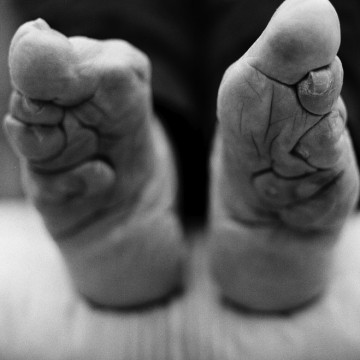 The ties that bind
— March 22, 2015
A pictorial book documents the last women in China with bound feet, writes Kate Whitehead

The ancient tradition of foot binding involved breaking the bones of young girls' feet and wrapping them tightly to inhibit growth – all so they could fit into three-inch (about 8cm) shoes. But it's important to remember that many of these women did so willingly as they wanted to appear attractive and to find a husband.
The women's pride in their tiny feet (called "lotus feet") is apparent in the images taken by Hong Kong photographer Jo Farrell. Her eight- year project to document the last remaining women with bound feet has culminated in a book, Living History: Bound Feet Women of China, funded through a Kickstarter campaign and to be launched at the British Council tomorrow.
It wasn't easy to find the women. When Farrell began her project, she was told that all these women had passed away, but she persevered. Speaking to a friend in a Shanghai taxi about the project, she got her lucky break. After apologising for eavesdropping, the cab driver said his grandmother had bound feet – and that was how Farrell met her first subject, Zhang Yun Ying, in Shandong province in 2005.
Almost all of the 50 women Farrell photographed for the book live in Shandong in central China or Yunnan in the southwest (the practice was less common in the north and south). But she didn't just photograph their feet: she also coaxed out their stories – and that's what makes this book so special.
While there are many academic books on foot binding and ones that deal with the erotic aspect of the
practice, this is the first to tell the stories of the women themselves: their lives, loves and aspirations.
"I have 50 questions that I ask the women to try to get their personal stories, such as what they remember from their wedding and the Cultural Revolution," Farrell says. "They are losing their memories and their hearing, and they come from a generation that isn't used to talking about themselves."
But again her polite perseverance paid off and one by one the women revealed their feet and their stories. The project became easier as time went on. When some of the women who had turned down her initial request saw images from an exhibition catalogue published in London, they changed their minds. Impressed with Farrell's black-and-
Farrell's book is a unique take on foot binding [that] seeks to give dignity to these elderly women who have lived hard lives
white photographs, they invited her into their homes.
Over eight years Farrell has built a close relationship with many of the women, most of whom were peasant farmers and are now in their 80s and 90s. She attended the 80th
birthday party of her first sitter, Zhang, and returns once a year to visit many of them.
"When I met the first woman and held her foot in my hand, it was so soft. I wasn't expecting that. And I was struck by how far she had gone to achieve beauty," says Farrell.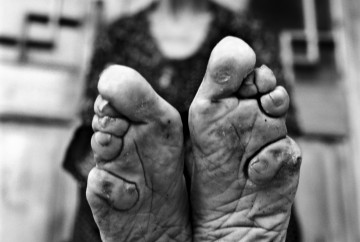 Foot binding was officially banned in 1912, but it continued in rural areas. In 1949 the Red Army was brought in to help stamp it out, going from village to village and forcing women to remove their bindings, but even then some women managed to evade detection. "There were some women who pretended they had unbound their feet and wore bigger shoes and stuffed them with socks," says Farrell.
Women will go to extraordinary
lengths to conform to the standards of beauty of their time. Farrell's book is a unique take on foot binding in that it doesn't focus on the bizarre or the barbaric, but instead seeks to give dignity to these elderly women who have lived hard lives. They toiled in the fields, survived the Cultural Revolution and many had nine or 10 children – all while hobbling around on their heels, their broken feet squashed into three-inch shoes.
Original Link: SCMP
[PDF url=http://www.hongkongkate.com/wp-content/uploads/2015/04/323-SCMP-BOUND-FEET-COVER.pdf]
[PDF url=http://www.hongkongkate.com/wp-content/uploads/2015/04/323-SCMP-BOUND-FEET-1.pdf]
[PDF url=http://www.hongkongkate.com/wp-content/uploads/2015/04/323-SCMP-BOUND-FEET-2.pdf]