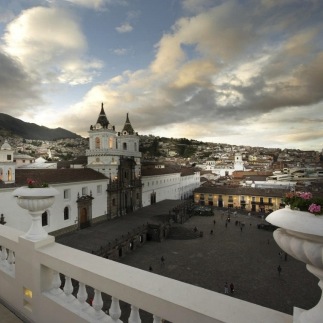 Boutique hotel Casa Gangotena
— April 19, 2015
It is without doubt the most romantic place in which to stay in Quito, Ecuador – and that's not just because there are huge tubs of roses at every turn (easily arranged when 25 stems cost just US$2) or because you're likely to feel a little breathless on arrival (to be expected at 2,800 metres above sea level).

What's so special about this casa? This 1920s, three-storey, 31-room Renaissance-inspired mansion comes with buckets of history – it stands on a site that has been occupied since the days of the Incas – but it's only in the past few years that paying guests have been able to stay here.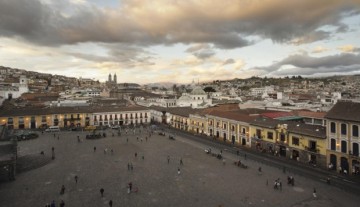 What are the rooms like? Art nouveau meets contemporary design – it's all about understated opulence. The bathrooms (above) are marble, the chandeliers are genuine antiques and watch your elbow as you pass the pre-Columbian ceramics; they're the real deal. Some of the rooms overlook a courtyard garden filled with tropical flowers and, beyond, the snow-capped Andean peaks. Slightly more expensive ones overlook Plaza de San Francisco (top and below).
Anything special about the plaza? It's one of the most attractive squares in the capital's Unesco-protected historic centre. During the day it's filled with buskers, artists and people just hanging out as pigeons swoop overhead and a few stray dogs get frisky. If your room doesn't overlook the square, you can enjoy the experience from the third-floor terrace (below) over sundowners. And there's plenty to see a short stroll from the hotel – across the square is the Jesuit church of La Compania and beside it a Franciscan monastery, which is partially open to the public. A few blocks away, the Museo de la Ciudad is worth a visit for the breadth of its exhibits, from pre-Incan times through to the late 1900s. The old centre is safe to walk around during the day – there are police to keep thieves at bay and offer tourists directions – but it's best to take a cab in the evening, even if it's just for a short ride back to the hotel.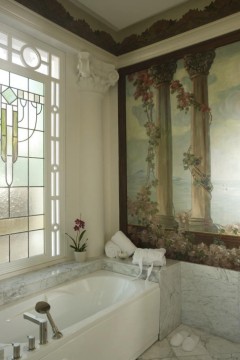 What about the food? The menu at Casa Gangotena offers traditional favourites, playing heavily on soups and stews, staples of the Ecuadorian diet. The red snapper ceviche (a cold soup) is a knockout; in fact, this is the place to indulge a seafood craving. Ecuador isn't known for producing great wines but the hotel has a good selection of South American vintages.
Anything else to look out for? If you're seeking a truly authentic Ecuadorian experience – or just feel like you've been bad – sign up for a session with a local traditional healer, or limpiadora. The hotel has a special relationship with one such healer, who, for US$40, will whack you with nettles (yes, really) in the privacy of your own bathroom and then rub you with medicinal herbs before finishing off with rose petals. I wasn't brave enough for that (what's wrong with a bubble bath?) but those who have tried it say it leaves you feeling thoroughly cleansed.
What's the bottom line? Doubles start from US$420 plus taxes. For more information, go to www.casagangotena.com.
Original link: SCMP