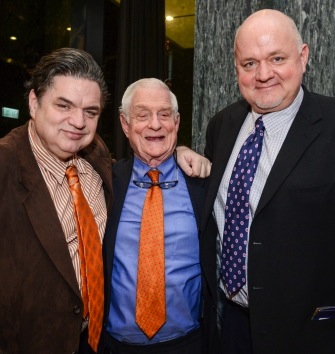 Nicholas Platt and his famous sons Oliver and Adam talk food politics
— April 19, 2015
Veteran diplomat Nicholas Platt and his eldest sons, film star Oliver and food critic Adam, talk about breaking bread to win hearts and minds, and discovering Western fare in Hong Kong. Kate Whitehead reports

Nicholas Platt began his Foreign Service career in Hong Kong in 1964 as a China analyst at the United States consulate general. Through the 1960s and 70s he was stationed all over Asia, with his wife, Sheila, and their three sons, Adam, Oliver and Nicholas junior, who was born at Canossa Hospital, on Old Peak Road, in 1964.
The boys didn't follow in their father's diplomatic footsteps. Adam became a restaurant critic at New York magazine, Oliver an actor (you may have seen him in American political drama The West Wing) and Nicholas junior a journalist-turned-entrepreneur. But they did learn an important life lesson from their father about the importance of food in cultural diplomacy.
Asia Society Hong Kong recently brought Nicholas senior, Adam and Oliver together to share their experiences about food and how it connects people from all over the world. The discussion was timely – last year, Oliver played a food critic in the film Chef, channelling older brother Adam.
With Alice Mong, executive director of Asia Society Hong Kong, playing moderator, the brothers sparred light-heartedly.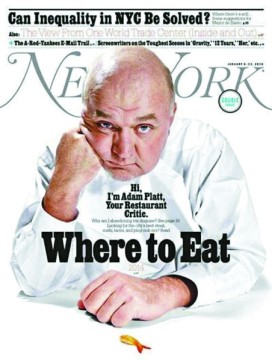 Following is an extract of the conversation between the three Platts when they were back in Hong Kong:
Nicholas: "In 1973, I was stationed in Beijing and the Philadelphia Orchestra came through and I found myself having to negotiate between the orchestra and Madam Mao [Jiang Qing]. This was during the Cultural Revolution, she was still all powerful – it was very tricky stuff. [Conductor Eugene] Ormandy had very strong views of his own and we fought over the programme. The big point of contention was Beethoven's Sixth Pastoral Symphony.
"The orchestra was due to arrive in Shanghai and I went to meet the local musical cadres – the chief of them insisted we play Beethoven's Sixth. My job was to meet Ormandy and 130 exhausted musicians. I said, 'Maestro, there's been a request for you to play Beethoven's Sixth.' He said, 'You know I hate Beethoven's Sixth and I didn't bring the scores.'
Nicholas Platt Snr delivers a speech at the Chinese embassy in Washington, the US, last July.
"I said, 'Let me tell you why they think Beethoven's Sixth is so important. First of all, this is a government that has come to power on the back of a peasant revolution. Here's this pastoral symphony that is all about life in the countryside. And there's a big story in the fourth movement and that's the revolution and then it has a very peaceful end, and that's the triumph of communism. He looked at me and said, 'Well, when in Rome, I will do as the Romans.'
"I breathed a huge sigh of relief, not telling him that everything I had said was baloney and I had just made it up. But I did know a little bit about music and I knew this was a very important issue in terms of international relations and I wanted this to be a successful trip. I'm telling you this because culture is at the heart of diplomacy and diplomacy is at the heart of culture. There is no way of separating them.
"I found this out earlier the hard way. When I was in Hong Kong as a China analyst I'd read the People's Daily editorials, trying to make sense of it. They were full of references to The Three Kingdoms. I'd read The Three Kingdoms in Taiwan and that enabled me to understand what they were talking about. If I had not read this important Chinese classic I could not have done my job."
Alice Mong: "Nick, you lived in Hong Kong in the 1960s as a young diplomat. Oliver attended Victoria Barracks Infants School and Adam went to Glenealy [in Mid-Levels]. Oliver, you said that visiting Jimmy's Kitchen, in Central, has brought back some memories."
Oliver: "The irony is that my father introduced us to Western food at Jimmy's Kitchen."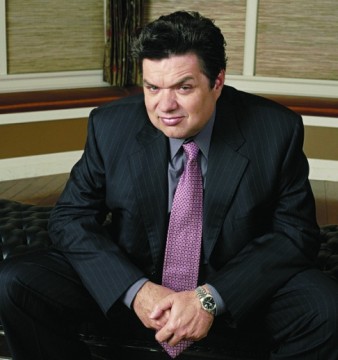 Adam: "We had been living in Taiwan before that and eating the most gorgeous northern Chinese food and we came here and my father took us to Jimmy's Kitchen and what did we eat there?"
Oliver: "Escargot."
Adam: "And last night where did we have dinner?"
Oliver: "You dragged us to Jimmy's Kitchen."
Adam on the cover of New York magazine last year.
Adam: "And we had escargot. It has not improved over the years. I'm astonished it's still here. We are a peripatetic family; Oliver and I had attended 10 schools by the time we'd finished college, we moved around a lot as kids. You know the expat experience, when [they were] new in a country, pretty much the first thing we did was go out and try the food. That's the easiest way to feel you are in touch and communing with this new world. And as kids moving around a lot in a state of excitement and nervousness, eating was an easy way to muffle our anxiety.
Oliver: "I considered us very lucky because a lot of the other embassy kids, the vast majority, would sit around the embassy pool and eat cheeseburgers and listen to Led Zeppelin. I didn't realise until much later how lucky we were that our parents were so adventurous. What better way to discover the soul of a new place, to figure out who the people were and what the culture was, than to go eat the street food? You find out more about Japan if you go eat a bowl of ramen [rather] than reading [about the culture]."
Adam: "It's certainly more interesting than going to a museum."
Nicholas: "In Beijing, there were no good cooks left. We were assigned a young man whose priority was to keep track of us rather than feed us. He knew how to make something called peanut pie and some kind of nondescript sandwich, so we had to get out of there and find out more about the local food, because otherwise we would have starved to death. We would eat 120 dumplings in one sitting. Eating in Hong Kong, it used to be that the more beat up and down at the heel the restaurant was, the better it was. That has changed."
Mong: "[American journalist] Calvin Trillin once said that when the immigration law in the US changed, in 1965, the food got better because [the legislation] brought in the Koreans, the Chinese, the Taiwanese. What changes have you noticed in terms of diversity of food in the US?"
Adam: "What's happened in the past decade in New York and the States in general is that the whole culture of the kitchen has moved out into the dining room. So you have this glorification of the chef and the tattoos. It used to be in a fancy restaurant they would play fancy music, now in a trendy restaurant the music you hear is the music that is being played in the kitchen. In New York, you're getting more of the kind of food that chefs like to eat – more comforting food, the hamburgers, David Chang with the pork buns. A lot of it recently has had a sort of Asian trend, but you don't even call it fusion food any more.
Oliver as Oliver Babish in The West Wing.
"Ivan Orkin is this crazy ramen cook. He's a New Yorker who spent 20 years trying to perfect ramen in Tokyo and won over the Japanese, and now he's a hero among the legions of ramen snobs in Tokyo. So he opened a restaurant in New York and I took Oliver there for his birthday and one of the weird dishes he's famous for in Tokyo, and he cooks in New York, is a five-cheese mazemen. He uses a bunch of rich Italian cheeses, and he was telling Oliver about this and Oliver said …"
Oliver: "We had a fantastic cook when we lived in Japan as kids."
Adam: "Come on – she wasn't so fantastic."
Oliver: "She would make us yakisoba – fried noodles – after we got back from school and one day we suggested, 'Hey, how about you put cheese on that.' We've been having this cheese ramen since we were kids; we were creating our own fusion food way back when – what's the big deal?"
Mong (to Nicholas): "Your sons didn't follow in your diplomatic footsteps – what do you think of their careers?"
Nicholas: "I am thrilled with my children's growth in their jobs. They asked me at some point what they thought I would like them to be and I said, 'You have to answer these three questions in the affirmative and I will support it: Do you really like it? Are you good at it? Is it legal?' So each of them picked something they really liked, were really good at and was legal. What more can I say?"
Mong: "Oliver, for the role of the food critic in Chef, were you channelling Adam? Did he help you with that movie?"
Oliver: "[Director and star] Jon Favreau knew he was getting a two-for-one deal with me – why not hire an actor whose brother is actually a food critic? He asked me to run the review he'd written in the script past Adam and that was a lot of fun for me. My brother is one of my best friends, so what a great opportunity to involve him in this process.
"One of the best things about being an actor is that we get to attempt to be people we're not. As a performer, I usually identify more with the chef than the critic. When Adam takes me along on reviews, he's always trying to trick me into saying something snarky about the food so he can quote it. And I always say, 'This is so good, this guy is so great.' I'm identifying with the chef, I don't want to see him taken down by my evil brother. So it was so much fun to put myself in that position. What makes Adam such a great critic is that he writes for people who eat, not for people who cook. He writes about the experience of eating; he couldn't care less about the history of the croissant."
Adam: "I don't know much about the history of the croissant."
Oliver: "Who cares about the history of the croissant! They want to go to a place and eat."
Adam: "[For the Chef script], you said, 'Write me something really negative about molten chocolate cake.' I wrote a couple of paragraphs. I don't consider myself a negative, evil critic, although occasionally I can do that. I said, 'If you want to see a really negative critic, read the British press,' and I gave him the name of a London critic to read."
Oliver: "Adam has become a powerful food critic. He gets a lot of pressure from publicists to review restaurants and he tells the truth. But, if he stumbles across a little restaurant that someone has told him about and he doesn't like it, he won't review it, because he doesn't want to take somebody down. He didn't get into it to ruin people's lives; he got into it because he's very good at communicating the joy of eating and the little celebration that every meal is."
Mong (to Oliver): "You were excellent as [White House counsel] Oliver Babish in The West Wing. If you could, would you reprise that role?"
Oliver: "It was a great role. At the time I was offered it, I wasn't interested. I'd just had a TV show built around me being unceremoniously ripped off the air and I was making a movie in Vancouver – I wasn't interested in doing television at that point at all. But Aaron Sorkin [creator of The West Wing] had written the first draft of a movie I did with Warren Beatty called Bulworth and so I knew him. He called my manager and asked me personally if I would do this. I was raised by a diplomat, so I know if Aaron calls, you call him back and say, politely, 'No', and you read the script so you can say why you don't want to do it. I read it and that actor thing took over. I thought, 'I'm not going to watch someone else do this.'
"My father said the essence of diplomacy is giving somebody a good idea and making them think they had it. If you don't think I've used that little trick every day for years in Hollywood, you got another thing coming. When you're collaborating, it's often a meritocracy of ideas and the best idea wins. A lot of people don't understand that so, sometimes, it's about floating an idea and then being its steward invisibly and my father gave me a lot of tricky techniques about how to do that."
Mong (to Nicholas): "If your book [ China Boys] was made into a TV series, who would you want to play you and Sheila?"
Nicholas: "This is a very unlikely prospect. To play Sheila – I would say Naomi Watts."
Oliver: "Ooh, very revealing."
Adam: "And to play you? Jackie Chan?"
Nicholas: "No. My choice for this role would be Benedict Cumberbatch."
Oliver: " That is very revealing."
Original link: SCMP