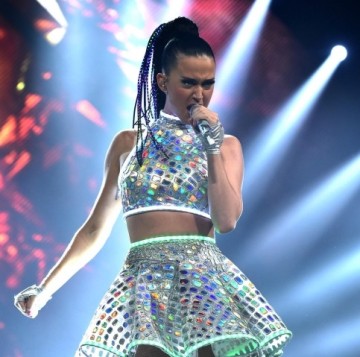 Life and career of the reigning queen of pop
— April 23, 2015
Reigning queen of pop Katy Perry is bringing her lavish stage show to Macau

After her headline-stealing performance at the Super Bowl halftime show in February, Katy Perry, the reigning queen of pop, is set to bring her Prismatic World Tour to The Venetian Macao for two monster shows next month.
It's hard to remember a time when Perry wasn't atop the charts – or all over the gossip pages. Madonna singled her out for stardom early, raving about her first single in 2007, Ur So Gay. Having Madge on your side certainly didn't hurt, and a year later she rocketed to fame with the release of the single I Kissed a Girl. That track was followed by her second album, One of the Boys, that made it to the top 10 of the Billboard Hot 100 and was followed by her first solo tour to promote the album. Six years down the track and she is now on her fourth tour.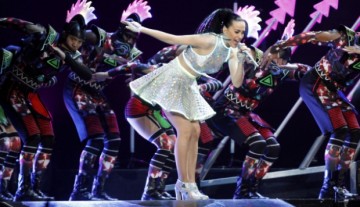 The Prismatic World Tour is not only her biggest and shiniest yet, it might just be the most personal.
"I am involved with every detail of the tour. There are seven sections in the tour and each section is its own different world," she said in a video released at the start of the tour, "so we have the Prismatic section, the Ancient Egyptian section … it's exciting and there are lots of remixes."
The tour began a year ago in Belfast and is now on its fourth leg – you can't say the diva doesn't put in the legwork – which will take it through Asia before winding up in Brazil in September. The scope of the tour is so hue that it took 28 semi-trailers and 12 buses to transport the stage set-up and crew around Australia.
Perry is a pop star who does things big, and her fans are lapping it up. Her Super Bowl performance was watched by almost 119 million viewers, according to TV ratings, that's five million more viewers than the actual game drew.
She has 68.4 million Twitter followers (and counting) – that's about the population of France. And her bank balance is not suffering, obviously – Forbes magazine listed her as the "world's ninth most powerful celebrity", pulling in US$40 million last year.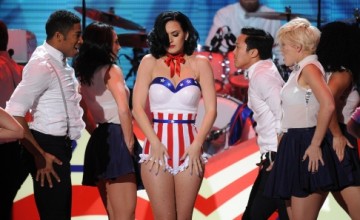 All that and it's easy to think of her as an overnight success, but she didn't hit the good times immediately. Nor did she start off as fans will see her in Macau – brimming with confidence and sassy sex appeal. Perry was born Katheryn Hudson and her parents are both evangelical pastors. Not quite so sassy, but she could always sing.
"My parents would give me 10 dollars, which is a lot of money when you're nine, to sing at church, on tables at restaurants, at family functions, just about anywhere," Perry has said.
She took singing lessons with her elder sister and learned to play the guitar, but as you might expect of Church-going folks, her parents were strict. There was no MTV permitted in the Hudson household. "The only things I was allowed to listen to were the Sister Act 1 and 2 soundtracks," she has said, referring to the comedy movies about Catholic nuns.
But then she turned 13, took swing dance classes and began rebelling. Recalling those days, she has said: "I was always the kid at the dinner table who, if there was a line you shouldn't cross, I took a big leap over it. That's always been me."
So she took that big leap – albeit with her mother holding her hand – and made a number of trips to the city of Nashville in southeast US to record a gospel album. Titled Katy Hudson, the 2001 release didn't so much flop, as it didn't even get off the ground.
Perry has estimated that the album reached about 100 people before the label went bankrupt. She went back to school, got her high school diploma, and at 17 headed for the bright lights of Los Angeles. But that too was a struggle.
"It was five years of living in LA with no money, writing bad cheques, selling my clothes to make rent, [and] borrowing money," she has said.
She finally got her big break in 2007 and signed with Capitol. In the early days of her rise to stardom, Perry married the comedian and actor Russell Brand. That union didn't last a year, but it proved tabloid fodder for much longer.
While her marriage failed, her career was on a solid trajectory upwards. In 2012 she released a new edition of her hit album titled Teenage Dream: The Complete Confection that included new tracks such as Wide Awake and Part of Me. And in 2013 came her fourth album, Prism, which she will bring to Macau next month. Listen out for Roar, the biggest hit of her career yet.
If her performance at The Venetian is anything like the one she gave at the Super Bowl, you might be able to hear her across the waters in Hong Kong. Though unlike the Super Bowl, she won't be bringing the dancing sharks to Macau – there's no way she'd let them try and steal the limelight again. If you missed that the first time around, go check it out on YouTube.
Even though the antics of the "left shark" in that video garnered plenty of attention after the show, Perry didn't let that burst her bubble. She's making the most of it by selling related merchandise on her website. For US$129.99 you can buy a "Katy Perry Left Shark Belovesie" (that's a onesie with a dual zipper that can zip up right over your face).
It's overpriced, for sure, but fans of Perry have proven to be that devoted.
Original link: SCMP